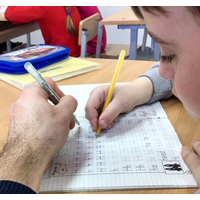 Ukraine | Kevin Lawson
Home: Greensboro, North Carolina

"When will you come back?" I wake up more and more to this question as the days go by since evacuation.
I had been serving as a youth development Volunteer since August 2018. When we were evacuated I left behind the promise to play soccer with Dima, Sasha, and Max. I was in the middle of lesson planning with my English teacher, Olena, and organizing a festival at school with my counterpart.

As a youth volunteer, one-on-one connections with students were so important to me. No matter the time or place, if a student called me over for help or wanted to share something, I was there!
One particular project I was sad to leave unfinished was a youth-led leadership and artistic camp for Ukrainian teenagers.
So now I know, no matter how far apart we are, Ukrainians and I are asking the same question: When will I come back? And more important: When will Peace Corps come back?
See more photos from Kevin's service
---
Ukraine |

Jamal Marcelin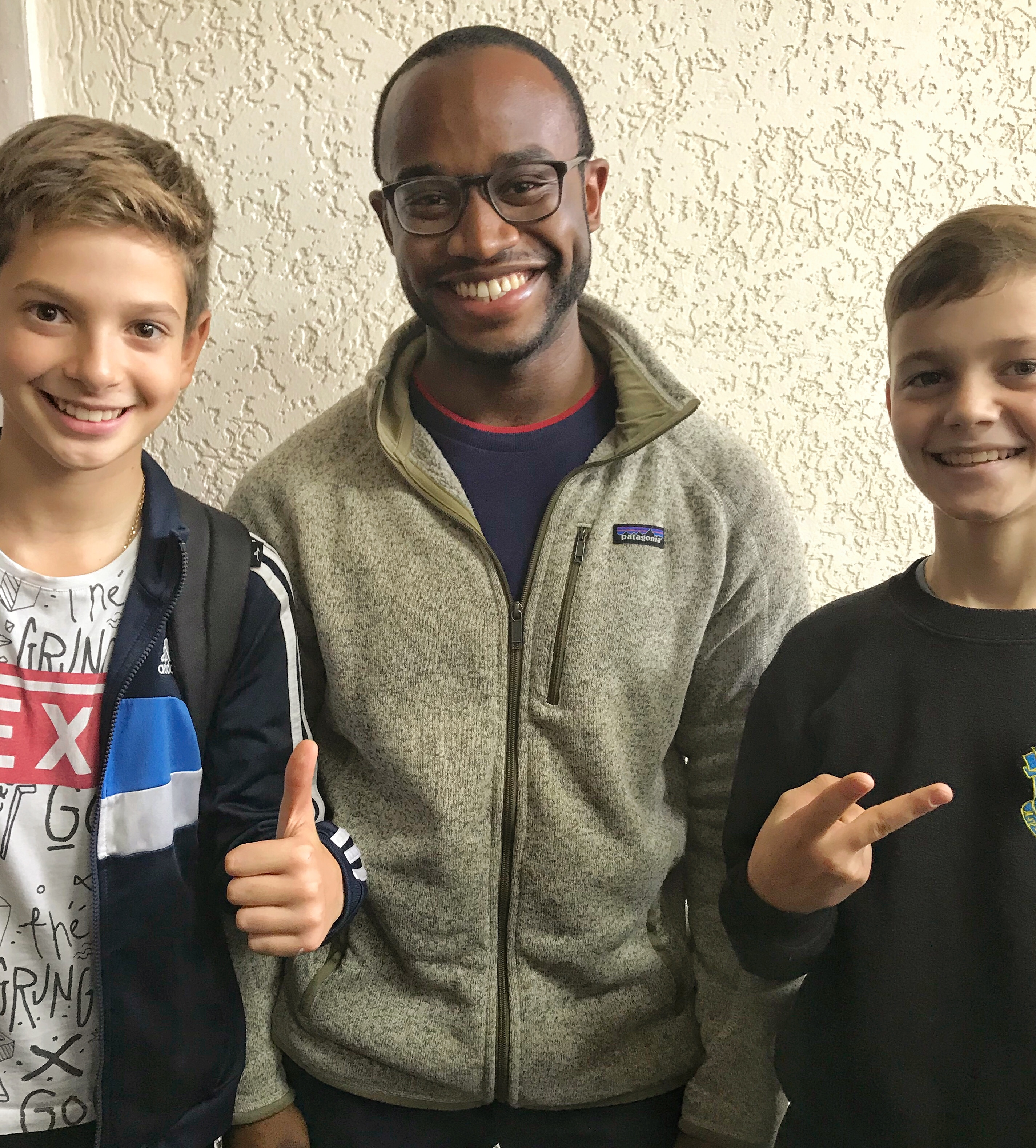 Ukraine Volunteer Jamal Marcelin, center, with students Maksim and Pasha. Marcelin's students thought he was arockstar. As a Black Volunteer, he sometimes faced racist taunts and threats in the mining town where he lived. His story was featured in the photo series Humans of New York.
---
Ukraine | Griffin Bouwens
Home: Michigan
I was in my third year working in community development in Vasylkiv, a small town about half an hour from Kyiv. March 12, I flew back to the States to go through security clearance for a job I had applied for — serving an interpreter helping train Ukrainian military. As I left, they were closing borders; everybody thought it was just a bump in the road, maybe two weeks. It's been months. I'm going back to Ukraine, of course — the question is when, and how.

Everything is on hold. I never got to do the security clearance; my medical stuff is held up. If there's one thing I learned about applying for Peace Corps through the government, it's don't count your chickens before they hatch.
I left friends behind. And my dog — he's a stray, and I miss him. I left a sense of meaning and purpose. I had assumed a volunteer leader role. My organization, a community foundation, was formed shortly after the Maidan; really it's a collection of people, all volunteers, who put in incredible amounts of time, especially my counterpart. I studied public administration, so I try to use my skills as an advisor, and to help them build confidence to be at the table in local governance. The Peace Corps experience in Ukraine is often about people's ideas about democracy and identity. As an American, you can bring a sense of optimism. Civil society is just developing; some say Ukraine wasn't really independent until 2014. And national identity is bound up in European integration.
The Peace Corps experience in Ukraine is often about people's ideas about democracy and identity.
Why does the world need Peace Corps? It comes down to how we see ourselves as Americans. Some people who don't want to have Peace Corps say, "We should be spending that time investing in ourselves — why are we helping these other countries?" Others say: "This is just neocolonialism — why are we going there?"
I disagree with both. First, it's investing in Americans. We develop new perspectives on the world; it's good to have an educated society, with skills and abilities to work internationally. It's necessary if you value being on good terms with the rest of the world. Second, Peace Corps is promoting peace and friendship at the most granular level.
---
A Conversation with Nancy Bouwens, Parent
Griffin's Close of Service was supposed to be at the end of June. Our family would have been visiting in April. All that week, I kept thinking, what would we be doing? We would meet his dog, his friends, his host family; visit places he loves and, for a little bit, be a part of the country that had stolen his heart. He flew home for security clearance on the job he'd applied for. He came in on a Wednesday. That Saturday, he was out with his cousins bowling, and he sends me a text: "I'm no longer a Peace Corps Volunteer."
I could read grief between the lines. So much left undone and unsaid. Peace Corps is not just a one way street. The Volunteers give, but the community gives back to them. His heart is broken. And like so many of the other Volunteers, he's treading water.
The Kyiv Post produced a video profile on him and his work in Vasylkiv. Until I saw that, I never understood the reach and the impact that Volunteers have year after year. It breaks my heart to know that there are none out there right now. I was reading over his Description of Service report and he said to me, "You know, it started out that I went there to be a part of an organization. But I felt like I was part of the community — with the hospitality and the graciousness and the kindness of the Ukrainian people."
I know Peace Corps is unique in that Volunteers integrate into communities. That's why it's so effective. It's not part of the government like other programs. It's people just being people and connecting as part of a community. If we could recreate what Peace Corps does on a larger scale in communities around the globe — and in the United States — we would have a better world.
If we could recreate what Peace Corps does on a larger scale in communities around the globe — and in the United States — we would have a better world.
Thinking about the future of the Peace Corps: It's too important to let it fall away. And it could. I'm also concerned for these Volunteers: You normally come home, family meet you at the airport, you're celebrated, and you have at least thought of what your next step is going to be. I know they're resilient, and they will figure it out. But it's been so important for the whole community to be able to reach out to them and to their families during this time.

---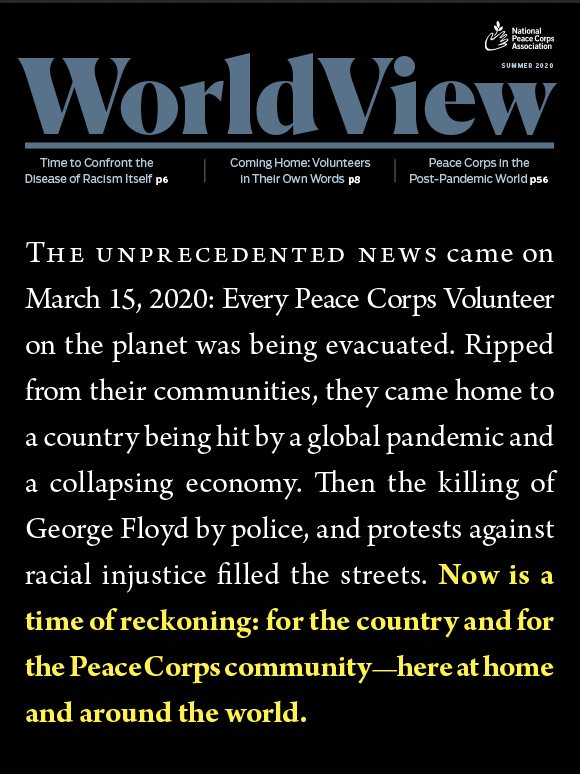 This story was first published in WorldView magazine's Summer 2020 issue. Read the entire magazine for free now in the WorldView app. Here's how:
STEP 1 - Create an account: Click here and create a login name and password. Use the code DIGITAL2020 to get it free.
STEP 2 - Get the app: For viewing the magazine on a phone or tablet, go to the App Store/Google Play and search for "WorldView magazine" and download the app. Or view the magazine on a laptop/desktop here.
Thanks for reading. And here's how you can support the work we're doing to help evacuated Peace Corps Volunteers.
---