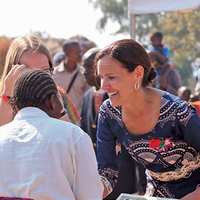 An Update from Acting Director Carol Spahn
Carol Spahn served as a Volunteer in Romania 1994–96 as a small business advisor, as country director for Peace Corps Malawi, and as chief of operations in the Africa Region, covering eastern and southern Africa. She has held roles at Women for Women International, Accordia Global Health Foundation, and Small Enterprise Assistance Funds. Here are edited excerpts of her remarks at NPCA's Sargent Shriver Leadership Summit in March 2021.
IN MY FIVE-YEAR TOUR AS COUNTRY DIRECTOR IN MALAWI, I swore in around 500 Volunteers. During each swearing-in ceremony, I reminded Volunteers that their service was not an adventure but a journey. One of my favorite things to witness was their growth and development — not just language skills or cultural competence, relationships or projects. I'm talking about observable growth in their character, awareness, humility, and global citizenship. They stepped off the plane eager and bright-eyed but walked back with wisdom and respect, and often tears of sadness to leave. The same journey was apparent amongst our host country staff: What started as a job became a passion for community development and intercultural exchange.
Peace Corps and our mission have never been more relevant. But in order to meet this moment, we must adapt.
For 60 years Peace Corps has been on a journey of development and growth, improvement and constant learning — the journey of a million miles, places, and people around the globe. The pace has been steady and the steps deliberate. As I have participated in panels throughout Peace Corps Week, particularly one with all living former directors, I have been struck by how Peace Corps has responded and adapted across the decades: to diseases like smallpox, polio, guinea worm, and HIV; and to historic events like the end of the Cold War. Given what the world has been through the past year, I can say without hesitation that Peace Corps and our mission have never been more relevant. But in order to meet this moment, we must adapt.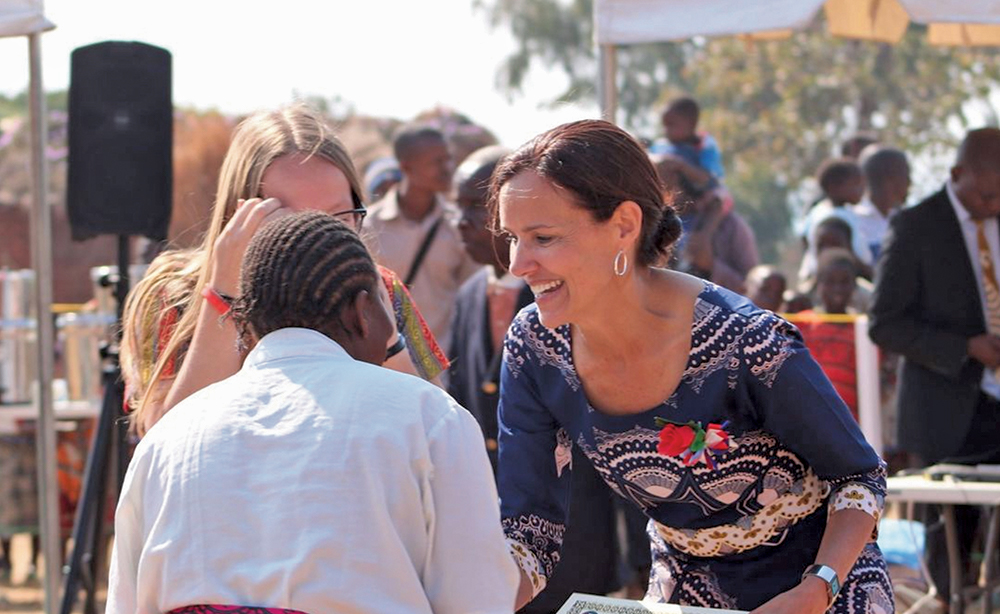 A welcome: Acting Director of the Peace Corps Carol Spahn, right, while serving as country director in Malawi. Photo courtesy of Peace Corps
What we see ahead
Our top priority is returning Volunteers to service as soon as conditions allow. Localized situations continue to shift daily, especially with changes related to vaccine accessibility and new variants of the virus. We're unfortunately not yet able to offer a firm time frame for when Volunteers will return. However, we continue to assess each country's situation based on robust medical, security, programmatic, administrative, and logistical criteria. We are very aware of evacuated Volunteers' strong desire to return, along with a large and growing cohort of invitees anxious to begin their journeys.
Every one of our host countries has enthusiastically expressed their interest in our return. We are planning to reopen El Salvador; we have staff in place to launch Peace Corps in Viet Nam. Recruitment teams, now fully virtual, are working tirelessly, and we continue to receive new applications — not at pre-COVID levels, but significant given the pandemic and the pause in our operations. We expect interest to pick up even more once Volunteers start going back.
Returning Volunteers to service in a world where the ground has fundamentally shifted has required that we reimagine and reengineer almost everything we do.
Last week we announced we will require all Volunteers to receive a COVID vaccine before going into service. This decision was made not only to protect the health and safety of Volunteers but also host country staff and communities. Staff at each post will have the opportunity to be vaccinated prior to the return of Volunteers. Many staff have already been vaccinated; one host country government added our staff to their vaccine priority list — a testament to the value of our contribution.
Returning Volunteers to service in a world where the ground has fundamentally shifted has required that we reimagine and reengineer almost everything we do. This includes granular things like safety standards at training locations, to broader fundamentals of how to stay true to our core approach of people-to-people relationship-building when safety measures require social distancing. We have established systems to control for all the things that we can control for — and to be flexible in all the ways we can be flexible. I've seen photos of staff members getting their vaccines; these and the COVAX plane landing in Ghana this week have given us hope that we are rounding the corner.
Virtual and Grassroot
I've gotten the "So what are you all doing if you don't have Volunteers in the field?" question a lot. Our Volunteers are our lifeblood. We feel their absence intensely and deeply. And the needs in the countries we serve have not gone away.
We've used this time strategically so that we can build back better — in ways big and small, including not-so-glamorous but critical things like cybersecurity and system upgrades. One positive aspect of moving into the Zoom world: We are in phase two of a Virtual Service Pilot program that involves 20 posts and 85 participants. Evacuated returned Volunteers, trainees, and returned Response Volunteers are donating 12 to 15 hours a week in countries they served in, for a period of 12 weeks. Feedback has been overwhelmingly positive, and we believe there is tremendous potential for the future.
As an example of the virtual work being done, I'll tell you about returning volunteer Samara, who coordinated with a local nonprofit in Costa Rica, whose goal is to create a domestic version of the Peace Corps, appropriately called the Costa Rica Corps. This organization was looking for help establishing their own pool of volunteers and matching them with counterparts. Samara was able to help them virtually to craft a volunteer profile and application brochure which will be used to train and interview interested volunteers.
Teams around the world are also getting creative with training and reporting; more than 600 staff from headquarters and the field have been trained in developing and implementing blended learning strategies. Teams mentored by host country nationals from other countries or HQ staff have developed 150 blended learning training projects. This has tremendous potential to reinvent how we do training — and utilize expertise across borders. Volunteers will be working with updated logical project frameworks and held to new reporting standards. By late this year, they will have a reporting system that will provide a personal dashboard on metrics. Program managers will be able to report consolidated results to host country partners and ministries. This has the power to transform how we relate with communities and Volunteers in the field.
There's innovative work being done by staff to meet the needs of communities we serve — from contact tracing to virtual workshops to working with farmers. In Ukraine, post staff have repurposed PEPFAR funding to implement a cross-regional program supporting the most vulnerable youth through food vouchers and HIV/AIDS case counseling calls. In Malawi, staff and counterparts have continued in-person HIV prevention work for youth through Grassroot Soccer; they have tested new approaches following COVID protocols; and they continue to support partners through providing personal protective equipment and other resources so counterparts can safely continue work in rural communities.
Inequity and pandemic response
We have asked every post to meet with their ministries of health and partners in country to determine how we can help support their pandemic response. This will differ across countries, depending on needs, but we anticipate every Volunteer will have a role to play. The head of the World Health Organization has said that the world is on the brink of catastrophic moral failure due to unfair vaccine rollouts. And COVID has shown us once again the vast inequities in global health. To the extent that Peace Corps can play a role at the invitation of the countries we serve, we will be there.
COVID has shown us once again the vast inequities in global health. To the extent that Peace Corps can play a role at the invitation of the countries we serve, we will be there.
In addition to a dramatic reckoning around health inequity, we have a moment of reckoning on racial justice. The Peace Corps at its core is about honoring diversity around the world. It's about building relationships and opportunity, and fostering equity and inclusion. It is important to all of us — staff, Volunteers, host communities — that our workplace, our volunteer system, and our culture reflect these values. We will be looking for Peace Corps to be a leader in addressing systemic racism.
At various points throughout our history, we have been called to do more, and we have stepped up, but we know that we have room to grow. In 2010 then-director Aaron Williams called on Peace Corps to diversify recruiting across race, gender, age, sexual orientation, and religion. At the time, 19 percent of Volunteers identified as a minority. In the last decade that has grown to 34 percent. Five years ago, we started doing intensive intercultural competence, diversity, equity, and inclusion training for entire post teams. This was a one-week foundations course. Last year we rolled out a pocket model that includes a diversity, equity, and inclusion lens as Volunteers undertake participatory community assessments. And we tripled the medical reimbursement for applicants to ensure that this was not a barrier to service.
I share this with you to honor the work that has been done up to this point. That said, we have heard recommendations brought forth by NPCA and through letters written by passionate and interested stakeholders across the Peace Corps community. We are listening. And we acknowledge the need to continue to address inequities, to reach out to underserved communities, to address gaps in training, to examine support structures during service. Our task force is busy developing recommendations on staffing, and pre-service and in-service support. We have barrier analysis underway looking at hiring, promotion, retention, and other staffing practices. A mandatory training course on unconscious bias will be launched on April 1 for all staff. This is just the beginning.
As we carry out this work, we are cognizant of the need to balance a collective sense of urgency with a need to be intentional, so that the changes we implement will be both effective and sustainable. Systemic change requires deliberate steps and endurance.
The "Peace Corps Connect to the Future" report was an enormous undertaking, and I want to commend everyone who was involved. We have read it, and I have shared it with agency leadership. It is striking how much overlap there is among the actions or initiatives already enacted or underway at Peace Corps; the input we received from the field and our community through our task force for diversity, equity, and inclusion; and the content of this report. We need to meet this historic moment on so many levels. We will be kicking off our strategic planning process shortly with new agency leadership, and this report will help to inform those deliberations as we chart the path for the future.
Ahead on this journey
We also recognize the critical importance of the Returned Peace Corps Volunteer community and celebrating the domestic dividend — the role that those Volunteers play more broadly in society, and specifically in international development. Perhaps even more important, these RPCVs bring perspective, problem-solving skills, and deep respect to their roles as parents, neighbors, and global citizens. How important those qualities are during this time of tremendous divisiveness — and when we have been incredibly isolated, as individuals and as communities. Our Office of the Third Goal is working closely with NPCA to help tell the story more broadly of the contributions of Volunteers as they return to the U.S. following service.
This will be an agency that promotes world peace and friendship at a time when the world so badly craves mutual respect, solidarity, and community.
We are preparing for a future that demonstrates how the agency, during a time of uncertainty, builds back better, and is more relevant than ever. This will be an agency that safely returns, just as it safely evacuated. An agency that is truly representative of the United States and all its people. An agency that builds on its strong history and foundation of embracing difference. An agency that is part of the global solution to the COVID pandemic. And an agency that promotes world peace and friendship at a time when the world so badly craves mutual respect, solidarity, and community.
Peace Corps service may look different in the future — from how Volunteers serve to how they are trained. But we will be there in a spirit of partnership and with humility.
---