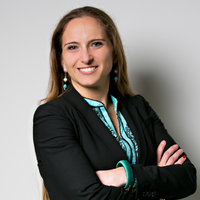 The growing Peace Corps community invites you...
… to unite in our vibrant Peace Corps community
United and vibrant communities drive transformative change. Over four decades we've grown from the nascent National Council of Returned Peace Corps Volunteers to the rebranded National Peace Corps Association. As we adapt to our ever-changing world, we have demonstrated steadfast commitment to the Peace Corps mission. While I pause to reflect on the merits of this 40-year milestone and marvel at the winding road our Peace Corps community has taken, I also look back on my own Peace Corps journey.
Coming home to northern Florida from my rural community development work in Costa Rica, I joined NPCA prepared for the promise of our community but unsure how to leverage its many resources. I landed in Atlanta with a new job and found new friends at events hosted by Atlanta Area RPCVs. With their board's encouragement, I quickly moved from non-dues paying status to formal AARPCV membership, joining the group's leadership and the Peace Corps 50th Anniversary Committee. I later stepped into the role of vice-president and was elected to two terms as the Atlanta group's president.
A career switch brought me to Washington, D.C. and plugged me into a new community—RPCVs of Washington, D.C. That relationship strengthened my understanding of NPCA, driving my decision to run for election as coordinator of the Affiliate Group Network Coordinator. After two terms as the national coordinator, I was elected chair of the NPCA Board of Directors—a Hispanic, the youngest RPCV and only the sixth woman in 40 years to hold that distinction. To me, that demonstrates the flavor of NPCA's greater diversity.
Our Peace Corps community is shaping an era by building on our rich history to forge a dynamic future deeply rooted in our core values while boldly looking forward to inspire transformation. Our vision is a united and vibrant Peace Corps community that enables NPCA to focus on community-driven decisions. Consistent with our grassroots approach to Peace Corps service, our model of collaborative engagement gives us a bold new direction and provides a refreshing opportunity for us to drive positive change that propels NPCA to even more innovation.
Our Board of Directors has taken a daring move to transform NPCA from a member-based model to an approach driven by purposeful impact. By eliminating membership dues for individuals and affiliate groups, they shifted us away from a sense of obligation and inspired a rededication to our mission and goals. As a result of that bold decision NPCA's active membership increased by nearly 40 percent, individual giving by mission partners has increased by 21 percent, and participation in advocacy to Congress has increased by a factor of five. Among the 37 new groups to join our network, many such as RPCVs for Environmental Action, Peace Corps Community for Refugees, and workplace-based groups such as RPCVs at USAID have taken on new definition and focus.
With a community of more than 230,000 serving and returned Peace Corps Volunteers, a network of more than 180 affiliate groups, and increasing connections with social impact partners, our new mission-minded model driven by a Peace Corps community is bigger and bolder than ever.
… to visit Peace Corps House
As we look to the horizon, we recognize the need to give our community a place to call home. If you're familiar with our cramped offices in downtown Washington, D.C. you know that we yearn for a more innovative and collaborative space to grow our infrastructure, operations, and programming and a chance to create a gathering place in which our community can thrive. In such a collaboratively designed social and entrepreneurial setting, we believe affiliate groups, RPCVs, and PCVs on leave will develop new connections and leverage our vast network for social impact.
To achieve this goal NPCA staff, affiliate group leaders, and our community stakeholders have built local relationships and established a presence in our new neighborhood. Our space is strategically located at the edge of the District's economically diverse northwest and close to the Capitol to strengthen our congressional relationships for Capitol Hill advocacy. Peace Corps will continue to be our neighbors as they move their own headquarters nearby later this year. With our anticipated relocation, we cannot wait to share our new space with our community: the Affiliate Group Network, RPCV entrepreneurs and innovators, PCVs on leave in the metropolitan area, and—in true Peace Corps fashion—the local North Capitol community.
… to join in our technology transformation.
While we seek a physical location to call our own, the nature of our increasingly digital world expands our opportunity to encompass the virtual realm. As our technology evolves, digital tools enhance our community focus and increase our vibrant potential. In response to extensive feedback from the Affiliate Group Network, NPCA introduced SilkStart's association management software and has on-boarded 44 affiliate groups to this cloud-based community-builder platform. With an iterative approach that allows NPCA to build scale we're enabling affiliate group leaders to improve technological capacity, simplify data management, and enhance digital connectivity within our community.
To explore the intersection of technology and positive social change, the Heart of Texas PCA will host our annual conference in June. Aptly themed Innovation for Good, Peace Corps Connect in Austin promises to uncover new links between innovation and service, provide opportunities to network with like-minded innovators, and leverage our collective community power for social good.
Innovative technology offers the potential to unite our community in ways we never thought possible just a few years ago. For some PCVs, instant messages on WhatsApp or even smartphone video chats have replaced the treasured phone call or the long-awaited postal letter. Recent RPCVs are able to maintain connections with host families and communities through a myriad of social media platforms. Decades after service, they can reestablish contact and develop new links with the next generation of families with whom they lived and worked. As we dig into this digital age, the far-reaching corners of the world come a bit closer.
It's also time to take our own communications to the next level. NPCA is thrilled to announce the design and development of a new digital platform for WorldView magazine. The fresh redesign and new content of the printed magazine you now hold in your hands is the foundation for a larger and more robust NPCA digital communications hub. By posting the quarterly printed content on an expanded digital platform we can redefine our ability to engage you with greater frequency and an increasing variety of news and ideas.
This digital magazine will increase NPCA's audience by providing all RPCVs, the 7,500 PCVs and a larger global audience with immediate electronic access to our Peace Corps community. Digital WorldView will enhance your online access to the stories of friendship that we cherish and the impact of the good works that inspire us. As we embrace technology with a digital platform for our writers and storytellers, we enter the age of interconnected global development.
Whether you visit our new location at Peace Corps House, discover innovative technology at Peace Corps Connect in Austin, or engage virtually with the launch of our digital hub of news and ideas, we invite the entire Peace Corps Community to unite in our transformation.
Welcome to your new Peace Corps home.
Maricarmen Smith-Martinez developed financial and organizational leadership projects in Costa Rica from 2006 to 2008, and currently manages the online training and certification program of a large federal agency for Bixal, a digital communications, design, and technology company.
This story was first published in WorldView magazine's Spring 2019 issue.
---