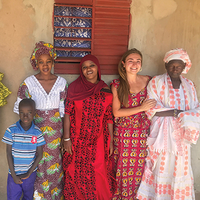 The evacuation of Volunteers from around the globe interrupted service everywhere. And while Volunteers have yet to return to the field, last year Peace Corps launched a program for communities and Volunteers to work together — virtually.
Six months after Peace Corps evacuated all Volunteers from around the world, 45 returned to service under the aegis of the agency: the inaugural cohort of an 10- to 12-week endeavor christened the Virtual Service Pilot program. They were Volunteers and Response Volunteers and trainees. They partnered with communities in nine countries and areas: Botswana, Colombia, Costa Rica, Eastern Caribbean, Paraguay, Peru, Senegal, South Africa, and Ukraine. And they embarked on projects that included education and health, conservation and youth development.
An idea whose time has come? In March 2020 — even before COVID-19 brought the Zoomification of so many workplaces—the National Commission on Military, National, and Public Service issued a report that explicitly called for exploring virtual volunteering to open up service opportunities to more people in the States.
Round one of the Virtual Service Pilot wrapped up in December. The editorial team at WorldView magazine spoke to two Volunteers about their service — first on the ground, and now virtually. And as we go to press, round two of the virtual program, which expanded to 20 countries, just finished.

---
Luca Mariotti
SENEGAL
Home: Manchester-by-the-Sea, Massachusetts
Beginning in 2019, in a town called Karang, on the border with The Gambia, I was a Community Economic Development Volunteer, working with local entrepreneurs and women's groups, helping them turn local resources like peanuts and mangoes into income-generating products. In an entrepreneurial class I was teaching, five students came forward and were interested in leading a waste management project: writing the business plan, meeting with chiefs and community members, holding cleanup days. In a town of 20,000, there's no garbage pickup; people burn their trash. A decade ago, a Volunteer set up a waste management project with the mayor's office — but unfortunately it was disassembled after six months.
We talked to local leaders, conducted community surveys, asked if people would be willing to pay — and how much. We realized that a project would have to be private — and ideally would lead to employment in the community. The mayor's office was allocating a landfill, and I was in the process of of writing a grant.
Along with that, in a nearby town, Keur Sièt, my counterpart and I were working with a women's group to add value to peanuts and, through a contact in Dakar, sell to clients in Germany. Then: evacuation.
One morning at 4 a.m. I got a call from a friend asking if I had checked my phone. "Of course I haven't," I said. "Luca," she said, "we're going home."
Leaving my host family two days later was one of the most heartbreaking moments of my life.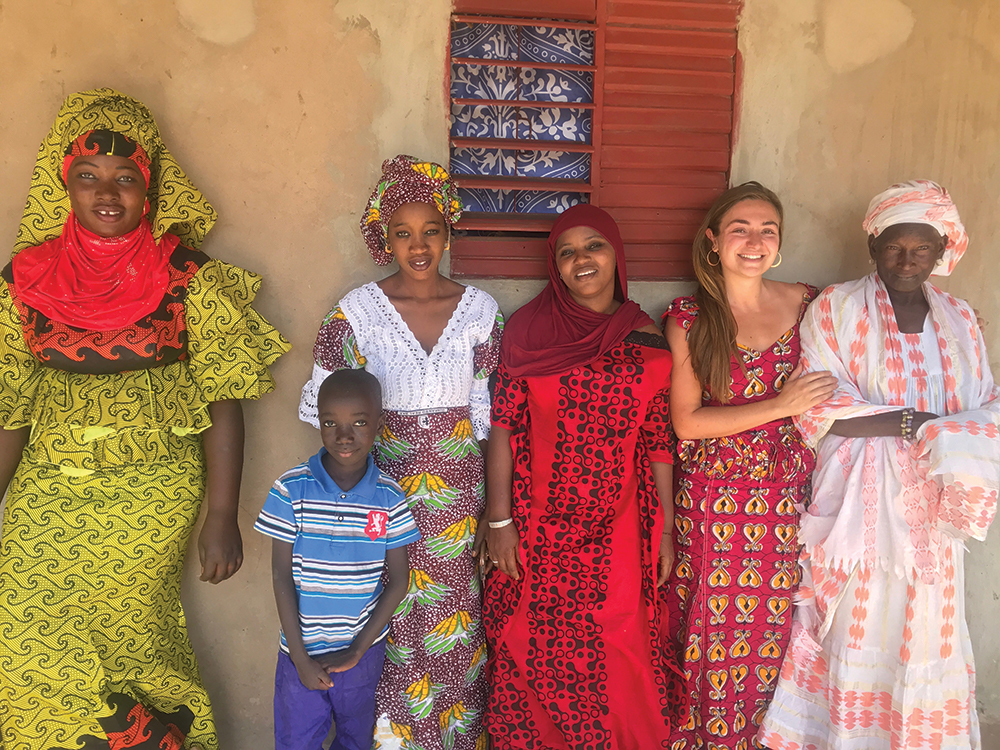 Host family and entrepreneurs in Keur Sièt, Senegal. From left, the women are Nday, Nday, Fatou, Luca Mariotti, and Soxna Si. Photo courtesy of Luca Mariotti
What sustains us
I'm from Dublin, Ireland, originally. My dad, Mark Mariotti, served with the Peace Corps in The Gambia — 30 minutes from where I was posted. Ten years ago we went back to his host community; he hadn't been there in 25 years. He found the door to his host brother's house. They cried, they embraced. That connection was really powerful.
Last fall I began a master's program at Cornell in global development. And I took part in the Virtual Service Pilot program with Peace Corps, working with the chamber of commerce in Sédhiou, Senegal, promoting the value chain for cassava and a superfood called fonio. It has more amino acids than quinoa. It is gluten-free, high in protein and iron, easy to cook, and drought resistant — which is important as climate change increasingly causes food insecurity in sub-Saharan countries.
Fonio is a superfood with more amino acids than quinoa. It is drought resistant and is drawing increasing global interest. But that wasn't being reflected in Senegal. Now it is.
I contacted most international players in the fonio world. There is growing interest — but that wasn't being reflected within Senegal. I was led to Malick, a contact with Terra Ingredients, which has been working on the Fonio Project, trying to find producers and, by paying fair prices and reinvesting profits in the community, build a sustainable system. They are constructing a processing plant in Dakar — the first in Senegal. My counterpart, Ndeye Maguette, and I had a number of meetings with Malick, who is sending people to meet with the chamber of commerce and producers. They hope that by the next harvest they will export fonio from these farmers.
I'm excited to see what happens. I'm also interested in finding ways for us to continue to support projects I started when I was in Senegal. My experience in the Peace Corps really furthered my cultural humility and cultural intelligence. I saw firsthand how similar we all are, and the immense potential that lies in developing countries. I think further investments and confidence in the education systems are going to show incredible results.

---
MiKayla Wolf
UKRAINE
Home: Chickasha, Oklahoma
I actually wanted to serve with Peace Corps in Swaziland, Africa, where I was originally given an invitation — but I was moved to Ukraine right before the departure date for medical reasons. I did not know anything about Ukraine. But I loved my work with the kids and parents of my organization. I had a wonderful counterpart, and the Peace Corps Ukraine staff were so supportive. I went from doubting if I would stay in Ukraine to deciding to extend one more year.
I was a Youth Development Volunteer with the All-Ukraine Association of People with Disabilities in Vinnytsia, in central Ukraine. I led clubs and classes for children with disabilities, assisted with games for Special Olympics Ukraine, attended conferences about inclusion, and learned and taught Ukrainian Sign Language.
When we were evacuated, my counterpart and I were talking about a grant for a project that would benefit parents in our organization. It was close to the beginning of Special Olympic events in Vinnytsia. And the day I was supposed to work with my counterpart on the paperwork for my extension was the day that evacuation was called.
The last time I saw my kids and parents from the organization was at a painting class right before evacuation. There is still a lot of work to do in Ukraine regarding inclusion. Given the opportunity to assist online, I wanted to do it. With the Virtual Service Pilot program, I was assigned to my original NGO and worked with the same counterpart. I know my kids well and what they are capable of.
Ukrainian parents were able to learn strategies and ask questions. I had a young adult female share her story, so the parents could hear about growing up with autism from a child's perspective.
I led online sessions for children with disabilities to help them develop life skills, communication skills, and socialization skills. I started a monthly discussion between parents in the United States and Ukraine. This provided an opportunity for the American parent of a child with autism to share their story — and what worked and did not work in the USA. Ukrainian parents were able to learn strategies and ask questions. I had a young adult female share her story, so the parents could hear about growing up with autism from a child's perspective. A Peace Corps Ukraine staff member translates for the parent discussions.
In the virtual program, Ukraine had a Volunteer in every sector, including PEPFAR. It was a good experience; I chose to participate in the second phase. I still talk to my host mom, kids and parents from the organization, my counterpart, Peace Corps Ukraine staff, and others from Special Olympics. My counterpart started a project for adults with autism. Through one of the parent talks, she found out about a program in Oklahoma that supports adults with disabilities, and she wants to come visit and see how it is run.
What's ahead? I'm working at the university in my hometown of Chickasha until September 2021. I am also a graduate student at Arizona State University online, where I am studying special education: applied behavior analysis.
---