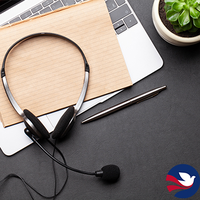 Peace Corps expands the program, launched in 2020, to scores of countries around the world — and opens it to returned Volunteers who have served across the decades.
By NPCA Staff
This summer Peace Corps kicked off the third round of the Virtual Service Pilot. Round one launched in October 2020, with a handful of countries participating, matching up Volunteers who had been evacuated in 2020 with projects in the countries where they had served. Round two expanded the number of countries and ran through April 2021. We shared the stories of a couple of participants in Senegal and Ukraine in the Spring 2021 edition of WorldView.
Round three expands to include all returned Volunteers from participating posts — not just those evacuated in 2020. Projects last from three to six months and will run through December 2021. U.S. participants invest five to 15 hours per week, working with partners around the world via video platforms, WhatsApp, email, and more. The projects encompass work in all the program areas Peace Corps operates: education, health, youth development, agriculture, environment, and community economic development.
COVID-19 led to the evacuation of all Volunteers in 2020. So necessity was what gave birth to this innovation. But the project does show the viability of expanding opportunities for service — something central to the national report on service published in March 2020. And Peace Corps is not alone in its virtual endeavors. NPR recently reported on virtual collaborations fostered by the U.K.-based organization Voluntary Service Overseas, highlighting education work in Rwanda. And some longtime participants in Habitat for Humanity undertook "virtual builds" for projects.
As that same NPR story noted, the suspension of in-person volunteering by many international organizations amid the pandemic has also offered some valuable insights into the dynamics of short-term international volunteering. As one representative from VSO noted, supporting "local volunteers had already been a shift in our program thinking, but COVID-19 has only helped us move faster in that direction."
---