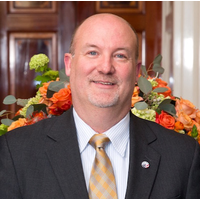 If you're like me, your Peace Corps service was a life-transforming experience. Those three and a half years in Guatemala from 1988 to 1991 changed my perspectives, my perceptions and – in many ways – my plans. Thirty years later, that period in my life seems like just a moment in the past, but to this day Peace Corps ideals have guided every step of my life and career.
So, when I saw the need for volunteers at Annunciation House to assist with refugees in transition at the southern U.S. border, I couldn't resist the call to serve again. I took a leave of absence from NPCA, packed my bags, and headed to the west Texas town of El Paso. The 10-day experience profoundly impacted me, and – like my Peace Corps service – I felt I gained so much more than I gave.
On the ground, I experienced first-hand the reality of what I was seeing and hearing in the media. Detained men, women, and children of all ages huddled in an outdoor holding pen under the El Paso del Norte International bridge, sleeping on the gravelly surface. I later met them as they disembarked the prison busses from the Immigration and Customs Enforcement detention centers – weary, hungry, and sick. Showing kindness and compassion is what any RPCV would do.
And many RPCVs headed to El Paso to do just that. "Every American should come here to see this," said Pamela, a fellow RPCV. It sounded not unlike what my parents remarked while visiting me for two weeks in Guatemala back in 1990. The experience changes you. It enlightens you. And it compels you to not only say something, but to do something about it. It was incumbent on me to put ideals into action, whether volunteering, advocating, or donating on behalf of those less fortunate than I.
That's what the Peace Corps community is all about – a lifetime commitment to Peace Corps ideals. As word spread about the need for Spanish-speaking volunteers at the border, dozens of RPCVs started signing up. So many that Mary, the Annunciation House volunteer coordinator, soon wrote to tell me that there was an unusual abundance of volunteers for May, June, and July. RPCVs from all over the country were responding to the call to serve again.
We don't have to go to the border to serve. One RPCV wrote to tell me he couldn't travel to El Paso, but he had decided to work with his local church to support arriving immigrants. Other RPCVs that I've met on my travels around the country are assisting with refugee and immigrant resettlement, working in free health clinics, or teaching in programs for people in transition. Our Peace Corps community is demonstrating our common values and making a difference in people's lives long after our close of Peace Corps service.
Thank you for your Peace Corps service, and for your commitment to a lifetime of service.
With great respect.
Glenn Blumhorst
NPCA President and Chief Executive Officer
This story was first published in WorldView magazine's Summer 2019 issue.
---