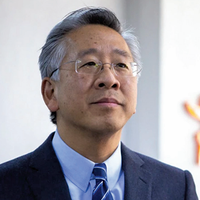 In the toolbox for Donald Lu in his new role in South and Central Asian Affairs at the State Department: diplomacy, advocacy, assistance, and learning from the past.
Photo by RFE/L
By NPCA Staff
In September, Donald Lu (Sierra Leone 1988–90) was confirmed as assistant secretary of state for the Bureau of South and Central Asian Affairs. He's the first diplomat to hold that post in four years — it sat vacant during the previous administration — and the first ever to arrive with significant experience in Central Asia.
Lu had been serving as U.S. Ambassador to the Kyrgyz Republic since 2018. His new portfolio includes that nation as well as Afghanistan, Bangladesh, Bhutan, India, Kazakhstan, the Maldives, Nepal, Pakistan, Sri Lanka, Tajikistan, Turkmenistan, and Uzbekistan. Key topics for the bureau range from a large-scale Indo-Pacific vision to air quality.
Lu has been ambassador to the Republic of Albania, charge d'affaires at the embassy in Azerbaijan, and deputy director of the State Department's Office of Central Asian and South Caucasus Affairs. As a Peace Corps Volunteer, he helped to restore hand-dug water wells and taught health education and latrine construction. During the Ebola crisis in West Africa, he served as deputy coordinator for Ebola response in the State Department. Languages he speaks and reads include Albanian, Russian, Azerbaijani, Georgian, West African Krio, Hindi, and Urdu.
---