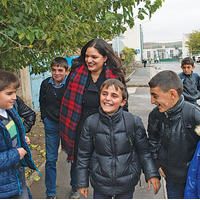 By Mark Gearan
The bipartisan, 11-member National Commission on Military, National, and Public Service was created by Congress to find ways to increase participation in military, national, and public service and to review the military selective service process. Our goal is to ignite a national conversation about the importance of service as we develop recommendations for the Congress and the President by March 2020.
I am honored to serve as vice chair for national and public service and was privileged to deliver opening remarks during two national service hearings held by the Commission in March 2019. From my years as Peace Corps director, I know RPCVs will have a strong interest in our work and I appreciate this opportunity to update the community on our efforts.
From February to June of this year, the commission held 14 public hearings and released eight staff memoranda on various topics related to our mission. In March, the commission held two hearings on national service and released a staff memorandum summarizing research and outlining potential policy options the commission is considering on increasing Americans' propensity to participate in national service.
National service is defined in the commission's mandate as "civilian participation in any non-governmental capacity, including with private for-profit organizations and non-profit organizations (including with appropriate faith-based organizations), that pursues and enhances the common good and meets the needs of communities, the states, or the nation in sectors related to security, health, care for the elderly, and other areas considered appropriate by the Commission."
National Service includes programs such as Peace Corps, AmeriCorps, Senior Corps, and YouthBuild. The Commission is also considering ways to include faith-based, non-profit, and private-sector organizations in creating and promoting national service opportunities.
As the vice chair for national and public service, former Peace Corps director, and a former college president, our hearings on national service were close to my heart, especially as we hosted them at the Bush School of Government and Public Service. President George H.W. Bush lived his life in service to others and as a leader who believed service could unite Americans. He served as a champion of national service, and it was an honor for the commission to host both hearings at the school that honors his legacy. And I note with pride, that Texas is fourth in the list of top Peace Corps volunteer-producing states with 350 individuals serving in the Peace Corps in 2018.
Reducing Barriers to Service
A study commissioned by Service Year Alliance in 2015 demonstrated that fewer than one third of 14 to 24-year-olds are aware of service year options. The Commission wants to assure access to these opportunities for all Americans. To do this, the Commission is interested in minimizing barriers to serve, such as stipends and benefits. Improving access to national service will ensure that the diversity of national service volunteers reflects that of the nation.
When the Peace Corps was established in 1961, it was an innovative and bold idea. Today, more than 230,000 Returned Peace Corps Volunteers demonstrate the enduring strength of that idea. Peace Corps Volunteers have represented the United States in 141 countries and have left behind a legacy of peace and friendship.
At our hearing, Michelle Brooks, Peace Corps chief of staff, testified and argued that federal government investment in programs such as Peace Corps and the various programs of the Corporation for National and Community Service ultimately results in the development of passionate and informed global citizens. Each Peace Corps Volunteer returns to the United States with a proven track record of working in a cross-cultural setting and appreciating and respecting the richness of working across differences.
Brooks also shared recommendations the agency would like the commission to consider. Two of those suggestions were: extending Noncompetitive Eligibility status to three years for RPCVs, bringing it in line with most other authorities granting that status; and an NCE Service Registry, an idea Peace Corps is piloting with two federal agencies.
Ms. Brooks' full testimony can be found on the Commission's website at www.inspire2serve.gov. Do you have additional recommendations to those provided by the Peace Corps during our March hearings on national service?
Join the Discussion
I invite you to join us in this important conversation. Our hope is to spark a movement: every American — especially young Americans — inspired and eager to serve. Talk to your friends, family members, neighbors, colleagues and fellow returned Volunteers about the commission, your service experience, and how we can create more national service opportunities for Americans. We want to hear from all of you!
Share your ideas with the commission through our website on any aspect of the commission's mission. For example, how can we create more national service opportunities for Americans, and how can we improve the current national service policies and processes?
Stay up to date on the commission's activities and download the Interim Report at www.inspire2serve.gov. Our final report will be released in March 2020 with recommendations for the national service community — and that includes Peace Corps. Stay tuned! We also invite you to follow the commission on Facebook and Twitter via @Inspire2ServeUS and join the digital conversation on service by using the hashtag #Inspire2Serve.
---
Mark Gearan currently serves as the vice chair for National and Public Service for the National Commission on Military, National, and Public Service. He is director of the Institute of Politics at Harvard Kennedy School and served as the 14th director of the Peace Corps from 1995 to 1999.
This story was first published in WorldView magazine's Fall 2019 issue.
---