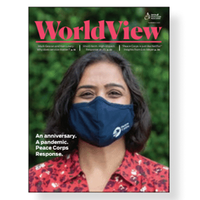 Peace Corps Response at 25. Sarge leads the first Volunteers. Budget advocacy. Remembering 9/11 two decades later. JFK at the Cow Palace in '60.
Letters, emails, LinkedIn and Instagram comments, Facebook posts, tweets, and other missives: Readers respond to the stories in words and images in the Summer 2021 edition of WorldView, special digital features, and the conversation on social media.
We're happy to hear from you there and here: worldview@peacecorpsconnect.org
---
An anniversary. A pandemic. Peace Corps Response.
Great magazine — I always read it cover to cover. Congratulations!
Nancy Hatch
Nepal 1966–69
---
Big Picture: Sarge Leads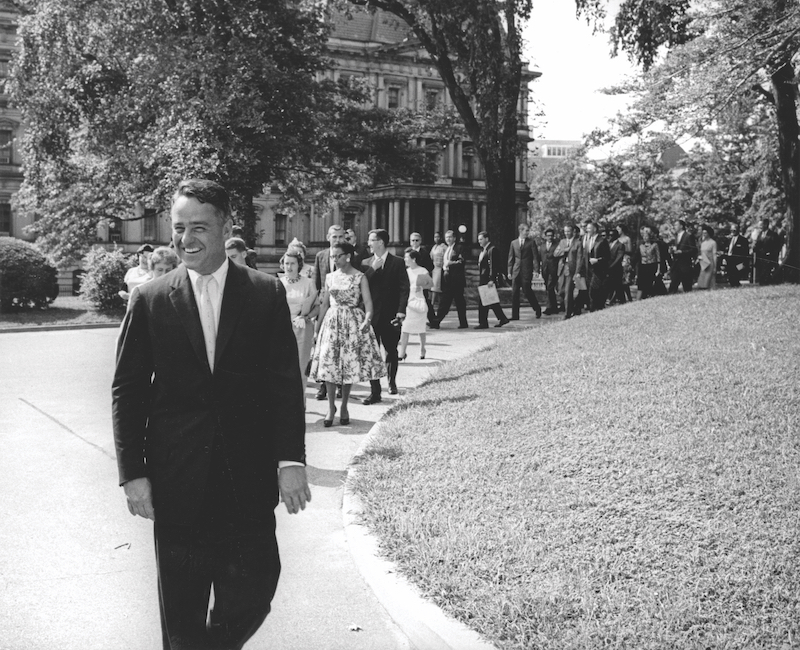 Photo courtesy John F. Kennedy Library and Museum
As a returned Volunteer who served in Iran, I can't express how deeply Sargent Shriver's work continues to affect my life, starting with a Returned Peace Corps Volunteer teacher from the first days of Peace Corps in junior high school to numerous friendships with a Peace Corps connection that continue to this day. This sort of service opportunity is the best of what our country has to offer our citizens and the world.
N. Bruce Nelson
Iran 1972–74
In Mashraqi High School in Kandahar, Afghanistan, three Peace Corps teachers taught us English in 1971. I still know one Peace Corps member. My thanks to them.
Shahwali Popal
via Facebook
---
Budget Advocacy
The House of Representatives has voted to back $430.5 million in funding. They still need to bring the Senate around to backing more than flat funding for the seventh year in a row. — Ed.
Wonderful news. A lot of credit for this passage should go to the dedicated returned Volunteers who spent endless hours advocating on the Hill. After this unfortunate pause in service due to the pandemic, it is the perfect time to have adequate funding to resume Peace Corps service in countries requesting it.
Judy B. Smith
Niger 2010–11, Armenia 2011–13
I contacted Senator Feinstein's office and Congressman Jared Huffman in regard to enhanced Peace Corps funding. We need Peace Corps more than ever now. Please don't let JFK's legacy fade with time. Keep up your good work. Your friend in peace.
Gary Whittaker
El Salvador 1976–80
I hope the Senate, too, approves this increased budget for the Peace Corps — and the Peace Corps finds meaningful ways to provide effective service in this COVID-impacted new world.
Kul Chandra Gautam
Former Deputy Director of UNICEF; recipient of 2018 Harris Wofford Global Citizen Award
---
Remembering 9/11
I was a month into training in Mali when it happened. The event altered our training but we continued through, and it brought everyone closer together, including our host country nationals.
Dean Hamerly
Mali 2001–03
---
Peace Corps Connect 2021
The 60th anniversary conference took place September 23–25.
I found the conference so easy to navigate, and the content throughout was excellent! Kudos for a worthwhile and memorable 60th anniversary event.
Peter Deekle
Iran 1968–70
Thanks to everyone who worked to make this happen. The Asian American Pacific Islander discussion was outstanding. Thanks to the guest speakers for sharing some of their personal journeys and experiences.
Christine Sheckler
Liberia 1982–84; President, San Diego World Affairs Council
Peace Corps service in Burkina Faso changed my life in many great ways. Met my wife! Professional direction toward medicine and public health! My time there taught me so much.
Jonathan Schultz, M.D., MPH
Burkina Faso 2006–09
Having served in Guatemala, and my wife in Thailand, we are proud to be among the 240,000 who have experienced "the toughest job you'll ever love." It was my professor of international business at University of Washington — who had been a Volunteer in Chile — who planted the seed. Though I served during politically turbulent times in Guatemala, it was the experience of my lifetime. Plus I met my wife the year I was leading the returned Volunteer group in Seattle.
J. David Snow
Guatemala 1979–81
---
JFK at the Cow Palace
On November 2, we marked the anniversary of JFK's 1960 campaign speech at San Francisco's Cow Palace, where he used the term "Peace Corps" for the fist time and declared, "I am convinced that the pool of people in this country of ours anxious to respond to the public service is greater than it has ever been in our history."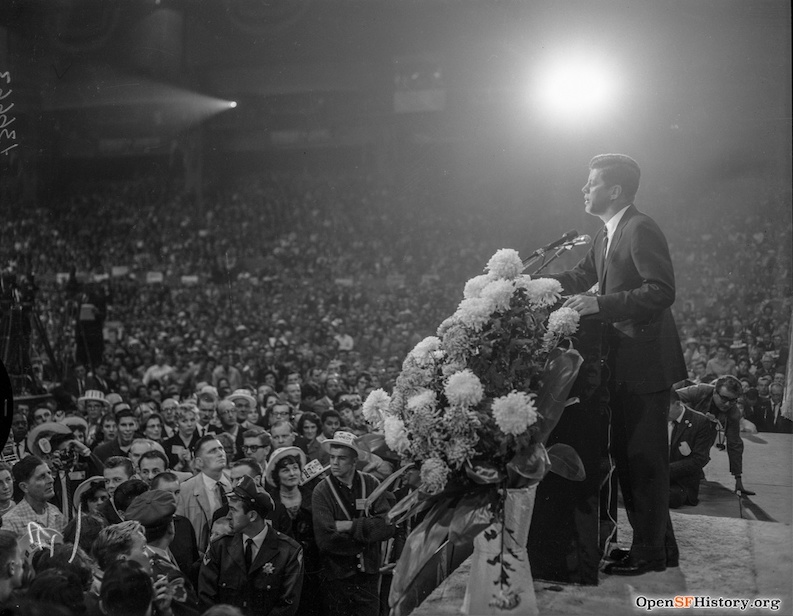 Photo courtesy OpenSFHistory.org

Love how he lights up the foreign service language skills (or lack thereof) in his full speech. Definitely resulted in our robust pre-service language training.
Joan Barker
Niger 2005–07
A life-changing experience for myself and hopefully for the lives I touched during my service in Malaysia. Hope to be of further service to the Peace Corps once I retire.
Patrick Harris
Malaysia 1981–83
The Peace Corps, together with the Fulbright program and USAID, are great initiatives and success stories.
Sami Jamil Jadallah
via LinkedIn
These letters appear in the 60th-anniversary edition of WorldView magazine.
---
WRITE US: worldview@peacecorpsconnect.org
---