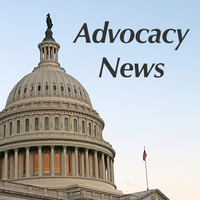 Today the U.S. Labor Department issued special unemployment guidelines which clarifies that evacuated Peace Corps Volunteers are eligible for this assistance.
Given the unique circumstances of the pandemic and the projection that evacuees would be returning to a seriously contracting economy, National Peace Corps Association has advocated for some type of joblessness assistance to address this concern.
The $2.2 trillion stimulus package to address the COVID-19 pandemic, approved on March 27, included a provision for "Pandemic Unemployment Assistance" (PUA). Introduced by Senator Gary Peters (D-MI), this part of the legislation created a temporary unemployment compensation program to provide federally funded benefits to people unable to work because of the Coronavirus.
Nearly a month ago, Senator Chris Van Hollen (D-MD) and Congressman Dean Phillips (D-MN) issued a joint Senate/House letter to clarify that evacuated Peace Corps Volunteers would be eligible for benefits under the PUA.
Tuesday's guidelines specify that evacuees are indeed eligible (see Question 29 on page I-8):
29. Question: Is a Peace Corps and Americorps participant who is no longer volunteering because their volunteer sites are closed due to COVID-19 eligible for PUA?

Answer: Yes. An individual participating in Peace Corps and Americorps who would not qualify for regular UC, whose volunteer site is closed down as a direct result of COVID- 19, and who has suffered a loss of income is eligible for PUA.
"Good news," Senator Van Hollen posted in a Tweet on Tuesday afternoon. "They were in limbo but we just learned that thousands of evacuated Peace Corps volunteers who were required to return from overseas posts will qualify to receive unemployment compensation. I also hope they can return to their missions as soon as it is safe to do so!"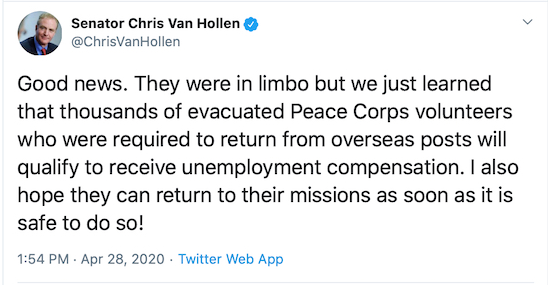 In a press release Tuesday evening, Senator Van Hollen added: "For decades, Peace Corps and AmeriCorps volunteers have served our country at home and abroad — promoting democracy, literacy, development and good will. Today, these men and women — thousands of whom have been recalled — deserve the same safety net provided to others at this moment of need. I'm glad to see the Department of Labor follow Congressional intent and provide the certainty of this relief."
"The Peace Corps represents the very best in American leadership on a global stage," Representative Phillips said in the press release, "with volunteers serving alongside communities in their fight against sickness, hunger, and economic insecurity. We must honor that commitment in this time of economic turmoil. I am thankful for the leadership of Senators Wyden and Van Hollen, and for the Department of Labor's willingness to listen."
Next Steps
Various states around the nation, including California, Massachusetts, Pennsylvania, and Texas are issuing guidelines for individuals to apply under the Pandemic Unemployment Assistance. Individual evacuated Peace Corps Volunteers will need to contact state labor departments to find details on how to apply. A particular challenge may be faced by evacuees whose state of residence when they joined Peace Corps is different from their current state of residence. The advice shared with us: Start by reaching out to the labor department in your current state of residence.
This is one more important milestone in efforts to secure health and financial benefits for Volunteers. Read a recap of those efforts here.
Story updated April 28, 2020 at 20:15.
---