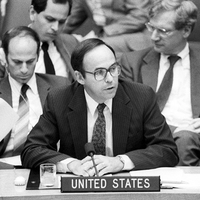 Remembering those we've recently lost in the Peace Corps community
A Cuban exile who became a country director. A leader in Peace Corps' early efforts of training volunteers on college campuses. Returned Volunteers in western Massachusetts who were leaders in their communities in so many ways. These are among those who recently died, and whom we recognize for their service.
Photo: Francis Lauren Keegan, who worked with universities early on to train Peace Corps Volunteers.
Francis Lauren Keegan (1925 – 2020) graduated from Santa Clara University and earned a master's degree and Ph.D. from the University of Notre Dame after service with the Merchant Marine during World War II. He was a research fellow at the Institute for Philosophical Research in San Francisco before beginning a long career in higher education. This started with his hire as associate director of college curriculum study at St. Mary's College of California. He would return to Notre Dame as an assistant professor, assistant dean, and co-founder of the Jacques Maritain Center. He was hired as president of Salem State College in Massachusetts but later faced a no confidence vote from faculty and was subsequently fired. While at Salem State, he initiated controversial reforms and marched to protest the Vietnam War. In an interview following his ouster, Keegan said "If you don't crack eggs, you can't have omelets. I'm a guy who cracks eggs." It was in 1962 that Keegan took on a six-month assignment at the request of Sargent Shriver to work with universities to train Peace Corps Volunteers. He also served in 1965 as a program advisor in higher education for the Ford Foundation in Mexico City. During his life he wrote several poetry and illustrated history books.
Ambassador Jose S. Sorzano (1940 – 2020) (pictured above) was born and raised in Cuba. A member of the Cuban national championship basketball team, Sorzano fled communist Cuba and came to the United States at the age of 20. His first job in the U.S. was to mop kitchen floors at the Key Bridge Marriott Hotel in Virginia. He learned English and later enrolled at Georgetown University, earning a degree in international affairs and a PhD in political philosophy. Georgetown later hired him and Sorzano worked for 18 years as an associate professor of government. Peace Corps brought on Sorzano to serve as Country Director of the Colombia program, which would become the second largest program during his tenure. In 1981, President Reagan appointed him U.S. Representative to the United Nations Economic and Social Council, and then as Deputy Permanent Representative, Ambassador Extraordinary and Plenipotentiary. Ambassador Sorzano served in that role for five years. In 1987, he was appointed to the National Security Council as special assistant to President Reagan and senior director for Latin American Affairs, serving for almost two years. After leaving government service, he was the president of the Cuban American National Foundation, a nonprofit organization dedicated to promoting a free, independent, and democratic Cuba.
Robert Laurence Nason (1946 – 2021) graduated from Villanova University in 1968. He did not originally plan to earn a degree in political science, but it proved helpful in his future. Bob's Peace Corps service took him to Colombia, where he helped build one-room schoolhouses, and he worked on agricultural diversification while living high in the Andes mountains. A conscientious objector to the war in Vietnam, Bob was assigned to work in Spaulding Rehab Hospital in Massachusetts. Following this assignment, he began a long career in public service. He worked on affordable housing issues with the Melrose and Chelsea Housing Authorities. This was followed by positions with the Massachusetts Department of Housing and Community Development, and the Massachusetts Department of Mental Health. In 1968, he moved to the town of Lee, Massachusetts, where he served as Town Manager for the next 19 years. Upon retirement, Bob was an active volunteer. He was a member of the local Lions Club and taught ESL through the Literacy Network of the Southern Berkshires. At the time of his death, he was being trained as a mediator with the Berkshire County Regional Housing Authority.
Shirley Scott Williams (1941 – 2020) majored in English and history at Stephen F. Austin State University. She joined the Peace Corps and taught English at Ozamiz City in the Philippines. This was the start of a career that would take her to Kauai, Hawaii, and back to Stephen F. Austin. Williams then settled north of the university, teaching English and chairing the English department at Longview High School. She was honored at the 2002 Region VII Secondary Teacher of the Year and was the recipient of the Cornerstone Award through the Longview ISD Foundation. She was active with the school's National Honor Society, the Academic Decathlon teams, and the high school literary magazine. After retirement, Williams remained active in her community, volunteering with the Gregg County Historical Museum, the Shakespeare Club, and the First United Methodist Church School for Little Children.
Hedy Lipez Burbank (1940 – 2021) graduated from Swarthmore College with a degree in philosophy. She earned an RN at Berkshire Community College in Massachusetts, was trained as a nurse practitioner at Northeastern University, and earned a master's in psychiatric nursing at Yale. Burbank devoted her life to serving her community in so many ways. She was well known in Berkshire County for her work at Doyle Detox, the Neighborhood Health Center, and Williams College, as well as her private counseling practice. She traveled overseas to serve in the Peace Corps, with assignments in Ethiopia and Zambia. She also volunteered numerous times with the Red Cross, and locally (back in western Massachusetts) with the Elizabeth Freeman Center (the Rape Crisis Center), and the New Ashford Volunteer Fire Department. She also ran an HIV/AIDS support group for many years, as well as an eating disorder support group. After retiring from the volunteer fire department, Burbank took pride in serving her community as a poll worker on election days.
PEACE CORPS STAFF
David Dichter, 12/28/20
Adriel "A.C." Gray, 1/10/21
Francis Lauren Keegan (1962), 12/15/20
William "Buzzy" Patterson, 1/7/21
Steven Steigleder, 12/24/20
MULTIPLE COUNTRIES
Hedy Lipez Burbank (Ethiopia/Zambia), 1/10/21
Lynn W. Gallagher (Tanzania/Kenya mid/late 1960s), 12/15/20
Kathleen Pastryk (Philippines 1961–63; Botswana 1971–74), 1/1/21
AFGHANISTAN
Janet Kutny (late 1960s) 12/20
ARMENIA
Loretta Jane Land (1996–98), 1/1/21
BELIZE
Carol Saunders-White, 12/14/20
BOLIVIA
Judith "Julia" Moore (1967), 12/29/20
BRAZIL
Marjorie Rebecca Davis (1967-69) 12/26/20
Harold B. Hawkins M.D., 12/31/20
James O'Donnell (early 1970s) 12/22/20
James C. Reed, posted 1/3/21
Katharine Wylie (1966–68), 1/15/21
CAMEROON
Arthur Albert Theisen (staff), 12/26/20
COLOMBIA
Bernal Doyle "Bernie" Brock, 12/26/20
Archie Hogan Jr., 10/13/20
Robert Laurence Nason (1968–70), 1/5/21
Janet Obando (1974–76), 12/16/20
Raphael "Skip" Semmes III, 12/31/20
Jose Sorzano (Country Director), 12/29/20
EL SALVADOR
James Portman, 1/5/21
ESWATINI (SWAZILAND)
Carolyn Ann Brown, 1/7/21
ETHIOPIA
Kermit Holderman (1970s), 3/31/20
Charlotte Lockner (1965–67), 1/2/21
JAMAICA
Delores Sumner Byrd (1963–65), 12/22/20
Todd Radenbaugh (1992–94), 10/26/20
KAZAKHSTAN
Althea R. "Thea" Hyde (2007–09), 12/21/20
KENYA
Mary Jo Hays, 1/10/21
LIBERIA
Dr. Paul J. Lavin (1963–65), 12/31/20
MALAWI
Jenifer Ahlstrand (1967–69), 1/6/21
MALAYSIA
Elizabeth Jane Eggleston (1960s), 1/2/21
James R. Hulbert (1967–69), 12/8/20
Joyce Porter (staff 1974–76), 12/26/20
MAURITANIA
Claudia Ruth Lamparzyk, 11/16/20
NEPAL
Robert Bell (1983–85), 12/22/20
NIGERIA
Murray W. Frank (staff, early 1960s) 1/3/21
PANAMA
Diann Ballesteros (1962–64), 1/1/21
Harold David Walters (1967–69), 12/14/20
PERU
Robert Armendariiz, posted 1/5/21
Laura Kapka-Borchert, 12/26/20
THE PHILIPPINES
Shirley Scott Williams (1960s), 12/29/20
POLAND
Marcia Anne Brocato Maynard (1990s)
PERU
Barbara "Bunny" Frey, 1/6/21
SAMOA
Rita A. Dunn (1986–88), 12/18/20
SENEGAL
Pierre McNally (1971–73), 12/16/20
SIERRA LEONE
Tom Scott De Martini (1981–83), 12/27/20
Don C. Henson Jr. (1967–68), 12/26/20
SOLOMON ISLANDS
Robert Stirling (1984–86), 1/1/21
SOUTH KOREA
Leslie H. Silver, 12/21/20
TANZANIA
Matthew P. "Pete" Wright (1961–63), 1/3/21
THAILAND
Danny Korte, 1/9/21
TUNISIA
Charles Woodrow Wilson (late 1960s), 1/1/21
TURKEY
Steve Baim (1967-69), 11/17/20
UKRAINE
Jason C. Cleary (1977–79), 12/12/20
VENEZUELA
Larry Coy (1966–68), 12/18/20
YEMEN
Darunee Wilson (1984–86), 12/30/20
COUNTRY OF SERVICE NOT SPECIFIED
Peter Henri Belanger (West Africa), 12/10/20
Michael "Elmo" Drilling, 1/14/21
Lawrence John "Larry" Franke, 12/29/20
Patricia Jean George, 12/19/20
Samuel Pettus Hall III, 12/21/20
Don Scott Hatcher (Africa), 12/15/20
Morris W. Hitson Jr., 1/7/21
Charles Norman, 1/16/21
Barbara O'Meallie-Wilson (1993–95), 11/30/20
Joann Kateri Peters (mid 1970s), 1/1/21
---

If you have information you would like to share for our monthly In Memoriam post, please reach out to us at obituary@peacecorpsconnect.org.
---