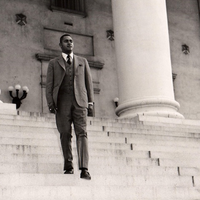 As we mourn the loss of members of the Peace Corps community, we celebrate the lives they led with a commitment to service.
By Molly O'Brien and Caitlin Nemeth
Photo: William B. Robertson — Peace Corps country director and the first Black senior decision-maker in any governor's office in the South. By John Frischkorn, Virginia Department of Highways. Courtesy of the William B. Robertson Library, Bluefield State College, West Virginia.
Our tributes include a lifelong nurse and teacher. A talented architect and public servant devoted to education. One of the founders of the Museum of the Peace Corps Experience and a strong Peace Corps supporter. A well-traveled teacher-scholar and veteran.
We honor the wide range of contributions made by members of the Peace Corps community who recently passed away.
William B. Robertson (1933–2021) was the first Black American to serve as an aide to a Virginia governor and went on to serve presidents in international affairs. Before his passing, he was finishing work on his memoir, Lifting Every Voice: My Journey from Segregated Roanoke to the Corridors of Power, to be published in spring 2022 by the University of Virginia Press. One historian notes that his book, like his life, serves as a rallying cry for continued activism to bring about justice and equity for all. He was born in 1933 in Roanoke, Virginia. He earned two degrees in education from Bluefield State College, a historically Black college in West Virginia. In the 1960s he became well-known as an educational leader and active in civic affairs. He was then approached by a Republican candidate for governor, Linwood Holton, to run for office — and help defeat the segregationist, conservative Democrat "Byrd Machine" that had dominated Virginia politics for decades. Robertson initially demurred; but in 1969 he switched his party to Republican and ran for a seat in the Virginia House of Delegates. He lost, but Holton won — and Holton asked Robertson to serve on his staff. Robertson broke ground as the first Black man to serve as a senior advisor to any governor in the South. He was a man of courage and compassion; when a mental patient took one of his guards hostage — this, shortly after 43 prisoners and guards died in the Attica prison rebellion in New York — Robertson offered himself as a hostage to replace the guard and negotiated a settlement. He went on to serve presidents — from Ford to Carter to Reagan to Bush I: as country director for the Peace Corps in Kenya and the Seychelles, as assistant secretary of state for African affairs, as co-chair of a task force. When he retired, he returned to the classroom to teach in an inner city school in Tampa, Florida. For many years he brought groups of young students to visit his alma mater and encourage them to pursue a college education. "Only in recent years," noted one remembrance, "did the racialization of the GOP and Robertson's passionate support for Black Lives Matter drive him out of the Party of Lincoln." He died on June 23. He was 88 years old.
Sally F. Fitch (1940–2021) grew up in Washington and was an active member of her high school as a teen. She was the salutatorian and part of the first class to graduate from Davis High School in 1958. She remained active in social life during college at the University of Washington and participated in many clubs while earning her bachelor's degree in history and language. Fitch was married after graduation and joined Peace Corps with her husband in 1966. They served in Chile, where Fitch taught villagers how to use sewing machines and her husband, Jim, taught them to better their wine grape production. They deeply loved their Peace Corps experience and it influenced their lives for many years. Fitch's main passions were travel, textiles, and teaching. Fitch was awarded a Rockefeller fellowship to study Mayan culture in Guatemala and later to study the Aymara and Quechua in Bolivia. She also received a Fulbright fellowship to study Pakistani culture. It was a great honor for her to experience other cultures and share them with those back home. She would often bring home textiles from the places she traveled and created wearable art to share with her friends and family. Not only did Fitch get to experience much of the world, but she shared it with her students as a teacher of 30 years. She taught various subjects, but particularly enjoyed Spanish and world history. She was recognized with a National Endowment for the Humanities Award as Washington State's Outstanding Teacher-Scholar. Her stories and impact will live on through her students, friends, and family.
T. James "Jim" Truby (1942–2021) was a community leader and talented architect. He attended Carnegie Mellon University where he received a bachelor of architecture degree. Truby continued his education and pursued a M.A. in social anthropology from the American University in Washington, D.C. In 1965, Truby left to serve in Tunisia as a Peace Corps volunteer. He applied his background in architecture to improve housing in his country of service. His passion for architecture would continue on after service. Truby joined the Maryland Aviation Administration in 1972 and helped plan the expansion of Baltimore's airport into Baltimore Washington Thurgood Marshall International Airport (BWI). Later he would continue his work at BWI as he planned and opened an Amtrak station at the airport. In 1994, Truby founded a consulting firm that helped nonprofits develop buildings for their use. The firm managed development of buildings for education and senior housing, arts programs, medical practices, and museums. Many of the projects have won awards for design, construction, and historic preservation. Some examples of projects and clients include: the Chesapeake Bay Foundation's Phillip Merrill Environmental Center (the first building in the United States to receive LEED Platinum Certification), the Baltimore Museum of Art, and the Maryland Science Center. Truby also served on various community boards in the formative years of his town, New Town of Colombia, MD. His commitment to his community made a lasting impact on the town and its organizations. Outside of work, Truby loved to spend time with his family and stay active through travel and his many hobbies, though he never lost his passion for his community.
Tammy J. Lind (1966–2021) was inspired by her Peace Corps service to pursue a long career in healthcare. Lind grew up in a very large family in Minnesota. She was the valedictorian of Rush City High School class of 1984 and attended St. Olaf College, where she earned a degree in chemistry. After graduation, she joined Peace Corps and served as a Volunteer in Samoa. Lind was inspired by her service to help others and become a nurse. She decided to go back to school and received a bachelor's degree in nursing from Winona State. As a nurse, Lind worked for several years at Mayo Clinic Hospitals in Rochester, Minnesota. Still wanting to help others, Lind decided to pursue missionary work. She went back to school again to pursue biblical studies at Columbia International University. She then served as a nurse in Cambodia for three years through Overseas Missionaries Fellowship International (OMF). When she returned to the United States, Lind worked as a hospice nurse, before finishing her career as a home health nurse. Lind cared passionately for others as a nurse and as a friend. She loved to travel and spend time with family and friends. Gone too soon, she passed away after a long battle with an autoimmune disease. She will be remembered for her kind spirit and love for others.
Martin L. Kaplan (1935–2021) was a passionate supporter of Peace Corps his entire life. Kaplan was born in New York City and attended City College of New York. He graduated in 1956 with a degree in chemistry. He obtained his master's from Florida State University where he also met his future wife. Kaplan joined Peace Corps in 1962 and served for two years in the Somali Republic. It was a powerfully formative experience, and he remained active in the Peace Corps community for the rest of his life. Upon his return from service, Kaplan started what would be a 53 year marriage. After his Peace Corps service, he worked as a research chemist for Bell Laboratories in New Jersey for 30 years. In his spare time, he also earned a Juris Doctorate and practiced law. He co-founded the organization working to create the Museum of the Peace Corps Experience. In retirement, Kaplan moved to Oregon and became a teacher once again, teaching chemistry at a community college. He will be remembered through his many scientific publications and the lives he touched, including those in the Peace Corps community.
Nancy R. Jiracek (1945–2021) was a lifelong public servant devoted to helping her community. Jiracek grew up in Wisconsin and earned her bachelor's degree from the University of Wisconsin, Madison. After her graduation, she joined Peace Corps and served as a volunteer in Honduras. This began a life of travel and working in other countries. Jiracek moved to Tasmania in Australia, where she would remain for the next 50 years. Her career in public service involved managing family and social planning with adult education at Technical and Further Education (TAFE), which is similar to community colleges in the U.S. In retirement, Jiracek accepted a two-year position with UNICEF to assist with unexploded ordnance issues in Cambodia and Laos. Jiracek also cared deeply about Native American issues and the arts. She and her partner had a summer residence in Santa Fe, New Mexico, where they were actively engaged in supporting native culture. Jiracek told her story in the book Building Up: Tales from Below, which described her early life growing up in a basement-house in La Crosse, Wisconsin.
Peter J. Cryan (1944–2021) was a dedicated servicemember, family man, volunteer, coach. After completing his B.S. from Boston College and MBA from Suffolk University, he went on to join the Peace Corps and serve in Puerto Montt in southern Chile. He returned to the U.S. and joined the U.S. Army in 1968. He fought in Vietnam with the 101st Airborne Division and earned a Bronze Star; he was discharged with the rank of captain. Cryan began his professional career in healthcare administration at Children's Hospital Boston. Later on he and his wife co-founded and co-led Cryan Associates, a small organization managing professional associations. After retirement Cryan continued to do consulting work as a trade show manager. Cryan participated in many organizations throughout his life, including Rotary International through the Sudbury chapter and a Paul Harris fellowship; he coached many sports teams; led several mission trips to Honduras; volunteered with Mobile Ministries; and was a proud member of the Padanaram Wharf Rats, the local men's group.
Delores A. (Primus) Orman (1943–2021) grew up in Iowa and was active in her community from a young age. She was involved in 4-H, her church youth group, helping at her parents' appliance store, and worked as a lifeguard as a teen. Orman earned a bachelor's degree in home economics and interior design from Iowa State University Ames in 1965. After graduation, she served as a Peace Corps Volunteer in Niger. During her service she met and married her husband, Paul. Upon their return home, Orman began teaching art and home economics in Nome, Alaska. They remained there for 18 years, raising their family. Orman was an active member of her church and volunteer with 4-H. She was also a talented gardener and would frequently share her produce with friends and neighbors. In 1985, Orman and her family moved to Nebraska, where she continued to make a great impact in her community through teaching and volunteer work.
Edward J. Budi (1955–2021) was a devout family man who loved traveling the world. Budi was born and raised in Illinois and graduated from Saint Mary's University with a B.A. in accounting. He was known for believing the journey was always the destination. He enjoyed his time in Fiji as a Peace Corps Volunteer immensely, and he passed on his passion for adventure to the next generation, encouraging his children to experience the world. Budi and his wife met in Fiji and they eventually settled down as a family in Glen Allen, Virginia, where Budi worked as an international tax specialist with the IRS and was a member of the Knights of Columbus. He was also very involved with Friends of Fiji, and his dedication to service continued throughout his life.
PEACE CORPS STAFF
Walter Cuskey (Trainer in Puerto Rico), 5/10/21
Nancy K. (Henney) Elsea (Sierra Leone), 7/22/21
Jerry A. Harrold (Malawi), 7/18/21
William B. Robertson (Country Director of Kenya and Seychelles), 6/23/21
MULTIPLE COUNTRIES
Sally A. DeCicco (Ghana 1978—80, Philippines 1989—90), 8/4/21
AFGHANISTAN
Helen M. (Herrick) Michoud (1963—65), 7/24/21
BOLIVIA
George "Don" Donald Beck (1967—69)
CENTRAL AFRICAN REPUBLIC
Rev. Thomas G. Schaefer (1974—77), 7/3/21
CHILE
Peter J. Cryan (1965—67), 8/4/21
Sally F. Fitch (1965—67), 7/7/21
CHINA
Robert Joseph Eller (1999—2001), 8/4/21
COSTA RICA
Michael James Parcher (1980—83), 6/16/21
DOMINICAN REPUBLIC
Ernest C. Conry (1989—91), 6/8/21
Mary "Gail Marie" Gail (McDonough) Forte (1979—82), 7/21/21
Helena E. (Mokray) Reed (1964—66), 7/8/21
Danny "Dan" M. Thibault (1973—74), 7/21
EASTERN CARIBBEAN
Rolfe A. Leary, PhD (1961—63), 7/20/21
ECUADOR
Joseph J. Aquino (1964—66), 8/1/21
Samuel F. McPhetres (1962—64), 7/24/21
EL SALVADOR
John P. Spare (1966—68), 8/1/21
FIJI
Edward J. Budi (1986—88), 7/29/21
GABON
Melinda R. Bauman (1994—96), 7/15/21
GUATEMALA
Stephen (Clark) Issa (1988—90), 3/15/21
HAITI
Ellen Ruth (Harris) Daiber (1992—93), 7/5/21
HONDURAS
Kathleen T. Durning (1982—85), 7/10/21
Nancy R. Jiracek (1968—69), 7/10/21
IRAN
Harry E. Conklin (1968—71), 7/8/21
Edward W. Davis (1964—66), 5/8/21
Arthur "Steve" S. Evans (1967—69), 4/1/21
Ray Alan Frieden (1969—71), 4/27/21
Robert A. Friedman (1966—67), 6/6/21
James H. Reed (1964—66), 3/6/21
JORDAN
Sandra "Sandi" K. (Wheelhouse) Sauvage (2006—08), 7/21/21
KAZAKHSTAN
Linda L. Bradshaw (2002—04), 7/10/21
LESOTHO
Willa Lemken (1997—99), 7/22/21
LIBERIA
Robert "Kent" K. Fisher (1963—65), 7/8/21
Anita L. (Sowell) Terry (1972), 8/5/21
MALAWI
John Martin Geraghty (1965—67), 7/29/21
MOLDOVA
Frank L. Mays (2000), 1/7/21
MONGOLIA
Michael K. Jerryson (1997), 7/9/21
NEPAL
James W. Morris (1967—70), 7/18/21
NIGER
Delores A. (Primus) Orman (1965—67), 8/7/21
NIGERIA
Beverly J. Granger (1962—64), 6/14/21
PHILIPPINES
Kyle J. Rickert (2004—06), 7/25/21
Luke E. Williams (1984—87), 7/27/21
SAMOA
Virgina A. (Blake) Clark (1978—80), 7/14/21
Tammy J. Lind (1988—90), 7/19/21
SENEGAL
Betty C. Harding (1986—88), 6/21/21
SOMALIA
Martin L. Kaplan (1962—64), 6/20/21
THAILAND
Arlene A. (Schwalben) Darick (1973—76), 7/24/21
TUNISIA
Edward S. Bright (1983—85), 2/21
T. James "Jim" Truby (1965—67), 1/21/21
VENEZUELA
Aubrey Parsons Owen, 7/8/21
COUNTRY OF SERVICE NOT SPECIFIED
Kate Edwards, 7/28/21
Michael Graham, 7/11/21

If you have information you would like to share for our monthly In Memoriam post, please reach out to us at obituary@peacecorpsconnect.org.
---