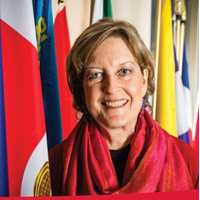 She led the Peace Corps Agency since 2018 — and through the unprecedented global evacuation of all Volunteers from countries where they were serving.
By NPCA Staff
On January 20, Jody Olsen stepped down from her post as Director of the Peace Corps to make way for a new team to be appointed by the Biden administration. Taking on the leadership role for the time being is Carol Spahn, who had been serving as chief of operations for Africa.
Olsen was sworn in as director in March 2018. The challenges she and the agency faced in the past year were unprecedented: In March 2020, as COVID-19 swept around the world, Olsen made what she described as "the most difficult decision of my life" — to evacuate all Peace Corps Volunteers from their posts. The pandemic and protests against racial injustice, and a focus on how systemic racism has affected U.S. institutions, including Peace Corps, created what many have seen as a moment of reckoning for the Peace Corps community. Then came a campaign to deny the results of the 2020 presidential election.
"The transition from one Executive branch administration to the next is a hallmark of our constitutional democracy," Olsen wrote in announcing her departure. Her decades-long connection to Peace Corps began with her serving as a Volunteer in Tunisia (1966–68). She served as country director in Togo (1977–81), then as a regional director, as chief of staff, and as deputy director (2002–09).
In a tumultuous time, Olsen guided the agency and thousands of Volunteers through rough political, societal, and global challenges. National Peace Corps Association has invited members of the Peace Corps community to send her a message of thanks, gratitude, or remembrance by January 31. Messages from across the Peace Corps community will be compiled and shared with her in thanks for her service.
Acting Director Carol Spahn
Carol Spahn carries the title of acting director. She has over 25 years of experience in international development, business, health, and women's empowerment. Spahn served as a Peace Corps Volunteer in Romania (1994–96) and country director in Malawi (2014–19). With the scale of tasks before the new administration, it will likely be some months before a new director is appointed and confirmed by the U.S. Senate. Read more about her and additional appointments to the agency here.
---