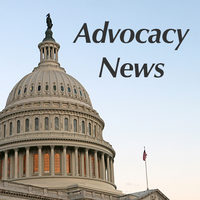 On March 1 we kicked off a season of advocacy in support of the Peace Corps. And we're working to transform it for a changed world. On March 1, Rep. John Garamendi introduced comprehensive Peace Corps legislation.
By Jonathan Pearson
For 17 years, one of National Peace Corps Association's key contributions to Peace Corps Week is our National Days of Advocacy. This Peace Corps 60th anniversary year is marked by a global pandemic and social distancing, as well as national crisis that includes a U.S. Capitol closed to visitors. In spite of these unprecedented challenges, our advocacy mobilization carries on. And during the months of March and April, your involvement is needed like never before.
Our March 1 Kickoff
Our Days of Advocacy kickoff began on March 1 (Peace Corps Day). More than 250 Returned Peace Corps Volunteers (RPCVs) former Peace Corps staff and other supporters joined a meeting which featured remarks by Peace Corps champions in Congress including RPCV Rep. John Garamendi (D-CA), Sen. Susan Collins (R-ME), and Rep. Garret Graves (R-LA). Several advocacy leaders shared their planned activities in the coming weeks and many joined individual state/regional breakout meetings to discuss further plans for mobilization.
It's not too late to get involved in our National Days of Advocacy. In fact, we are just getting started!
Take Individual Action Right Now
Follow this link to write to your members of Congress. Share this link with others. We need every citizen who believes in the importance of the Peace Corps to contact Congress at this consequential moment in Peace Corps history!
Get Involved
Check out our 2021 Days of Advocacy map to see if any activities — virtual meetings with congressional offices, virtual letter writing, advocacy workshops, and more — are already in the works. If there's no activity already scheduled in your area, fill out this form and help lead one!
Virtual Workshop Recording
If you are new to advocacy, follow this link for details on how to plan and carry out effective virtual advocacy meetings. And, here is a video recording of our March 9th Virtual Advocacy 101 Workshop.
More Resources:
Visit our State Resources page for a one-page document about Peace Corps activity in your state (which you can download and use as a leave behind document for congressional office meetings), and to see profiles of every member of Congress.
Follow this link for our generic, two page leave behind document that you can share with congressional offices.
Issues: Funding, Peace Corps Legislation, COVID Relief, Jobs
Our Days of Advocacy Agenda is still taking shape. We'll update this page as more information becomes available. During March and April 2021, here are some of our key Peace Corps–related advocacy issues:

Peace Corps Funding
Our advocacy to support strong Peace Corps funding begins now, as Congress begins to work on federal appropriations for Fiscal Year 2022 (which begins October 1, 2021). In the weeks to come, we anticipate intensive mobilization to urge members to sign annual Senate and House Peace Corps Funding "Dear Colleague" letters. Right now, our specific request is that you ask senators and representatives include strong funding for the Peace Corps when they submit their individual requests to their respective Appropriations Committee. The Peace Corps Reauthorization Act (see below) recommends a roughly 10 percent increase in FY 22 funding for Peace Corps — from $410 Million to $450 Million — to support redeployment and key reforms.
Click here to read our Peace Corps Funding issue brief and talking points.
Click here to read the House Peace Corps Funding Dear Colleague letter.
Click here for a letter writing action to support the House Dear Colleague letter.

Comprehensive Peace Corps Legislation
On March 1, Returned Peace Corps Volunteer John Garamendi (D-CA) and Representative Garret Graves (R-LA) introduced the Peace Corps Reauthorization Act (H.R. 1456) in the House of Representatives. Read Congressman Garamendi's press release, which includes a link to the legislation and an outline of the many provisions to support, improve, and honor the work of Peace Corps Volunteers and those who have returned.
At this time there is no companion legislation in the Senate.
Click here to read our Peace Corps Reauthorization Act issue brief and talking points.
Click here for a one–page document you can give to your representatives during House meetings.

COVID Relief and Jobs Legislation
In both the Senate and the House, identical legislation has been introduced to mobilize resources, confront the COVID-19 pandemic, and prioritize the hiring of RPCVs (among others) in the response. The Health Force, Resilience Force and Jobs To Fight COVID-19 Act of 2021 (Senate Bill 32; House Bill 460) is starting to gain co-sponsors. Thank your members if they are already a co-sponsor. If they are not, ask them to co-sponsor this legislation. Click here to read our issue brief and talking points.
Story updated April 7, 2021 at 5:00 PM Eastern Time.
---
Jonathan Pearson is the Director of Advocacy for National Peace Corps Association.
---