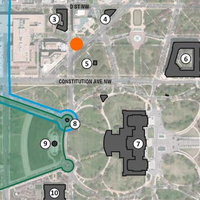 Congress passed the act with unanimous bipartisan support in both houses late last year. On January 5 President Trump signed it into law.
By Jonathan Pearson and Steven Boyd Saum

On January 5 the Peace Corps community got some much-hoped-for good news: President Trump signed into law H.R. 7460, the Peace Corps Commemorative Work Extension Act, which extends the authority of the Peace Corps Commemorative Foundation to establish a commemorative work on Federal lands in the District of Columbia to commemorate the mission of the Peace Corps and the ideals on which the Peace Corps was founded.
Here is some background on the legislation.
Congress Passed the Commemorative Time Extension
Joseph Kennedy III (D-MA) served as a Peace Corps Volunteer in Dominican Republic. After he was elected to the House of Representatives in 2012, one of the first pieces of legislation he introduced and passed provided congressional authorization for the creation of a Peace Corps Commemorative in Washington, D.C. On the afternoon of December 17, 2020, in the closing days of his fourth – and final – term in the House of Representatives, one of Congressman Kennedy's final accomplishments included securing House passage of a time extension that will allow work on the commemorative to move forward without interruption.
Late on December 20, 2020, the United Sates Senate followed suit, quickly and unanimously approving the legislation.
The Senate sponsors of companion legislation, Rob Portman (R-OH) and Jeanne Shaheen (D-NH) issued a press releaseafter the Senate vote, paying tribute to Peace Corps Volunteers and praising the unanimous bipartisan support for the project. "
For more than 50 years, the Peace Corps has served as a powerful vehicle for volunteers who wish to use their talents to carry America's humanitarian values to other parts of the world," said Senator Portman. "By reauthorizing this project, we can ensure the Peace Corps Commemorative Foundation can finish this important project and honor those Americans who have donated their time and talent to serving others. I am pleased my colleagues in the Senate passed this important legislation so that it will now be sent to the president's desk."
Watch: "A lasting tribute" — Representative Ruben Gallego (D-AZ) and Representative Rob Wittman (R-VA) pay tribute to the service of Peace Corps Volunteers over 60 years and ask for passage of the bill.

The Peace Corps Commemorative Foundation has made great progress on this project, with design selection, site selection near the National Mall, and unanimous approval by the U.S. Commission of Fine Arts in September on the revised design concept.

Rendering of Peace Corps Commemorative at Peace Corps Park. Courtesy of Peace Corps Commemorative Foundation.
"A lasting tribute to the legacy of the Peace Corps"
Congressman Joe Kennedy's departure marks the end of an era. Since 1947, a Kennedy has had a seat in Congress with only two brief interruptions. The first, Joe Kennedy's great uncle John F. Kennedy, created the Peace Corps by executive order in March 1961.
Speaking on the House floor, Representative Rob Wittman (R-VA) noted that it is fitting for the Peace Corps Commemorative legislation to be sponsored by President Kennedy's grand-nephew. Representative Ruben Gallego (D-AZ) said the commemorative will serve as a "lasting tribute to the legacy of the Peace Corps."
On December 9, Joe Kennedy delivered his farewell remarks to the House and spoke of how it is the task of each generation to expand the meaning of "we" in the phrase "We the people," the opening words of the U.S. Constitution. "Our future is big and bright," Kennedy said, "bit it will take everything — and everyone — to reach it."
"Today the House unanimously passed a seven-year Commemorative authorization extension, among Rep. Kennedy's final bills before ending his House term," said Roger Lewis, President of the Peace Corps Commemorative Foundation. "Americans who have served as Volunteers, worked for the Peace Corps or share Peace Corps ideals and values, are profoundly grateful for Rep. Kennedy's steadfast commitment to and support of the Peace Corps and its historic mission."
Congress Delivered a Funding Victory for the Peace Corps
Significantly, Congress delivered a funding victory for Peace Corps in December as well: holding steady on funding as the agency prepares for redeployment of Volunteers in 2021 after an unprecedented global evacuation in 2020. In negotiations for a Fiscal Year 2021 spending package, Congress faced a choice of three very different routes:
Maintain level funding for the agency at $410.5 million, as it makes plans to begin redeploying Volunteers in 2021; this was the route recommended by the House of Representatives.

Accept cuts of up to $51 million, trimming the budget to $359 million as was proposed by the Senate Appropriations Committee.

Agreeing to a compromise figure between the House and Senate recommendations.
As both chambers prepared for votes on the evening of December 21, 2020 release of the agreed-upon spending document revealed that Congress would move forward with the House recommendation of level Peace Corps funding, which is critical for investing in efforts to ensure the health and safety of Volunteers and the communities where they serve.
"We are extremely grateful to our Capitol Hill Peace Corps champions for their efforts to make sure Peace Corps remains strong with level funding to help it begin the process of redeploying thousands of Volunteers in the field," said National Peace Corps Association President Glenn Blumhorst. "I also want to thank the thousands of members of the Peace Corps community who wrote a letter, made a phone call, reached out to neighbors and friends, or took action through the media. The fight to sustain funding for Peace Corps is your victory."
That's not the only victory in the closing days of this Congress.
Access for Menstrual Hygiene Products for Volunteers
After meeting with and speaking to female Peace Corps Volunteers, Congresswoman Grace Meng (D-NY) introduced legislation in March 2020 to ensure access to menstrual hygiene products for Volunteers. House Bill 6118 called upon Peace Corps to develop a comprehensive policy to ensure Volunteers needing such products have adequate access wherever they are serving.
While the legislation did not pass, what it was aiming for will guide Peace Corps' work going forward: In the Fiscal Year 2021 State/Foreign Operations Appropriations package, language pertaining to this legislation was included in the final agreement. The language instructs Peace Corps to provide a strategy, within 90 days after passage of the legislation, to ensure all Volunteers who need feminine hygiene products have access to them, regardless of country of service. The language further states that the strategy shall take into consideration availability of products in-country, the price of those products, and the local cultural norms surrounding menstruation.
Peace Corps Redeployment and Evacuees: Congress Overrode Presidential Veto January 1
High on the congressional priority list for passage each year is the National Defense Authorization Act (NDAA). Included in the 4,500 page document that has passed both chambers is reporting requirements pertaining to Peace Corps redeployment and Volunteers who were evacuated earlier in 2020.
Introduced by Congressman Dean Phillips (D-MN), the legislation calls for a report to Congress from Peace Corps three months after bill passage on efforts of the agency to:
Provide an update on offering a redeployed Peace Corps assignment to all evacuees who wish to continue service;

Obtain approval from countries of service to allow the return of Peace Corps Volunteers;

Provide adequate health and safety measures including COVID-19 contingency plans; and

Identify any need for additional appropriations or new statutory authorities and the changes in global conditions that would be necessary to achieve the goal of safely enrolling 7,300 Peace Corps Volunteers during the one-year period beginning on the date on which Peace Corps operations resume.
President Trump vetoed the NDAA on issues not related to Peace Corps. But Congress overrode the veto on January 1, 2021, ensuring the measure becomes law.

---
Last Updated January 6, 2021 at 1:15 PM.
---