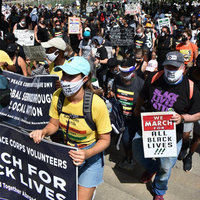 President's Letter: Now is a time to commit to building a legacy of inclusive peace.
By Glenn Blumhorst
Photo by Summer Gardner / Black RPCV in the DMV


What a year this has been! What began as what many of us hoped might be a year of "perfect" 20/20 vision to achieve our new year's resolutions, business plans, and interpersonal goals turned out to be one of the most challenging years of our lifetime — profoundly so for the Peace Corps community. Though shortly after the beginning of the year, we were concerned by legislation that proposed ending the independence of Peace Corps. Pandemic led to a global evacuation of Volunteers in the spring. And by the time many of you read this message, our country will be turning yet another important page in this chapter of life we are all experiencing together. It is our goal at National Peace Corps Association that, no matter what the outcome of our 2020 elections, our leaders in the White House, House of Representatives, and U.S. Senate collectively support a better and stronger Peace Corps. So let us all lend a hand in transforming the Peace Corps so that we can once again pick up the torch and build peace and friendship abroad — and work together to do the same thing right here at home.
Civil rights leader and Congressman John Lewis wrote: "Nothing can stop the power of a committed and determined people to make a difference in our society." While we cannot control what we face in the future, we can and should prepare for the problems we might face in this changed world. And while we certainly cannot undo the perils of the past year, I would be remiss if I did not address what we are doing at NPCA now to help heal old wounds from the past, as well as work to create new possibilities in the future that awaits us.
The skills we learned, backed by our core values, are what we need to be of service at home in the United States.

This past year has, for many of us, opened our hearts and minds to what is happening in our country like never before. When we serve as Peace Corps Volunteers, we venture into unfamiliar territory; we may witness strife or enforced gender roles that we find unsettling. While we adapt to our new environments, learn new languages, and forge new relationships, we may do so amidst wrenching change in the communities where we serve. The skills we learned, backed by our core values, are what we need to be of service at home in the United States — particularly while we have no Volunteers serving anywhere abroad.


August 28, 2020: New affiliate group Black RPCV in the DMV (District of Columbia, Maryland, and Virginia) brought together other Returned Peace Corps Volunteers for the commemorative March on Washington. Photo by Summer Gardner / Black RPCV in the DMV
Peace Corps Volunteers are leaders in all walks of life. Being a leader means standing up for what is right, not just walking the walk only when it is comfortable to do so. At NPCA, we have humbly taken a stand in the fight against racial injustice after the killings of Ahmaud Arbery, George Floyd, Breonna Taylor, and too many others this year alone. We have held town halls, worked with affiliate groups, participated in marches, and advocated for legislative reform: for the John Lewis Voting Rights Act as well as police reform. And many of us have taken small steps with family members and friends to deepen an understanding of the gravity of what is happening in communities across the country. As Peace Corps Volunteers, we stand for human rights; as peacemakers we also work for justice and to ensure our valuable skill sets are being brought to bear where they are needed most.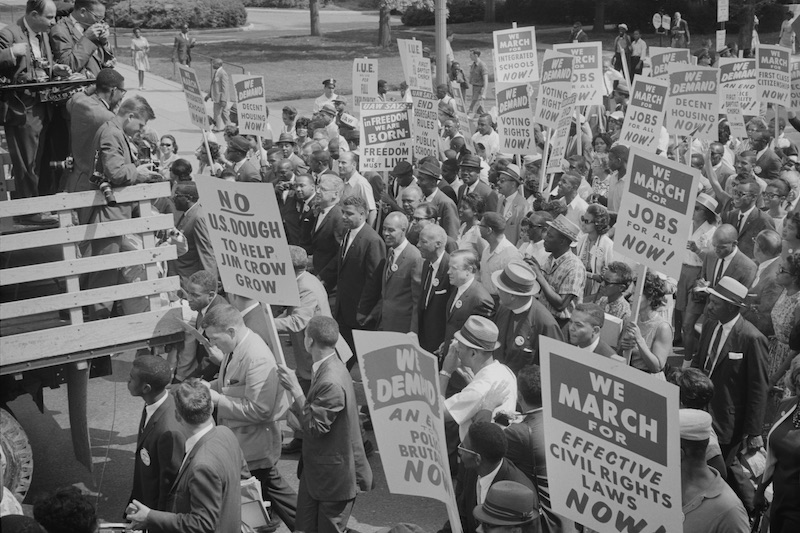 August 28, 1963: The March on Washington for Jobs and Freedom. Photo by Warren K.Leffler / Library of Congress.

Standing up for the safety of our fellow American citizens is patriotic and exemplifies the leadership that each and every one of us gained during service. We have already done the same for the people in the communities that hosted us as Volunteers. So as this year draws to a close, let's focus on making it a cornerstone for the good of humanity. Let us continue to have uncomfortable conversations that lead to lifelong connections and hearts that are full: of peace, justice, and understanding. We are only as good as our legacy will allow us to be years from when we all are no longer here. Let's commit to building a legacy of inclusive peace and justice all around the world.
---
Glenn Blumhorst is President & CEO of National Peace Corps Association. He welcomes your comments: president@peacecorpsconnect.org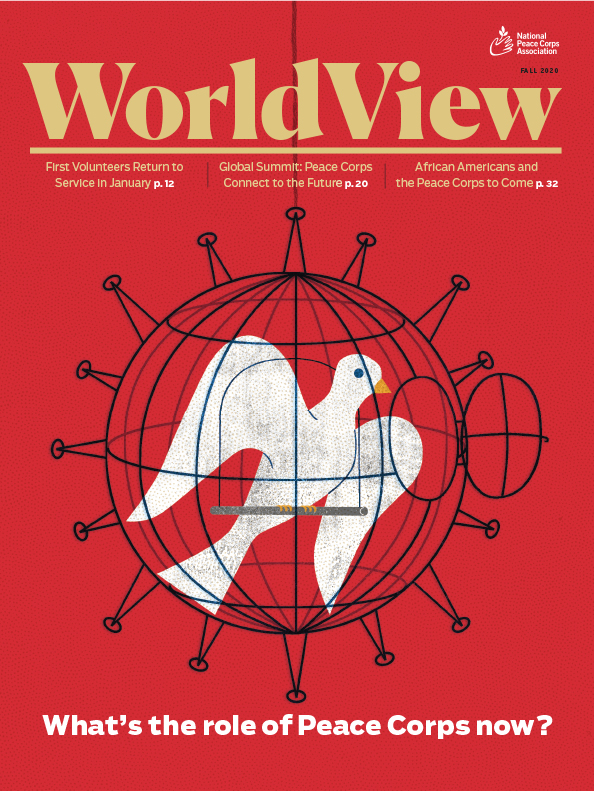 This story was first published in WorldView magazine's Fall 2020 issue. Read the entire magazine for free now in the WorldView app. Here's how:
STEP 1 - Create an account: Click here and create a login name and password. Use the code DIGITAL2020 to get it free.
STEP 2 - Get the app: For viewing the magazine on a phone or tablet, go to the App Store/Google Play and search for "WorldView magazine" and download the app. Or view the magazine on a laptop/desktop here.
---