Williams issues a clarion call for building a more inclusive network for global development. And he explores the arc of Peace Corps history in an interview about the documentary A Towering Task.

By Del Wood and Steven Boyd Saum

We are in an historic moment. The protests against racial injustice that have swept the United States and scores of other countries since the end of May were sparked by the killing of George Floyd — one of so many Black women and men killed by police. The protests erupted with anger and frustration — and not only among Blacks. They have also ushered in the possibility of the United States coming to terms with systemic racism. That transformation needs to be carried over into global development work, writes former Peace Corps Director Aaron Williams.
"The diversity of the demonstrators gives me great hope that this could be the pivotal moment in our nation," Williams observes in an essay published by Devex in June. "They are demanding that we live up to the American dream, and the ideals of democracy, civil rights, liberty, opportunity, and equality that the country was founded on two centuries ago."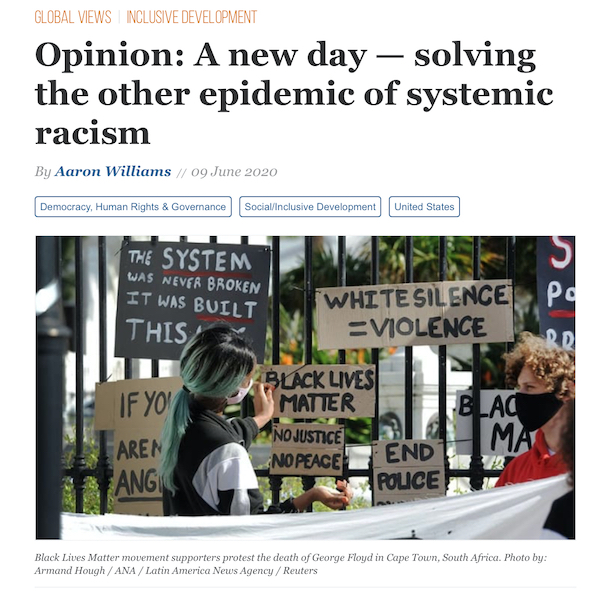 Williams also argues that international organizations have a responsibility to transform how they do their work:
"U.S. international and foreign affairs organizations should rise to this challenge, and seize this moment to demonstrate leadership in pursuing broad-based policies and programs that will promote diversity and social justice in both their U.S. and overseas offices. They play a prominent role — as principal partners with the U.S. government — in the country's global leadership, and thus should invest in the diverse human capital of the future that will mirror the true face of our country."
Williams served as a Peace Corps Volunteer in the Dominican Republic from 1967 to 1970 and as Director of the Peace Corps from 2009 to 2012. Read the full essay here.
---
'Transformed my life': Aaron Williams on Peace Corps history and A Towering Task

With the screening of A Towering Task: The Story of the Peace Corps in Florida recently, Aaron Williams sat down for a conversation about the film. He supplements the sweeping history of the Peace Corps in the documentary with personal stories. How he, as a young Black man from the South Side of Chicago, headed into Peace Corps with a nearly all-white cohort of Volunteers. Of the powerful impact Peace Corps had in Ghana — teaching a young man and inspiring him to become a scientist, then later vice president and president. And he makes the case for Peace Corps ideals as offering a way forward: with understanding what it means to be engaged with the world, and to live out those ideals at home.
Here are clips from the conversation with film exhibitor Nat Chediak.
"My entire career … whether I've been in business, I've been in government, I've been in the nonprofit world — Peace Corps was the trigger for that."
WILLIAMS: Well, first of all, so I grew up in a working-class family on the South Side of Chicago. I was the first person in my family to graduate from college, and people expected me to settle down, become a teacher and, you know, have a normal life. Well, I had become intrigued by the Peace Corps by listening to Sargent Shriver's speeches. And I heard a couple of Kennedy's speeches. I was still pretty young when Kennedy was president. But I decided, this is something that I should look into. It sounded like something that would be structured, would give me a chance to learn something about outside of the United States, and it turned out to be the adventure of a lifetime. I mean, truly, truly transformed my life. Everything that I've done, Nat, has emanated from the Peace Corps. My entire career … whether I've been in business, I've been in government, I've been in the nonprofit world — Peace Corps was the trigger for that.

The other thing about the Peace Corps is that when I arrived out in California, the San Diego State College where I was trained, I was in a group of about 80 or 90 people. I was the only Black person in the group. And I was wondering to myself, those first couple of days, what have I parachuted myself into? I quickly found out, within a week or two weeks there, that I was in the presence of some very special people. People who had self-selected to join in this wonderful enterprise called the Peace Corps, who were interested in making the world a better place, and were open to ideas, to people, to thoughts, and philosophies. That was just amazing. So it was an amazing time. And I trained with some amazing people. Part of our group went to El Salvador, part went to Honduras, the other part went to the Dominican Republic, and we were teacher trainers. So that's how it all emanated. That's how I ended up in the Peace Corps.
---
"And that's when this young man who became vice president, and ultimately president of Ghana, decided he wanted to become a scientist."
WILLIAMS: There's also a great commonality. And that's what you really learn in the Peace Corps, right? You learn about the commonality and things that we worry about: our children, the future, good healthcare, aspirations for our children and our family. And you learn that those are the basic common elements that we all share, no matter where you might be born or live on the globe.


Let me tell you a story. I was in Ghana to celebrate the 50th anniversary of the Peace Corps. And I went to an event with the then-vice president of Ghana. He had been taught by a Peace Corps Volunteer when he was a young man in elementary school in a remote part of Ghana. Ghana was one of the first countries where Sargent Shriver established the Peace Corps in 1961. So when we arrived at this event, it was to celebrate the Year of the Teacher in Ghana. And a Peace Corps Volunteer was one of the ten top teachers that was being honored, as a matter of fact. And that Peace Corps Volunteer, by the way, her parents had served as Peace Corps Volunteers in Latin America, you know, years before — so what a marvelous confluence of events. As I was waiting in the government house in this regional city to go out to the event with the vice president, I had a couple of talking points I wanted to share with him about the future of the Peace Corps in Ghana and some things that the ambassador had asked me to share with the vice president. And instead, he wanted to tell me a story about how he met this Peace Corps Volunteer.

So he's a young man in this classroom. They had never seen a white person before in the village, and they were worried about this new teacher they had heard about. They wondered, would this man even speak English? Could they understand him? What was this gonna be all about? He comes in and he says: How many people here in this room know how far the sun is from the Earth? And they're thinking, why is he asking us this? Who knows the answer to this question? Everybody put their heads down, nobody answered. He went up to the board and he wrote on the board: "93." Then he went around this one-room classroom — with these chalk balls — and he kept circling with chalk until he came back around to the front. He says, "Ninety-three million miles. Don't you ever forget that."

"And that's when this young man who became vice president, and ultimately president of Ghana, decided he wanted to become a scientist."

WILLIAMS: He could have told me anything that day, but that's the story that he shared with me, which I have never forgotten. It was such a stunning, amazing — and it tells you a lot about the impact of the Peace Corps. Now, lastly, when I got back to the States I did everything I could see if we could find this volunteer who had taught him. And we did!


CHEDIAK: No kidding!


WILLIAMS: When he came over for a summit of African nations with President Obama, we arranged a reunion with the then-vice president and the Peace Corps Volunteer who taught him in Ghana in that rural school.


CHEDIAK: You're kidding. Were you there? Was it very emotional?


WILLIAMS: No, I was not there.


CHEDIAK: Ah, okay. Okay, but I can imagine now I'm, you know, what a beautiful moment that must have been for both of them.


WILLIAMS: It's a miracle they tracked him down. This is 50 years later.

CHEDIAK: Oh, my gosh, that's incredible. That's a beautiful story.
---
"That's what we bring to the rich tapestry of America when we return home."
CHEDIAK: Even in these difficult, nationalistic days — and I'm not talking simply about the U.S. — you know, but it's something that we have seen in other countries that is a troubling concern. You still feel that the goodwill of men will prevail?


WILLIAMS: I think so, and I think the Peace Corps is really my foundation for believing that. Because I've seen people prevail against really tough situations — horrendous conditions, right? Fighting disease, fighting poverty, political unrest, civil war, and they come out the other side, in most cases, better than they were in the beginning. Not in all cases, right — but it happens. So, that's the reason I continue to be optimistic about the future of the world and mankind. And I'm so proud of Peace Corps Volunteers who have served for almost 60 years in countries around the world, who represent the true face of America and who really understand what it means to be engaged with the rest of the world and to become effective and optimistic global citizens. That's what we bring to the rich tapestry of America when we return home and what we do in our future careers here at home.
---