2019: Luis Argueta
Luis Argueta is a Guatemalan film director and producer. His feature film, The Silence of Neto, was Guatemala's first submission to the Oscars. Luis received the Order of Quetzal in the degree of Grand Officer, the highest  honor given by Guatemala. His film series on immigration, abUSed: The Postville Raid, ABRAZOS, and The U Turn, brings into focus the true human face of immigrants, their resilience, and the vision of communities recognizing the contributions immigrants make to American society. His current work explores the long lasting effects of separation among immigrant families.
Born in Guatemala City, Argueta received a scholarship to study Industrial Engineering at the University of Michigan. While preparing for his arrival to the United States, Argueta met with Peace Corps Volunteer Kenneth Lehman (RPCV Guatemala 1966-68), who was assigned to tutor him in English in advance of his studies. Much of Argueta's work was inspired by the relationships he built with Lehman and the Peace Corps. The hopeful optimism and emphasis on mutual understanding that Lehman portrayed inspired Argueta, and became a driving force behind his passion to provide the global community with a better understanding of people in the margins.
2018: Kul Chandra Gautam
Kul Gautam is a distinguished diplomat, public policy expert and peace advocate. Currently, he serves on the Boards of several international and national organizations, charitable foundations and public private partnerships as chairman, member or advisor. Previously he served in increasingly senior managerial and leadership positions with UNICEF in several countries and continents in a career spanning over three decades. He rose to become Deputy Executive Director of UNICEF and Assistant Secretary-General of the United Nations, the highest-ranking Nepali in the UN system in early 2000s.  
After retiring from the UN, Mr. Gautam was briefly Special Advisor to the Prime Minister of Nepal on International Affairs and the Peace Process. He continues to informally advise his country's senior political and civil society leadership on the peace process, consolidation of democracy, human rights, and socio-economic development.  
Kul Gautam's connections to Peace Corps are extensive and deep, starting with his 7th grade teacher in Nepal I in 1962 through his speech at the 55th anniversary of Peace Corps Nepal in 2017. In the years in between, he dedicated his career to improving lives and working towards peace in all corners of the globe.
To learn more about Gautam, please see the announcement of his award and read his acceptance speech.
2017: Siotame "Drew" Havea
Siotame "Drew" Havea has spent his life striving to eradicate poverty through a 'community first' approach to development and to create safe spaces to voice opinions for the historically underrepresented groups of young people and women in Tonga. In the Kingdom of Tonga's recent transition to democracy, Havea was instrumental in ensuring that common people - not just nobility and royalty - held leadership positions in the fledgling democracy. 
For Havea, the Peace Corps connection is a lifelong one. When Havea started junior high school, there were five Peace Corps volunteers teaching at his school. After attending college and graduate school in the United States, he joined the Peace Corps staff in Tonga and served as Associate Peace Corps Director (APCD) for twenty years, from 1985-2005. He credits Peace Corps Volunteers with instilling in him a sense of idealism as well as showing him the importance of equality, gender sensitivity, and volunteerism.
Havea's leadership roles include chairperson of the Civil Society Forum of Tonga, president of the Tonga National Youth Congress, chair of the Tonga National Leadership Development Forum, and member of the board of Tonga Red Cross Society.
To learn more about Havea, please see the announcement of his award and read his acceptance speech.
2016: Ibrahima "Bara" Sankare
Ibrahima Sankare is the director and founder of Delta Survie, a non-governmental organization (NGO) committed to fighting for the integration of marginalized populations, promoting health and education, developing schools in pastoral villages, and opening centers for women suffering from obstetrical fistula. He started small – just in his village – but is now expanding services beyond Malian borders to cover large portions of the West African Sahel. With his enthusiastic yet humble passion, Sankare is able to bridge the gap between staying true to his nomadic past while developing the changes necessary for the future of Mali.
2015: Berhane Daba
Berhane Daba is the president and founder of Ethiopian Women with Disabilities National Association (EWDNA), an organization that works to empower women with disabilities with the skills and confidence they need to become economically independent.
Diagnosed with polio at the age of four, Daba was left abandoned at the Princess Teshai Hospital. There she met Peace Corps Volunteer Mary Myers-Bruckenstein, who took her home and provided her with an education. This gave her an opportunity to live an independent lifestyle and defy social norms, which has allowed her to help others with disabilities and fight for equal access and opportunities.
Daba founded the Ethiopian Women with Disabilities National Association in 1995, an organization with a member base of over 2,100 which provides technical and vocational training, counseling, and guidance services to members so they can learn necessary and helpful skills, gain the confidence and motivation to successfully enter the workforce. In addition, EWDNA operates a bakery where its members can work, using a sustainable business model and fostering socio-economic empowerment for women.
To learn more about Daba, please see: 2015's Harris Wofford Award Winner, An Interview with Daba, Berhane Daba's Acceptance Speech
2014: Dr. Surin Pitsuwan
A native of Nakhorn Sri Thammarat province in southern Thailand, Dr. Pitsuwan is the former Secretary General for the Association of Southeast Asian Nations (ASEAN).  He was first influenced by Peace Corps Volunteers David and Phyllis Johnston, who recognized his drive and ability. They were able to help him obtain an American Field Service scholarship to travel and study in the United States, launching a career of domestic and international public service.
Dr. Surin has served both his country and the world in a number of highly influential posts, including as a member of Parliament, a member of the Commission on Human Security of the United Nations, advisor to the International Commission on Intervention and State Sovereignty, member of the International Labour Organization's World Commission on the Social Dimension of Globalization, and advising the peace negotiations between the Acehnese Independence Movement and the Government of the Republic of Indonesia.  
To learn more about Dr. Pitsuwan, please see: A Proud Peace Corps Product, Dr. Pitsuwan's Acceptance Speech PDF and Video 
2013: Dr. Mohamud Sheikh Nurein Said
Dr. Mohamud Said is a distinguished Kenyan volunteer, philanthropist and humanitarian engaged in a wide range of medical service and human rights activities on the local, national and international levels. A long time volunteer with the 70,000-member Kenya Red Cross Society (KRCS), he rose through the ranks and currently serves as its Governor (President). He has devoted himself to assisting displaced persons and has been responsible for overseeing the largest refugee camp in the world with over 600,000 persons from the Somali crisis. Dr. Said represented Africa on the board of the International Rehabilitation Council for Torture Victims (IRCT), headquartered in Copenhagen, Denmark, and was later elected president of the IRCT, the first African to hold this position. The IRCT treats over 100,000 torture victims in its 150 centers in 75 countries in all the regions of the world.
A life-long member of the Kenya Medical Association (KMA), he founded and chaired the KMA Human Rights Committee, and is a member of the KMA Medical Camp and the Continuous Professional Development Committee. Dr. Said is also vice chairman of the Independent Medico-Legal Unit Kenya, a nongovernmental organization that seeks a torture-free society by promoting the rights of torture victims, advocating for policy reforms, monitoring government adherence to human rights, and rehabilitating victims of torture.
Over the last seven years, as the coordinator of the Pedro Cavadas Foundation, headquartered in Valencia, Spain, Dr. Said's team has performed reconstructive surgery for poor children and adults from eight East African countries. Dr. Said is a practicing medical doctor who operates his own private hospital and pharmacy in Bungoma County, Kenya. He graduated from medical school in 1979.
He attributes the Peace Corps, who helped with his secondary education, with instilling in him the idea that humanitarian aid and volunteering are worthwhile and honorable pursuits. 
To learn more about Dr. Said, please see:  Dr. Said's Acceptance Speech
2011: Atiku Abubakar
Atiku Abubakar — a Nigerian politician, businessman and philanthropist — was the first recipient of the Harris Wofford Global Citizen Award, which was presented at the Promise of the Peace Corps Gala in September 2011.
A successful businessman and vice president of Nigeria from 1999 to 2007, Abubakar has a long history of philanthropy, having given more than $300 million to support educational and health-related organizations in Nigeria, including founding the American University of Nigeria in 2005 through a partnership with American University in Washington, D.C.
"As a young, poor student from the northeast of Nigeria, Atiku Abubakar was inspired by Peace Corps teachers to pursue education and public service. After a successful career, he founded the American University of Nigeria, the best private university in sub-Saharan Africa," said Dr. Robert Pastor, who as vice president at American University in Washington, D.C., worked with Abubakar.
You can read more about Abubakar, his Peace Corps connection, and the American University of Nigeria here and here.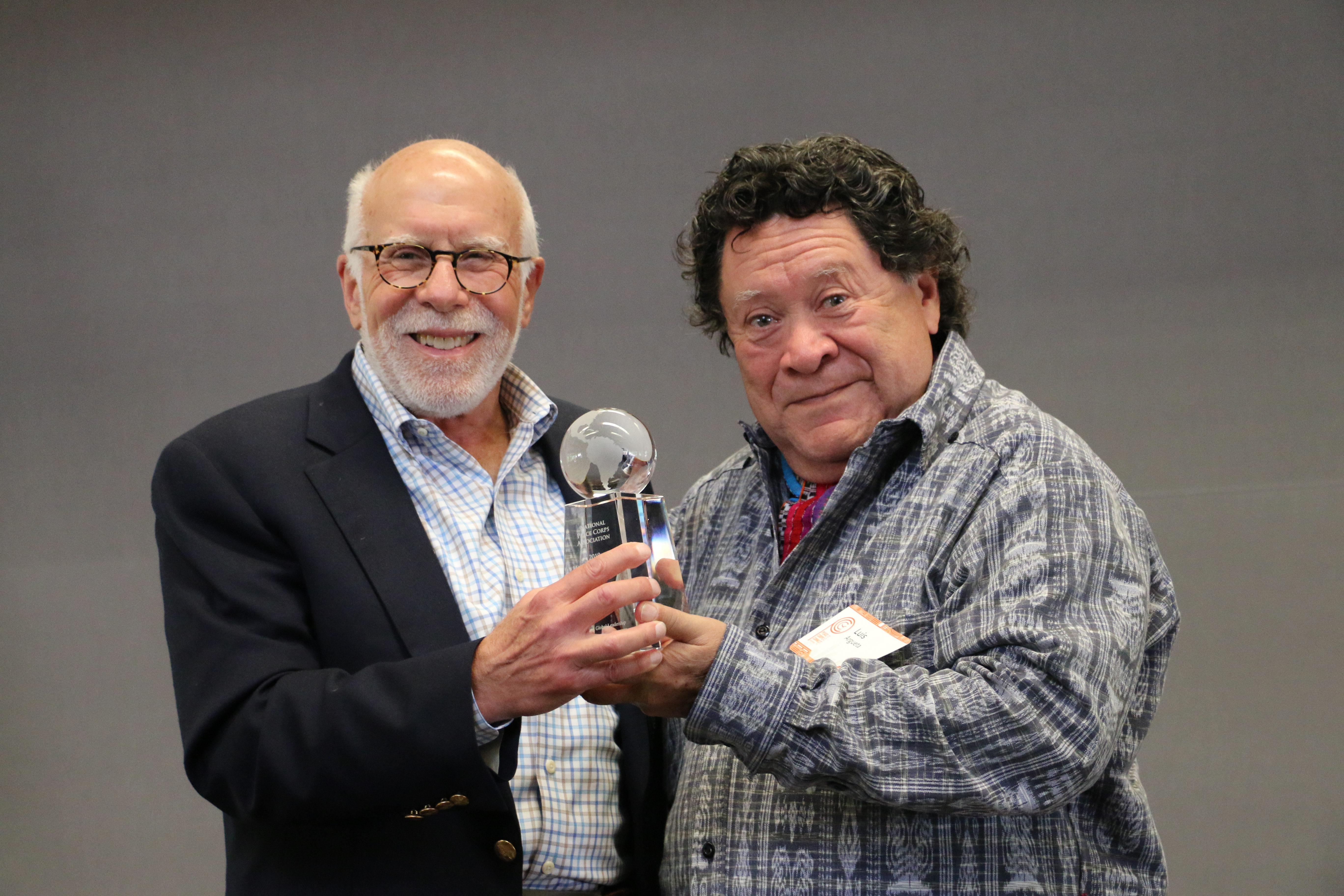 Ken Lehman (left) presented the award to Luis Argueta in Austin, Texas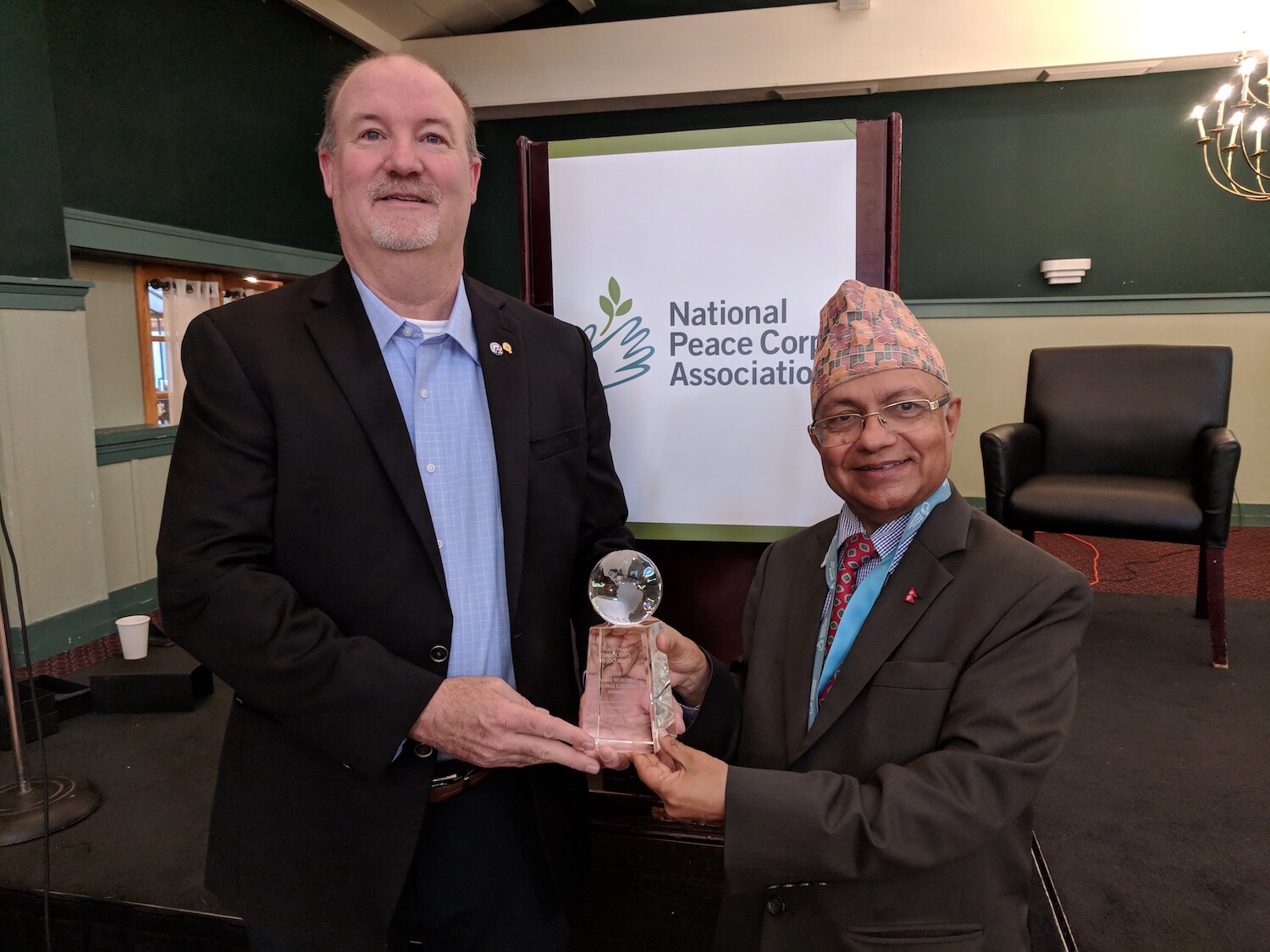 Glenn Blumhorst and Kul Chandra Gautam holding the 2018 Wofford Global Citizen Award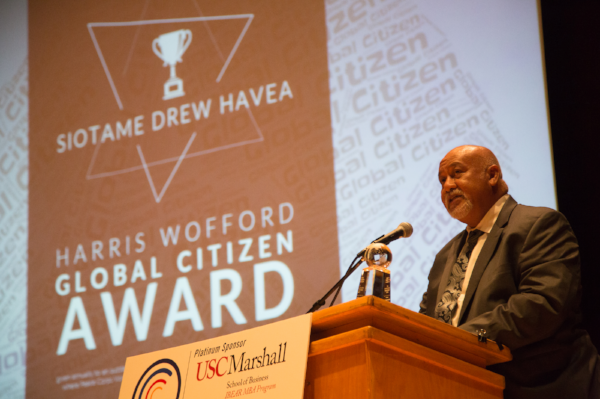 Drew Havea delivers his acceptance speech at Peace Corps Connect 2017 in Denver.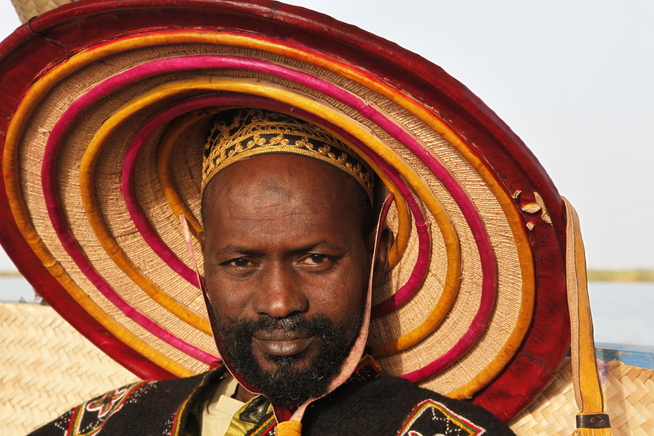 Ibrahima Sankare with his famous Shepard hat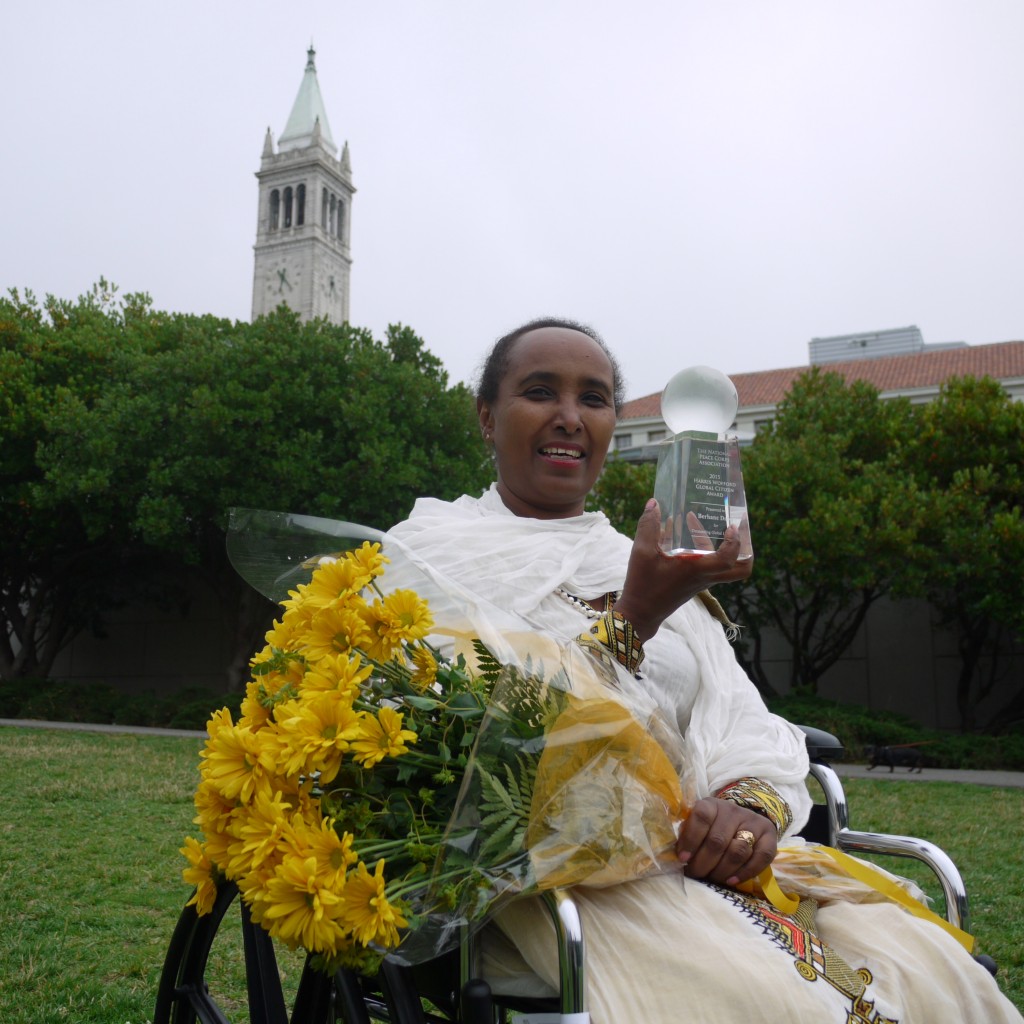 Berhane Daba showing off her 2015 Wofford Global Citizen Award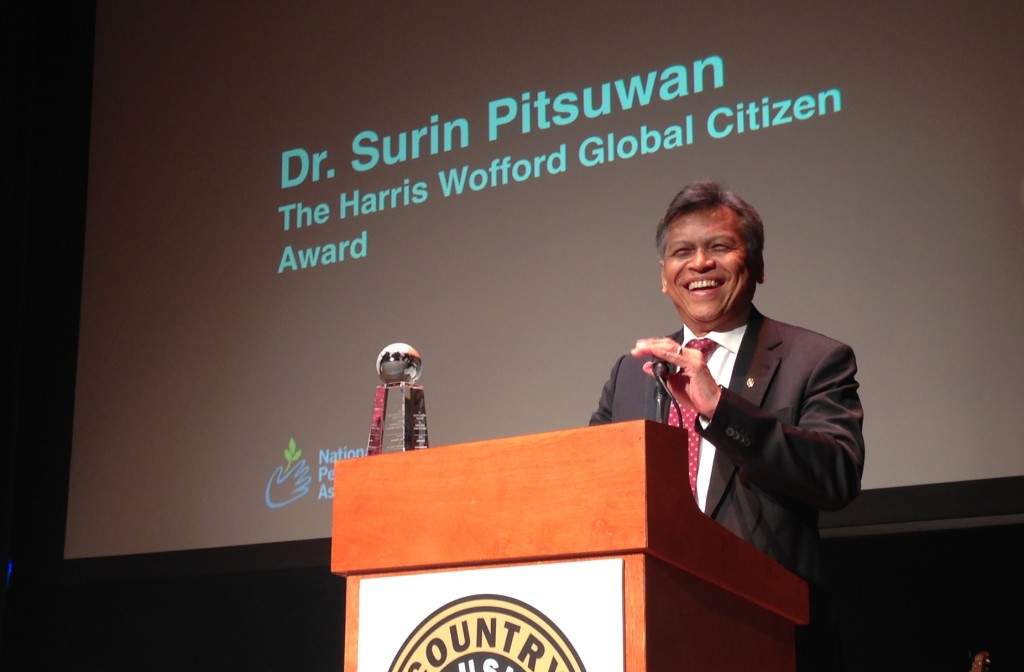 Dr. Pitsuwan accepting his award at Peace Corps Connect 2014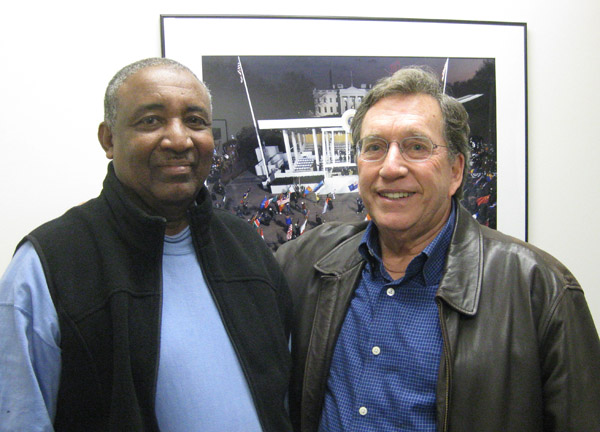 Dr. Said and his Peace Corps teacher, Dr. Russell Morgan