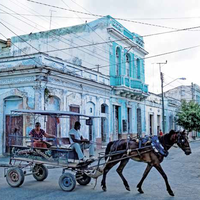 NPCA's board chair and two of his fellow RPCV's embark on a self-styled diplomatic mission to Cuba

By John Lee Evans

June 2022: We were on the short flight from Miami to Havana, Cuba. Tres amigos. Returned Peace Corps Volunteers Mike Tulley, Rick Smith, and myself (all Honduras, late 1970s), we
were on an adventure to the off-limits Latin American country that is so close, yet so far away. There is no group better able to transcend political differences than a group of Peace Corps Volunteers, so we set about our self-styled diplomatic "mission" to foster peace and friendship across the island.

Before leaving, we checked out the confusing State Department requirements that have vacillated from one presidential administration to the next. "Tourism" was prohibited, but there were 12 other categories that allowed entry into the country. We ticked "Support of the Cuban People."

Throughout our stay, we resided in casas particulares, rooms rented out in private homes that are considered legal businesses and permitted by Cuba's socialist government. We wanted to avoid the resorts and relive our Peace Corps style of travel. So we reserved a room in Havana and winged it from there.

Old Havana's iconic, historic buildings exude charm, but from our fourth-floor terrace our view was of deteriorating buildings that conjured images of bombed-out cities. Some locals advised us to walk in the middle of the street to avoid injury from a crumbling building.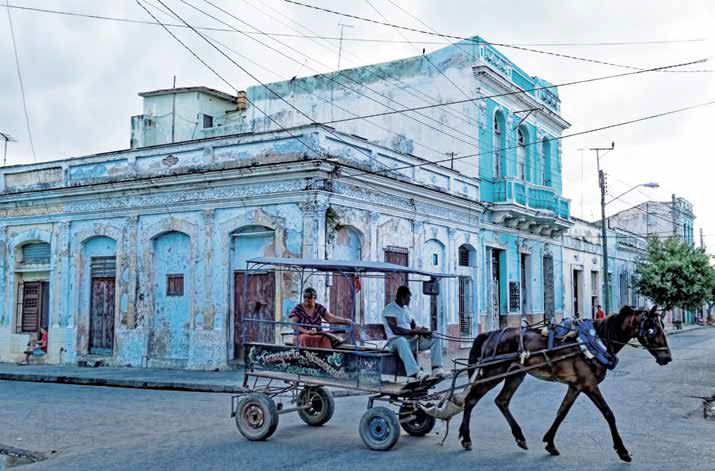 Because the economy had been hit hard by the lack of European tourism during the pandemic, shortages were an everyday experience. Stopping by a local café each morning in
search of eggs, we were told over and over, "No hay huevos." No one has eggs now. At one bar we visited at the beach: "No hay cerveza." No beer. And sometimes, at a neighborhood store: "No hay agua." No bottled water. Chicken and bread were rationed, and people had to stand in long lines to get them. Pedro, one of our taxi drivers, shared that he'd once had
to wait in line all night for gas.

We carried more cash than we would have liked because U.S. bank cards don't work in Cuba as a result of sanctions, but walking on the street feels very safe. Police officers don't carry guns, though hustlers and other unsavory folks, as in any city, are not uncommon.

During the Batista regime, when American businessmen were heavily invested in Cuba, both gambling and prostitution were legal. This was eliminated by Castro. We got a glimpse of Old Cuba when we walked through the Hotel Nacional, still a luxury hotel, with photos of Mafia figures and members of the Hollywood elite decorating its walls.

Pepe, our first host, arranged a taxi colectivo to our next destination, Santa Clara, the adopted hometown of Cuba's most famous Argentinian revolutionary, Che Guevara. Even though we had been advised to not discuss politics, Ricardo, our driver, let us know that resentment of the current regime runs high, mostly due to the collapsed economy. Occasionally the driver had to stop to punch a door panel back in place that kept falling off the outside of his old Chinese car. The country's main highway is full of potholes, and so we drove on the opposite side of the road about half the time to avoid a flat tire. When we got a flat tire, we stopped at a house in the country to repair it. Thirty minutes later another tire blew out.

For each city we chose as our next destination, our hosts arranged a casa particular and a taxi colectivo to get there. But some of the in-town transportation was by horse and buggy. In Santa Clara and Sancti Spíritus we visited the revolutionary sites, including one hotel that still had bullet holes in its walls. In Trinidad we experienced beautiful beaches and coral reefs—and frequent blackouts. We visited Cienfuegos, a beautiful colonial city, which was named a UNESCO World Heritage Site.

The Cuban people are very resourceful and make do with very little. Rogelio, a taxi driver, had a 1954 Chevy handed down by his father and grandfather. But something even more retro was watching farmers plow the fields with oxen. The western end of Cuba is tobacco country. There we met Fabian, a 64-year-old farmer who has cultivated tobacco on this land all his life. He said he would never leave, "because it is the most beautiful place in the world." He demonstrated how he made cigars and gave us all a sample.
Over and over, Cubans said to us, "It is our governments that don't get along. We love the people of your country." There is no better group to help break through these barriers than Returned Peace Corps Volunteers.
At our last casa particular in Viñales with Dona Cecilia, we saw the Cuban medical system in action. Cecilia's husband was very ill, and the doctor came to the house to sit and talk
with the family for a great while. Salaries for medical doctors are extremely low, about $60 per month for a physician; clearly, pursuing the profession is a labor of love. Reynaldo,
one of our taxi drivers, was also a urologist. He said he made more money as a taxi driver than as a doctor. A caretaker of a park asked if we had any medicine to help him with his
cancer. While physicians are highly trained, there is a shortage of medicine and medical equipment, which is attributed by many to the U.S. economic blockade.

Peace Corps has managed to work with a wide range of governments. In Honduras we worked under an unelected military government. After years of war in Vietnam, the Peace Corps is now present there. Even though a Peace Corps in Cuba may be a long time coming, our mission revealed, at least to the three of us, a number of opportunities for improved relations that could have mutual benefit for the U.S. and Cuba. Over and over, Cubans said to us, "It is our governments that don't get along. We love the people of your country." There is no
better group to break through these barriers than Returned Peace Corps Volunteers. We can all start by visiting Cuba.

John Lee Evans is NPCA Board Chair, RPCV Honduras 1975–78
---