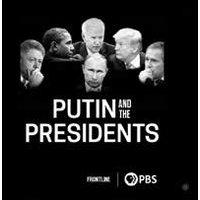 WorldView Editor Picks: Five must-watch shows and documentaries

Welcome to the The Stream, where WorldView highlights podcasts, videos and music from across the Peace Corps universe and on related issues and topics. In this edition, we take a look at new streaming videos selected by our editors.

The Diplomat
Netflix
Keri Russell, whose turn as a Russian spy in the U.S. gained many followers of history and geopolitics in the Cold War thriller The Americans returns with a new fast-paced series set in present-day London. Russell plays American Ambassador to the United Kingdom Kate Wyler, a former Foreign Service Officer hellbent on solving international crises that are surprisingly current, from the American effort to prevent Iran from obtaining a nuclear weapon to the Russian war with Ukraine. The series not only keeps viewers on the edge of their seats with political intrigue and CIA meddling in diplomatic affairs, but shines a light on the challenges female leaders deal with in a historically male-dominated endeavor through the lens of her deteriorating marriage with her husband Hal, a lauded diplomat in the
vein of Richard Holbrooke played by the witty Rufus Sewell.
---
Mariupol: The People's Story
Prime Video
In a little under three months, residents of what was a thriving Ukrainian city witnessed the deaths of women and children in a maternity hospital and bodies left
abandoned on the streets. Filmed and told by many of the citizens of Mariupol, this powerful documentary records the deaths of thousands and daring escapes by
survivors. It's a story of their loss, bravery, and determination.
---
The Bureau
Sundance Channel/AMC
The French response to the post-9/11 drama series Homeland, The Bureau stars one of France's most lauded actors Mathieu Kassovitz as intelligence officer Guillaume Debailly, code named "Malotru," who is mysteriously recalled to Paris after spending six years under cover in Syria. Based on real accounts and inspired by contemporary events, this French spy thriller follows the daily lives and missions of members of the country's external security service — France's equivalent of the CIA. As he tries to re-connect with his daughter, ex-wife and colleagues, Debailly risks everything by resuming contact with his married lover, Nadia, who might have secrets of her own that jeopardize the agent.
---
Putin and the Presidents
PBS
Frontline investigates Russian President Vladimir Putin's clashes with multiple American presidents as he's tried to rebuild the Russian empire. Veteran filmmaker
Michael Kirk (Putin's Revenge, Putin's Road to War) and his team trace the miscalculations and missteps of U.S. presidents over five administrations, culminating in Putin's invasion of Ukraine.
---
Future Forward
Prime Video
Future Forward is a new a character-driven documentary series featuring businesses that are pioneering industry-shifting innovations on the front lines of climate
change. The six films, each 10 minutes or less, chronicle bold actions being taken by companies—all signatories of The Climate Pledge—that have committed to reach net-zero carbon emissions by 2040' 10 years ahead of the Paris Agreement. The films demonstrate that a net-zero carbon journey is possible, and crucial, to help curb the climate crisis.
---