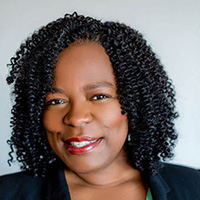 WorldView Picks: Five must-listen podcasts focused on national service, women's leadership, and national security
Welcome to the The Stream, where WorldView highlights podcasts, videos, and music from across the Peace Corps universe and on related issues and topics. In this edition, we take a look at podcasts focused on national service, women's leadership, and national security.
Extra-Ordinary Women
Latanya Mapp Frett, President and CEO of Global Fund for Women
In the first podcast of Extra-Ordinary Women, Women of Peace Corps Legacy interviews Returned Peace Corps Volunteer Latanya Mapp Frett, President and CEO of Global Fund for Women. Latanya, who got her start in international affairs as a Peace Corps Volunteer in Lesotho talks about her journey from Volunteer to CEO of an NGO supporting global gender justice. Listen in as she discusses her many years of experience including leading Global Fund for Women which has supported grassroots organizations to end civil war in Liberia, provided aid to women's education in Afghanistan, and assisted women's groups in Ukraine. Her new book, The Everyday Feminist: The Key to Sustainable Social Impact-Driving
Movements We Need Now More than Ever, will be discussed as well as Global Fund for Women's film series Fundamental: Gender Justice: No Exceptions, which was nominated for two
Emmy Awards in 2021.
Americorps Connections
Lowell Butler | National Service & Vista 2.0
More than one million Americans have served in AmeriCorps. Listen in as they share their experiences on national and community service. This episode features Lowell Butler discussing national service and Vista 2.0. as well as organizations like the Digital Opportunity Trust, Texas Impact, and how to leverage your degree into different kinds of national service. Butler is a career services specialist with a demonstrated history of working in the civic & social organization industry. His focus is on public administration and education with a concentration in learning & technology.


Driving Impact
The Art of Peacebuilding with Aaron Williams
The Hon. Aaron S. Williams served as the Director of the Peace Corps under President Barack Obama. On this episode of Driving Impact, Williams sat down with host Hadeil Ali to talk about his upbringing on the South Side of Chicago, his journey from a Peace Corps Volunteer in the Dominican Republic to becoming Peace Corps Director, and how he met Nelson Mandela on his first day as USAID's Mission Director to South Africa.



The LawFare Podcast
2034: A Novel of the Next World War
Alex Vindman sat down with retired Admiral James Stavridis and Elliot Ackerman, the authors of "2034: A Novel of the Next World War." Admiral Stavridis spent more than 30 years in the U.S. Navy, rising to the rank of four-star admiral and who served as the Supreme Allied Commander at NATO. Elliot Ackerman is the author of several novels, including "Dark at the Crossing," which was a finalist for the National Book Award, and most recently, "Waiting for Eden." They discussed the objective for writing a novel on the next world war, the lessons the novel offers national security professionals and policymakers, and key points in the backstory that precipitated the march to this fictional but highly realistic portrayal of the next world war.


Empathy Effect
Office of Personnel and Management's (OPM) Office of DEIA Director Dr. Janice Underwood
A podcast exploring the human side of government. On Empathy Affect, you'll get to know the real people in government who serve us—their missions, the people they serve, and the true impact of their work. Each episode uncovers insights into how our government impacts human experience and how empathy drives action. The United States is a diverse nation, and the federal government needs to reflect the faces and minds of the country to deliver its best services. In part one of this month's Empathy Affect, hosts dive into the broad strokes the federal government is taking to integrate principles of diversity, equity, inclusion, and accessibility (DEIA) across its workforce.
---