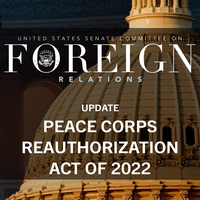 Less than a month after its introduction, members of the Senate Foreign Relations Committee advance major legislation —

with broad, bipartisan support — to

further reform and improve the Peace Corps.
By Jonathan Pearson
Members of the Senate Foreign Relations Committee (SFRC) came together on July 19 and agreed to advance Senate Bill 4466, the bipartisan Peace Corps Reauthorization Act — which would reauthorize the Peace Corps agency for the first time in over 20 years. The legislation was approved on a voice vote, with all key provisions of the legislation remaining in place. This is another major advance in National Peace Corps Association's (NPCA) efforts to pass the Peace Corps Reauthorization Act.
Led by SFRC Chairman Robert Menendez (D-NJ) and Ranking Member James Risch (R-ID), S. 4466 – NPCA's 2022 legislative priority – would provide reforms and improvements covering a range of topics including sexual assault, post-service health care, student loan relief, non-competitive eligibility for federal employment, Volunteer protections against retaliation or reprisal, and more.
As noted by Chairman Menendez in a July 19 press release, "this once-in-a-generation bill implements necessary reforms to make certain the Peace Corps has what is required to meet the needs of its Volunteers around the world. From including necessary student loan reforms to affirming a path to federal government employment for Returned Peace Corps Volunteers, this legislation also ensures that the agency better reflects the United States' rich diversity and talent." Similar legislation in the House (H.R. 1456) overwhelmingly passed the House Foreign Affairs Committee last September and awaits further action.
At this point, the good news is that both the Senate and House committees with primary jurisdiction over the Peace Corps have given strong, bipartisan support to their versions of the Peace Corps Reauthorization Act. Now, Senate and House leaders will be discussing and strategizing on how to best bring this legislation before their respective chambers for a vote.
READ MORE
Read this press release to learn more about the legislation.
Read the text of the Senate bill here.
Use this link to learn more about the similarities and differences between S. 4466 and H.R. 1456.
TAKE ACTION
We are looking for advocates willing to seek district office meetings with their lawmakers. Contact advocacy@peacecorpsconnect.org if you can help. And don't let up.
Ask lawmakers to co-sponsor and pass the Peace Corps Reauthorization Act of 2022.
Write your Senators to co-sponsor the Peace Corps Reauthorization Act
Story updated August 30, 2022.
---
Jonathan Pearson is the director of advocacy for National Peace Corps Association.
---