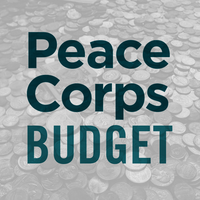 Dear NPCA Community,
The President's budget for fiscal year 2019 was released today and it proposes a budget of $396 million for the Peace Corps. After already requesting a $12 million cut in fiscal 2018—the deepest from a White House in over 40 years—the 2019 request further reduces Peace Corps' budget by another $2 million. This represents a step in the wrong direction. At a time when supply and demand for Peace Corps Volunteers is robust, when American grassroots diplomacy is urgently needed to strengthen relationships with communities around the world, and when more returned Volunteers are needed in leadership positions in America, the White House has instead chosen to place the agency's resources, mission and values under stress.

Our Peace Corps is being challenged. We can't let that happen.

And we won't let it happen, because in an Ugandan village there is an English class without a teacher. In a Philippine barangay, there is a fisherman eager to learn how to protect the marina he depends on. In communities in Senegal, Mexico, and Ukraine, political leaders and everyday citizens alike are questioning who we are as Americans. Somewhere in any country a community has much more to teach us, than we have to teach them. And all over America, our communities need leaders who are motivated to continue to serve and build coalitions that bring us together instead of divide us.

But before we can get to work on 2019, our focus is still needed on 2018.

Congress is deciding funding for fiscal year 2018 at this very moment, and level funding for the Peace Corps is still in jeopardy. The budget deal Congress approved last week includes dangerous cuts to the international affairs account that the Peace Corps and its partners draw from. The deeper that cut, the less likely the Peace Corps receives level funding. Congress will decide the total funding for the international affairs account as early as Tuesday. This means that Capitol Hill needs to hear from us—now.

Please take action in the following ways:

TODAY: Final decisions are being made that will impact Peace Corps funding in the current (2018) fiscal year. Contact Congress and urge them to fully fund the Peace Corps and the International Affairs Budget.
MARCH: Join or organize events across the country to advocate for the Peace Corps' funding in fiscal year 2019.
ONGOING: Donate to our advocacy program to support our efforts to mobilize the community.
We've asked a lot of you over the past year, but the simple truth is that the Peace Corps' resources, mission and values are being threatened at a time when America and the world need the Peace Corps more than ever. No one knows the impact of the Peace Corps better than you, and that's why we're asking for your help. We know we can count on you. Thank you.

In Service,


Glenn
President & CEO, National Peace Corps Association
---