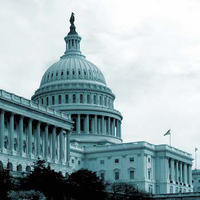 For the first time in many years, both the Senate and House Appropriations Committees are both putting forward recommendations that would reduce funding for our nation's international affairs programs.
By Jonathan Pearson

More than a month ago, negotiations on the federal debt ceiling which ultimately averted a default of U.S. financial obligations, included an agreement to cap most non-discretionary government spending for the next two years. Now, the Senate and House of Representatives are advancing their respective appropriations bills to fund the federal government for the fiscal year that begins October 1. Our nation's international affairs programs are on the chopping block, though the rate of reductions between the two chambers are much different. And, like many other programs in that account, funding for the Peace Corps could be negatively impacted.
In the House of Representatives
In the House of Representatives, a funding package advanced by the Appropriations subcommittee for State/Foreign Operations (S/FOPS) proposes reduced funding in the next fiscal year (FY 2024) by at least 12 percent over current spending. Taking into account a so-called "clawback" of funds in this account, overall spending could result in a cut as high as 30 percent, drawing this response from the U.S. Global Leadership Coalition (USGLC). National Peace Corps Association is a member of this coalition.
On July 12, the full Appropriations Committee conducted a mostly polite, but highly partisan debate in which the S/FOPS spending package was approved on a party line vote. Most of the debate focused on near or complete funding cuts for the United Nations and climate change programs, abortion and family planning policies, and the U.S. relationship with China and other "adversaries". Peace Corps funding was not raised, but in an earlier document summarizing the spending package, funding for Peace Corps fell under a category titled "Cuts to Wasteful Spending", and is listed as one of 17 accounts which would see its current FY 2023 funding level reduced to FY 2019 levels. That would return Peace Corps funding to $410.5 million, which would be the same level of funding the agency received in FY 2016.
In the Senate
The Senate Appropriations Committee has also begun its work on FY 2024 spending by releasing its top-line funding levels for each of the 12 appropriations subcommittees. The Senate recommendations for each subcommittee are more in line with the negotiated funding levels made in conjunction with the recent debt ceiling agreement, calling for roughly flat funding for the next two fiscal years.
While the Senate S/FOPS subcommittee has not yet determined funding for individual programs, it has been provided with an overall funding target that is just over two percent below current funding. If the subcommittee were to distribute that reduction equitably, Peace Corps would see its current funding of $430 million reduced to approximately $422 million. USGLC released this statement following the recent Senate action. Subcommittee action is expected soon.
NPCA Statement
We concur with the U.S. Global Leadership Coalition that funding for all of our international affairs programs — including the Peace Corps — should be absolutely no less than current funding.
If we simply consider the daily news headlines, it is clear that U.S. engagement with the world is vital, and reducing our engagement is dangerous. As for the Peace Corps, we are excited that the agency has returned roughly 2,000 Volunteers to 53 countries, and has requests to return to as many as 13 more nations. While lawmakers are recognizing the important contributions of the Peace Corps to our global engagement and national service agendas, they must accept the fact that we cannot move forward to meet these growing service opportunities with cuts to funding. Level funding of $430 million for the Peace Corps should be the bare minimum appropriation to continue to move forward. However, to fully meet its renewed potential, a higher investment is clearly necessary.
How Can Individual RPCVs Help? Here's How:
These developments in the U.S. Senate and House come as National Peace Corps Association prepares for its annual district office meetings drive during the months of August and September.
If you are represented by a member of the Senate or House Appropriations Committees, we need you to contact us at advocacy@peacecorpsconnect.org and help organize a local meeting with your lawmaker. No previous experience is necessary, and we will help you plan this important outreach in support of the Peace Corps. Thank you!
---