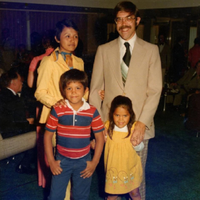 Author: Braeden Waddell
Julie Sifuentes, the daughter of a Peruvian mother and an Oregonian father who met through her dad's Peace Corps service in the late 1960's, knows a lot about what it means to grow up in a household deeply connected to values promoted in "the intercultural public service experience of the Peace Corps."
Julie says her struggles to fit in with a particular community and to find a sense of belonging, and her "strong desire to build bridges and understanding across differences" impassioned her to launch a community for other Peace Corps "kids" (aged 0-99) to discuss their experiences growing up with parents and family members who are RPCVs.
"I myself would not be here if it weren't for the Peace Corps" she explains; "while there are so many things that have shaped who I am, being a Peace Corps kid, is a really important one."
Sifuentes decided that the best way to show how much her adolescence shaped her personal journey, as the child of a family that valued service and ingenuity evoked by volunteering in the Peace Corps, was to create a medium through which other people like herself could share their stories-- thus, Peace Corps Kids was born. Peace Corps Kids is one of the latest affiliate groups to join the NPCA community.
She explains how she grew up in Roseberg, Oregon, and how, after several visits to Lima throughout her childhood, she began to connect with her Peruvian ancestry and identity as a young adult traveling in Peru for a year.
"That year was transformative for me. I spent time with relatives, learned about my family history, took classes at the university, made friends, read about Peruvian history and politics, traveled around the country and became fluent in Spanish. By the end of the year, I felt more connected to myself and what, for me, the 'Peruvian' in Peruvian-American meant."
It was during this trip, she writes, that the "seed for this project was planted." In a chance meeting, Julie got to know another young woman whose father was an RPCV and whose mother was Peruvian. "We had so much in common," Julie exclaims, "we talked for hours. We both had studied anthropology and talked big ideas like starting a study abroad program for college students to spend time in rural Peru."
This was the spark that lit the flame. When Julie returned to the states, she established her own career in public service and the idea to create a community where the kids of RPCVs could share their stories stayed with her.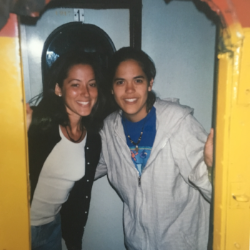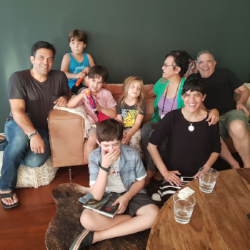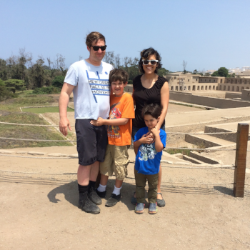 On her website, Julie states:
"I believe Peace Corps Kids are a unique group of people who have a lot to contribute to our communities and to the world."
She asks for other PC Kids to introduce themselves and describe how having family members in the Peace Corps shaped their childhood, their values, and their futures.
Julie's goal is clear. Ensure Peace Corps Kids have a platform upon which they can get to know one another, share their experiences, and form a community of those proud to have grown up in households valuing public service. There are several different ways to get involved in Peace Corps Kids. From phone interviews to blog posts, and even conducting interviews yourself with Peace Corps Kids you know, the site is designed for active participation that creates and strengthens bonds between its members. Don't forget to also register as a member.
Photo 1: Julie Sifuentes with her father, mother, and brother; Photo 2: Julie and fellow Peruvian American Traveler Erica Putnam; Photo 3: Family reunion in Peru; Photo 4: Julie, her husband, and their two kids visiting a ruin near Lima.
---
About the Author:
Braeden Waddell is a journalism major entering his second year at American University. Although not an RPCV (yet), he participated in a year-long service experience in Argentina after leaving high school. He currently works as a communications Intern at NPCA.
---