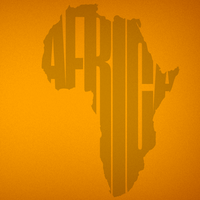 The program you may not know about that inspired JFK. And that has been sending U.S. volunteers abroad since 1958.
By Reverend Dr. Jonathan Weaver
The man who was the visionary behind Crossroads Africa, Dr. James Robinson, in many ways has not gotten the recognition he deserves. Dr. Robinson first traveled to Africa in 1954 on behalf of the Presbyterian Foreign Missions Board and saw sweeping changes taking place throughout the continent. He went to Lincoln University in Pennsylvania, where he was introduced to several giants in African history: Dr. Nnamdi Azikiwe, who later served as the first president of Nigeria; and Dr. Kwame Nkrumah, who led the Gold Coast to independence from Great Britain and served as first president and prime minister of Ghana.
After his 1954 trip, Dr. Robinson started talking to students at colleges across the United States. In 1957, talking to students at Occidental College in California, he shared his vision of young people who would engage in experiences with counterparts. The students said, We're ready to go. Operation Crossroads Africa was established in 1958. Volunteers went to Ghana and Liberia.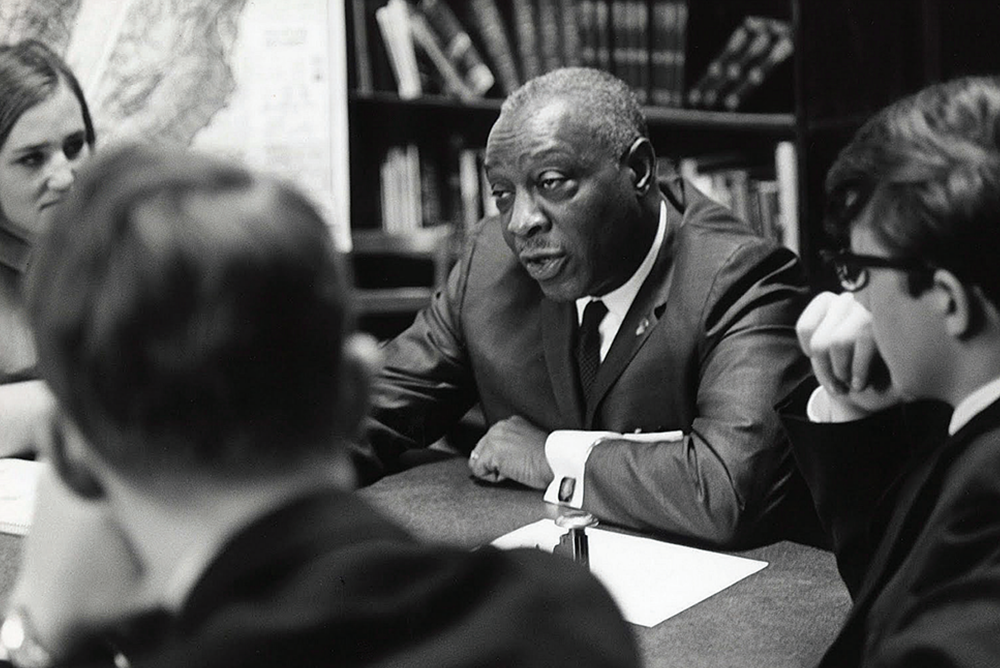 Dr. James Robinson, center, envisioned a program of young people "building bridges of friendship to Africa." Photo courtesy Operation Crossroads Africa
In 1960, when John F. Kennedy was elected, he learned about the work of Operation Crossroads Africa. He also had an opportunity to meet Haskell Ward, who first went to Africa with Operation Crossroads in 1962. Ward went on to serve as a Volunteer with the Peace Corps in Ethiopia 1963–65 and as director of recruitment and selection for Operation Crossroads Africa 1967–69. He later worked for the Ford Foundation and became deputy mayor of New York City.
James Robinson said that the darkest thing about Africa is America's ignorance of it.
What struck me about Dr. Robinson was his passion for wanting to connect people from the United States with the people of Africa. Several things that he said have stayed with me from the time that I served as a volunteer in 1971. He said that the darkest thing about Africa is America's ignorance of it. Tragically, I believe that most of us would have to agree that statement still has a great deal of relevance today. He also said: While you may leave Africa, Africa will never leave you. Certainly that's true for those of us who have been Crossroaders — about 13,000 since 1958.
There is no doubt Dr. Robinson had a tremendous influence on the creation of the Peace Corps. In June 1962, President Kennedy hosted the Crossroaders on the South Lawn at the White House. Talking about some of the many difficulties facing emerging nations in Africa — and the greatest concerns among the leaders of a dozen new nations he had met — Kennedy said, "The problems they face today, in every case, they have told me, were far more difficult than the problems they faced in the fight for independence. Now that problem is to maintain that national sovereignty and independence and make it worthwhile, because disillusionment is the second wave that comes after the wave of enthusiasm." Kennedy paid particular tribute to Crossroads by saying the volunteers in this effort really were "the progenitors of the Peace Corps."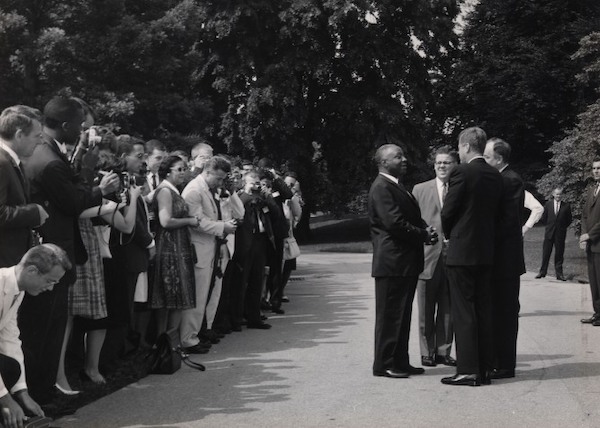 White House meeting, 1962: Before a gathering of volunteers for Operation Crossroads Africa, James Robinson talks with John F. Kennedy and Hubert Humphrey. Photo courtesy Operation Crossroads Africa
WHAT CROSSROADS HAS BEEN DOING for a number of years led to the establishment of what I consider to be the most encouraging indication of the desire for service — not only in this country, but all around the world — that we have seen in recent years. Dr. Robinson became an advisor for the Peace Corps. And many other people have been directly influenced by that Crossroads experience.
I've spent my life ever since volunteering — now 50 years — very much involved in Africa because of Dr. Robinson. Crossroads is still in existence and working to promote understanding of Africa and the African diaspora. Unfortunately, because of the pandemic, no volunteer groups went out last year or this year. My hope and my prayer is that there will be teams going out in 2022. Dr. James A. Robinson transitioned in 1972. But his vision, his legacy, lives on.
These remarks were delivered on September 14, 2021, as part of "Strategies for Increasing African American Inclusion in the Peace Corps and International Careers," a series of conversations hosted by the Constituency for Africa and sponsored by National Peace Corps Association. They appear in the 2021 Anniversary Edition of WorldView magazine.
---

Rev. Dr. Jonathan Weaver is pastor of the Greater Mt. Nebo AME Church in Bowie, Maryland. Reverend Weaver previously served as director of development for Operations Crossroads Africa. He is the founder and president of the Pan African Collective, whose mission is to build bridges of understanding, forge diverse partnerships, and promote economic and social development in Africa and other places.
---