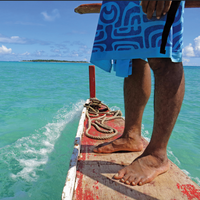 FIJI & BEYOND: A MacArthur Fellow takes stock of climate change loss and damage — and immediate solutions
By Stacy Jupiter
Under threat: Low-lying islands and coral cays, like barrier islands Wallis and Futuna, are extremely vulnerable to impacts of sea level rise. Photo by Stacy Jupiter.
In August 2019, as Pacific Island leaders arrived to their annual forum leaders meeting in Tuvalu, an atoll nation of less than 12,000 people with its highest elevation at 15 feet above sea level, they were greeted by children submerged in water in a moat around a model of their sinking island holding a simple message: "Save Tuvalu, save the world."
The children's plea was heard. Pacific Island leaders and negotiators went in to the United Nations Climate Change Conference in Madrid in early December 2019 feeling empowered, armed with the Kainaki II Declaration in which they called for "all parties to the Paris Agreement … to pursue global efforts to limit global warming to 1.5 C above pre-industrial levels, recognizing that this is critical to the security of our Blue Pacific."
However, the outcome of the climate negotiations, a watered down text, left many Pacific Islanders distraught. Key decisions, including on funding for "loss and damage" to help countries impacted by climate disasters rebuild and repair, were punted to this year's climate talks in Glasgow in November.
This matters deeply for Pacific Island nations. Small island developing states in the Pacific and the rest of the world collectively account for less than 1 percent of global greenhouse gas emissions, but they are on the front lines of climate impacts.
Small island developing states in the Pacific and the rest of the world collectively account for less than 1 percent of global greenhouse gas emissions, but they are on the front lines of climate impacts.
An Australian government report from the Pacific Climate Change Science Program released in 2011 notes that sea level has been rising across the western Pacific at rates exceeding 6 millimeters per year, and nearly double that around parts of Solomon Islands and Federated States of Micronesia. And while there is high year-to-year variability, on average sea surface temperatures have warmed by 0.75 C in this region over the past 50 years. Model projections indicate a widespread increase in the number of heavy rain days, with extreme 1-in-20-year events likely to occur four times per year by 2055 under high emissions scenarios. All of these consequences of climate change have big impacts on islands in the South Pacific.
The impacts of sea-level rise are some of the most visible and alarming. A recent study from Solomon Islands documented the disappearance of five reef islands since the 1940s, with further shoreline erosion on others causing entire community relocations. Low-lying atoll nations like Tuvalu and Kiribati are grappling with existential crises as rising seas destroy infrastructure and cause salinization of groundwater, which affects people's ability to access drinking water and grow crops. Pacific Island nations have been developing national relocation policies to deal with displacement of people from climate impacts. In 2014, the government of Kiribati purchased land in Fiji to hedge bets against future change.
The Costs
There are also pressing and yet unanswered questions as to what will happen to a nation's exclusive economic zone if its land is swallowed by the sea. An exclusive economic zone is the area extending 200 nautical miles from the coast over which a nation has sovereign rights regarding use and exploitation of its marine resources. The United Nations Convention on the Law of the Sea, which provides the legal framework for establishing these maritime boundaries, was written in 1982, long before there was global concern about a warming planet and expanding oceans. How the disappearance of islands that set the baseline for maritime boundaries will affect the ability of Pacific states to control access to marine resources that drive their economy is still unknown.
Moreover, many of these marine resources, such as tuna stocks, are highly migratory and are sensitive to changes in ocean temperature and dissolved oxygen. Scientific models under various future climate simulations indicate that many of the main tuna stocks will move eastward, resulting in decreases of total fisheries catch across the western Pacific by up to 25 percent by 2050. This is of great concern to small island nations, yet big ocean states, such as Kiribati, a country with only 811 square kilometers of land and an exclusive economic zone of well over 3 million square kilometers of sea, where revenue from fisheries makes up about 16 percent of GDP. Regional cooperation will be crucial to ensure that Pacific nations are able to collectively retain livelihood and food security benefits. This should build on the model of the Parties to the Nauru Agreement, under which eight Pacific nations have come together to regulate catch of approximately 25 to 30 percent of the world's tuna supply.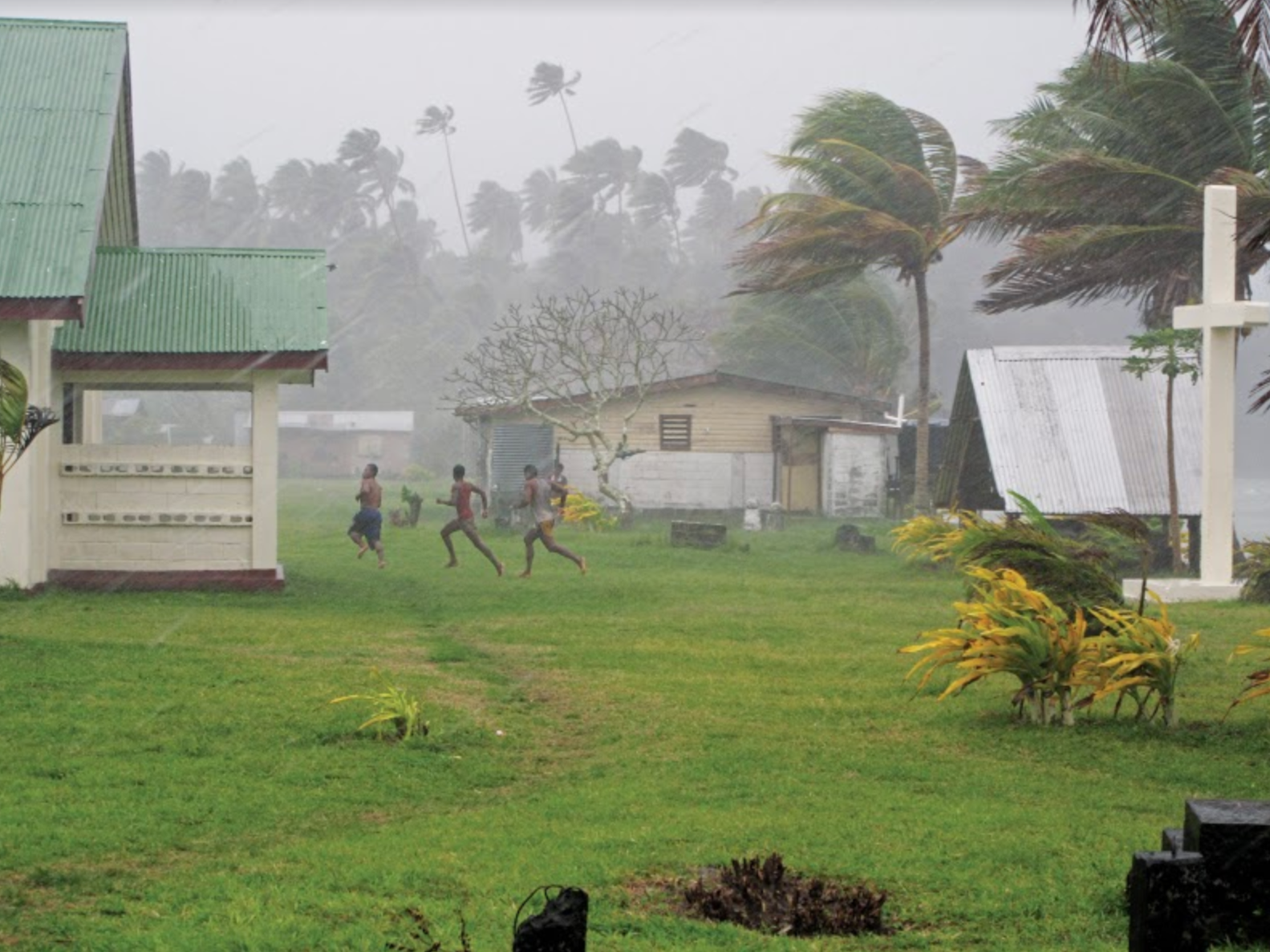 When it rains: Extreme weather will impact coastal villages with flooding, damage to infrastructure, and water-related disease.
Photo by Stacy Jupiter

Changing ocean temperatures are also wreaking havoc on Pacific coral reefs. The corals that build the fantastical and colorful structures that house thousands of fish and invertebrate species upon which Pacific people depend for food are colonial animals, related to jellyfish. The coral animals are particularly sensitive to abrupt changes in ocean temperature, which cause them to expel algae that live in their tissues, making the corals appear white or "bleached." The world's coral reefs, including across the Pacific, experienced unprecedented levels of coral bleaching between 2014 and 2017 during a particularly prolonged warming event, which led to high rates of coral mortality. Fortunately, new findings suggest that there are many reefs in the Pacific that have characteristics that make them predisposed to surviving heat waves. These areas are urgent priorities for protection and management. Thousands of communities across the Pacific have already taken action, many with the assistance of local Peace Corps volunteers, through setting up marine protected areas, reducing local fishing effort, and controlling activities on land to minimize added stress from pollution.
Loss of coral reefs means more than just loss of beautiful places to snorkel or fisheries habitat. When reef structures degrade, they lose the ability to reduce wave energy from storm surges. A report released in 2019 by the U.S. Geological Survey's Coastal Hazards Program indicates that healthy coral reefs in U.S. waters and territories provide more than $1.8 billion in flood protection benefits every year. In the Pacific, storm surges associated with tropical cyclones and heavy rainfall have contributed to huge losses in infrastructure, casualties and, later, outbreaks of water-related disease associated with the flooding events. Tropical Cyclone Pam, which struck Vanuatu in March 2015, caused damage equivalent to 64.1 percent of national GDP, while Tropical Cyclone Winston, which battered Fiji in February 2016, killed 44 people and completely destroyed villages along its path.
The Connections
Pacific Island countries recognize that building resilience to these climate impacts requires collaboration, coordination, and communication. In 2016, Pacific Island Forum Leaders endorsed the Framework for Resilient Development in the Pacific, a regional policy platform that integrates the disaster risk reduction, climate change adaptation, and ecosystem management sectors. The framework outlines Pacific commitments to low carbon development, improving disaster response, and strengthened systems for adaptation through approaches that encourage people to get out of the silos of their own organizations and cooperate together. Working together also improves how resources are allocated in small island states by focusing on solutions that can simultaneously yield multiple benefits for society.
There are outstanding examples of initiatives across the Pacific that are embracing this transdisciplinary approach to address emerging climate impacts. Through the Watershed Interventions for Systems Health in Fiji (WISH Fiji) project, my organization, the Wildlife Conservation Society, is working with colleagues from the Ministry of Health and Medical Services, Fiji National University, and multiple Australian research institutions. We are co-designing watershed management with local communities situated along five river basins on Fiji's two largest islands of Viti Levu and Vanua Levu, as well as on Ovalau Island. These river basins have been hotspots for outbreaks of water-related diseases such as typhoid, leptospirosis, and dengue. We believe that targeted actions to improve watershed condition and sanitation infrastructure will both reduce disease risk in people and also increase the availability and quality of freshwater and marine resources.
For example, one of the project villages has a septic tank sitting on the edge of an eroding riverbank, leaching untreated wastewater into areas used for washing that then drains onto nearshore coral reefs. Relocating and sealing this structure and revegetating the riverbank could reduce the spread of bacterial disease in people, reduce downstream coral disease, and improve habitat for important freshwater and marine fisheries. Such win-win solutions will achieve outcomes for health, food security, and the environment that all improve local capacity to adapt to global change at a fraction of the cost compared with uncoordinated, single sector approaches.
There is urgent need to inspire people to take local action on the ground to protect themselves. One way to do this is by strengthening Pacific Islanders' connections to people and place.
It's hard to overstate the enormity of the climate challenges facing Pacific Islanders — almost entirely a consequence of others' actions. While words spoken by politicians and policy-makers in Paris, Madrid, or Glasgow might eventually help turn the tide of global public opinion to influence meaningful commitments to mitigate climate impacts, right now there is urgent need to inspire people to take local action on the ground to protect themselves. One way to do this is by strengthening Pacific Islanders' connections to people and place.
Across the Pacific, there are specific terms in many island languages (e.g., vanua in Fijian, ahupuaʻa in Hawaiian, tabinau in Yapese) for geographically linked land and sea spaces over which local people control access and use of resources that are essential for their survival and cultural practices. A key element for any climate adaptation strategy is to raise awareness that people need to have a healthy environment from forest to sea and strong connections to their ancestral place to enable cultural practice. By emphasizing these links, we are able to galvanize people to look after their environment in ways that will ultimately better prepare them for what the future holds.
---
Stacy Jupiter directs the Melanesia Program for the Wildlife Conservation Society, for which she previously directed the Fiji Country Program. She studied at Harvard and served with the Peace Corps in Gabon 1997–99 before completing a doctorate at University of California at Santa Cruz. Her scientific articles have been published in Nature, PLoS One, the Journal of Marine Biology, and the Journal of Applied Ecology, among other journals. For her work as a marine scientist in the Pacific, she is a 2019 recipient of a MacArthur "genius" grant.
This story was first published in WorldView magazine's Spring 2020 edition.
---