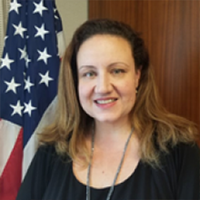 For the first time, the U.S. government has put forward a national strategy on gender equity and equality. A top priority: end gender-based violence at home and globally.
By NPCA Staff
This fall the White House released the first-ever U.S. National Strategy on Gender Equity and Equality. Among the priorities: "elimination of gender-based violence at home and globally," noted Katrina Fotovat (Moldova 2000–02) in a conversation with journalists on World AIDS Day, December 1.
Fotovat is the Senior Official to the Secretary of State in the Office of Global Women's Issues, a role she has held since January 2021. She has over 20 years of experience advocating for gender and human rights globally, particularly in conflict and post-conflict settings.
"Even prior to the COVID-19 pandemic, more than one in three women experienced gender-based violence during their lifetimes," Fotovat says. To end that domestically and abroad requires support for "comprehensive trauma-informed services that address multifaceted and systematic barriers that survivors often face" and to "increase access to justice for survivors. We hear the voices of the survivors that are requesting and requiring reducing impunity for perpetrators." Ensuring prevention efforts are accessible to all is key, "including access to education for girls, which can be protective against violence."
Read more about Katrina Fotovat here.
This story appears in the 60th-anniversary edition of WorldView magazine.
Story updated January 17, 2022.
---