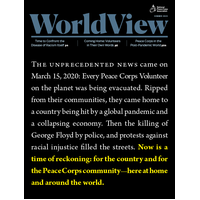 The evacuation of Peace Corps Volunteers serving around the globe is unprecedented. So is the way our nation is coming to terms with the truth that Black Lives Matter.
By Steven Boyd Saum
For most Peace Corps Volunteers, the news broke on the Ides of March: due to the global COVID-19 pandemic, every single one of them would be coming home. In its 59-year history, Peace Corps had never undertaken a global evacuation. But then, in so many ways, these are unprecedented times.
In one sense, we feel the precariousness of institutions that we want to sustain — and face the truth of those in desperate need of reform. And since the killing of George Floyd on Memorial Day, protests have swept across this nation and scores of others. We grasp the real possibility of dismantling systemic racism — descendant of that original sin of Black slavery, infused in the founding of America.
Unprecedented times.
So for this edition of WorldView, we've set aside the standard playbook. We've expanded the print magazine so that we can address at least a little better the enormity of this moment. And we're bringing you a tale in three parts.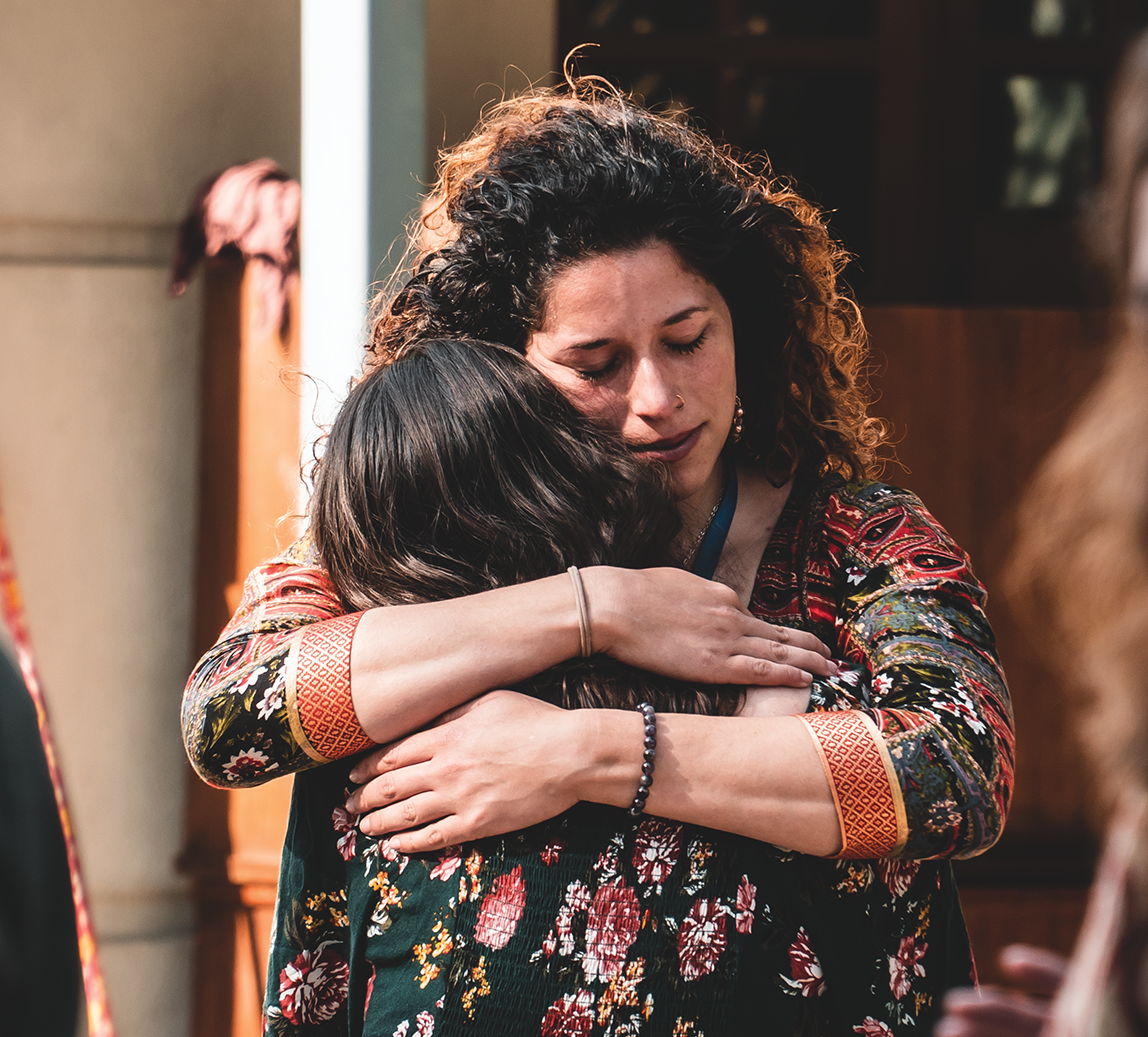 Nepal farewell: Training to become Volunteers, Rachel Ramsey (facing camera) and Elyse Paré had to evacuate instead. Photo by Eddie De La Fuente
Evacuation
Volunteers were yanked from their communities — sometimes with less than an hour's notice. They want the world to know what they left behind — in terms of people and places and relationships where they were serving. More important, they want others to understand their unfinished business — as Volunteers working alongside colleagues as part of the audacious Peace Corps mission. We bring your stories from every region where Peace Corps was serving in the beginning of 2020 — from Volunteers and counterparts, country directors and families. Peace Corps Director Jody Olsen also recounts how she reached the agonizing decision to recall all Volunteers.
As for the evacuation: It did not come with one fell swoop. First there was China — where COVID-19 began to spread in January. Then Mongolia — where Volunteers were evacuated before the virus had even begun to hit. And, as countries around the world began to shutter airports and lock down travel, the options for Peace Corps diminished by the day — or the hour.
Volunteers returned to a country grappling with pandemic and an economy suffering a meltdown. Most had no job waiting or a clear game plan. Uncertainty and heartbreak they had in spades. This is the hand they were dealt. So how do they play it?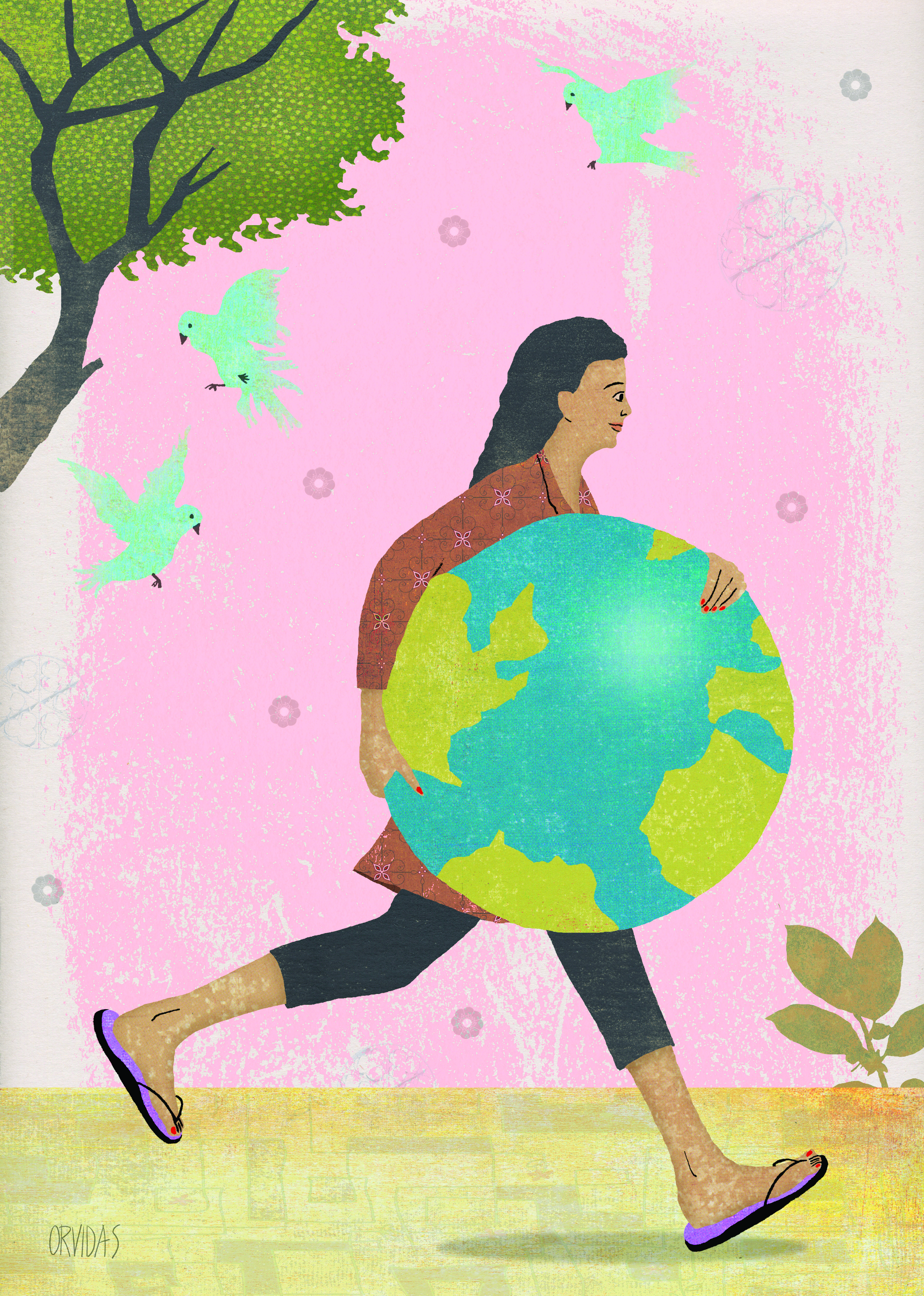 Global Reentry
Evacuated Volunteers needed help landing on their feet. National Peace Corps Association rolled out a program to assist. Staff worked with members of Congress to provide essential support for evacuated Volunteers when it comes to health insurance, unemployment compensation, and other assistance. And NPCA ramped up a new way to provide grant funding for projects that Volunteers had to put on hold when they left.
The Peace Corps community sprang into action in many ways — and we bring you stories from some of the ways they have helped. That includes evacuated Volunteers helping one another — and their communities in the United States in a time of crisis.
That national crisis took on a new dimension with Black Lives Matter protests. We've seen many returned Volunteers raising their voices against racism and for justice. We bring you those stories, too, very much with the sense of: This is the moment we are in now.

A Reckoning: and What Next?
We convened a series of town hall meetings July 8–16 and a global summit on July 18 to ask some big questions — not only about the future of Peace Corps, but how we live out values of equity and justice here at home and in the work we do around the world. To help spark debate, in this edition Lex Rieffel reframes the structure of the whole Peace Corps endeavor and poses some striking possibilities for a post-pandemic world. We hope you'll join the conversation in virtual person, and as we carry ideas forward in the months and years to come.
---
Steven Boyd Saum is the editor of WorldView and directs communications for National Peace Corps Association. He served as a Volunteer in Ukraine 1994–96.
---