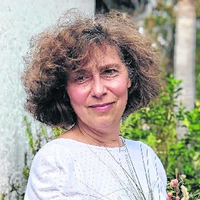 As we mourn the loss of members of the Peace Corps community, we celebrate the lives they led with a commitment to service.
By Molly O'Brien and Tiffany James

Our tributes include Elizabeth M. Giles (pictured), a two-time Peace Corps Volunteer, public transit advocate, and committed teacher who taught English and writing both domestically and abroad. We remember Stephen Reid, a former associate director of Peace Corps Senegal who chose to stay and assist those most affected by the 2010 earthquake that devastated Haiti instead of evacuating. And we recognize a professor with 50 years of experience teaching and conducting research on topics ranging from public policy analysis to public administration.

We honor the wide range of contributions made by members of the Peace Corps community who recently passed away.
Stephen Reid (1955–2022) — born in Concord, New Hampshire — earned a degree in English from the University of Notre Dame with highest honors. Afterwards, Reid received full scholarships to several law schools. Instead of attending law school, he joined the Peace Corps, embarking on a career in public service. Reid served overseas in Niger 1979–81, where he taught English in the town of Madaoua. After returning to the United States in 1982, he worked as liaison to several West African countries at Peace Corps headquarters before being promoted to associate director of Peace Corps Senegal. In that leadership role, Reid led numerous projects on issues including reforestation, water supply, community development, and intercultural language training. After his Peace Corps service, Reid earned a master's degree in public administration from Syracuse University before joining USAID, where he was assigned to work with a local NGO dedicated to addressing climate change and food security issues in West Africa.


Dr. William N. Dunn (1939–2022) enlisted in the U.S. Army after high school and earned a diploma in Russian language from the Defense Language Institute in Monterey. Afterwards, he joined the Peace Corps and received a certificate in African Studies and French from the Peace Corps Training Program at the University of Massachusetts. Dunn continued his studies by obtaining a bachelor's from University of California, Santa Barbara, as well as a master's and doctorate from Claremont Graduate School. In 1969, he started working as a professor at the University of Pittsburgh's Graduate School of Public and International Affairs (GSPIA). Throughout his 50 years at GSPIA, Dunn taught, conducted research on topics ranging from public policy analysis to public administration, supervised more than sixty doctoral theses, and attained the position of Associate Dean and Director of the Doctoral Studies program. Though retiring in 2020, Dunn continued to offer his wisdom and serve his community. As a life-long soccer enthusiast, Dunn coached youth teams for decades and was the biggest fan of watching and cheering on his grandchildren from the sidelines as they played soccer.


Elizabeth M. "Betsy" Giles (1964–2022), grew up in Buffalo, New York, and graduated from Syracuse University with a bachelor's in communications. After a brief two-year stint in Boston, Giles returned to Buffalo and worked at Travelers Insurance Co before joining the Peace Corps, where she taught English to high school students in Poland. Following her Peace Corps service, she earned a master's in teaching English for speakers of other languages at the University of Buffalo before working at the university's Clinical and Research Institute on Addictions. She returned to the Peace Corps and Poland in 1995 to teach writing at the Teachers College for Foreign Languages in Cieszyn. While there, Giles secured grant funding to purchase computers for the school. Giles moved back to Buffalo, where she leveraged earlier real estate investments to become a stay-at-home mom and look after her children. During this period of her life, Giles' interest in public transportation skyrocketed, motivating her to join the Citizens for Regional Transit (CRT) advocacy group and later Citizens Advisory Committee for the Niagara Frontier Transportation Authority. She advocated for public transit by developing the CRT brochure to help advocate for a light rail extension to the airport and helping to secure a fellowship to conduct studies for the route.


Jim Goering (1935–2022) grew up on his family's farm near Pretty Prairie, Kansas. After high school, he earned a bachelor's from Kansas State University in 1957 before receiving both a master's and doctorate from Michigan State University. Goering's graduate studies in international economics helped him land job opportunities that sent him, his wife, and children to locations across the globe — focusing on global poverty and income inequality. For more than a decade, he took on roles as an Assistant Professor at the University of California, Berkeley, an Administrator for the Peace Corps Guatemala 1963–65, a Staff Economist in the Executive Office of the US President, and an Agricultural Policy Advisor at the Harvard University Development Advisory Service in both Malaysia and Ethiopia. For more than a decade, Goering joined the World Bank, where he served in various positions in Washington, DC, Beijing, and Addis Ababa. His last job was as the Director of International Programs for World Vision Relief and Development. Retiring in 1999, Goering turned his attention towards advocating for environmental projects in his home of North Newton, Kansas.


Charles Stroth (1943–2022) embarked on a long and fulfilling teaching career after earning his bachelor's from Northern State University as well as two master's from University of Wisconsin-Milwaukee. At first, he stayed in the States and taught in both Colorado and Wisconsin. Then, he decided to volunteer with the Peace Corps in Kabul, Afghanistan, where he taught English as a foreign language. Following his return to the States, Stroth became a visiting professor at Northern Michigan University, an Assistant Professor at Roanoke College, an Associate Professor at Coe College, a Professor at and Head of Kansas State University's Art Department, and a Professor at and Head of Western Michigan University's Department of Art. In spirit of his earlier Peace Corps experience, he traveled to India twice to teach art. While there, he conducted research for the American Institute of Indian Studies and the Smithsonian Institution, while also becoming a Fulbright Visiting Lecturer to India. Aside from education, Stroth had a distinguished career as an artist, with his work from photography to oil paintings displayed in the Milwaukee Art Museum, the Roanoke Museum of Art, and the DeVos Art Museum. After retirement in 2007, he continued his passion for art at the Yavapai Community College print studio in Prescott, Arizona.


Mary Jane "M.J." Lucas (1939–2022) lived an extraordinary life, devoted to helping and caring for others. She began her career as a licensed practice nurse, serving in the U.S. Navy Hospital Corps, the Pennsylvania Air National Guard, and the Wyoming Army National Guard. After her service, she worked at various hospitals in hospice care all while raising four children. This great care for others at the end of their lives informed and influenced her decision to join the Peace Corps at age 60, serving as a four-time Peace Corps Volunteer. During her first term of service in Malawi, Lucas proved that her age didn't matter and surprised her village by doing more than previous, younger volunteers ever did. She took on many projects in Malawi from creating a mobile clinic to bring healthcare to remote villages to starting rural Malawi's first hospice program. She created a rural home-based care model for use anywhere in the world and presented at the 5th Annual International Conference for Home Community Care for Persons Living with HIV/AIDS, in Chiang Mai, Thailand. After finishing her service in 2001, Lucas entered Crisis Corps/Peace Corps Response in Tanzania 2002–03. Two years later, she worked with the American Refugee Committee in South Sudan, providing care amidst a civil war. Later, she continued her Peace Corps service in Uganda and Ghana with her unfailing optimism and inspiring spirit. Lucas specialized in developing simple but effective techniques for rural HIV/AIDS awareness, wound care, hospice, and community outreach. The magnitude of Lucas' spirit not only touched the lives of the communities she lived in, but those of other Volunteers. She is remembered as an incredible mentor and friend, helping her cohorts navigate through the highs and lows of service. Lucas lived her life by the motto: "If you can't make someone feel better, make them feel special." According to her family and friends, she did all of that and more.
PEACE CORPS STAFF
Mary W. Abbott (U.S. Staff), 5/23/22
Theodore "Jim" J. Goering (Guatemala, 1963–65), 4/13/22
MULTIPLE COUNTRIES OF SERVICE
Mary J. (Tolland) Lucas (Malawi 1999–01, Tanzania 2002–03, Uganda 2009–11, Ghana 2013–15), 5/17/22
Michael A. Meshak (Guatemala 1988–91, Ecuador 1995), 5/18/22
Stephen L. Reid (Niger 1979–81, U.S. Staff, Associate Director of PC Senegal), 4/18/22
AFGHANISTAN
Pamela J. (Wright) Procella (1970–73), 4/24/22
Charles L. Stroh (1969–71), 5/7/22
CHAD
Claire S. Dyckman (1967–69), 4/28/22
COLOMBIA
Hermina E. Sikkema (1966–67), 5/6/22
CÔTE D'IVOIRE
Daniel R. Ayala (1963–64), 4/11/22
Juliana K. Dulmage (1970–75), 5/29/22
EASTERN CARIBBEAN
Bruce A. Hogel (Barbados, 1975–76), 4/16/22
ECUADOR
Rebecca M. Harrison (Unspecified), 5/1/22
GABON
Alexandra P. Kincannon (1991), 5/16/22
GHANA
Robert J. Marshall (2002–04), 4/19/22
INDIA
Charlotte J. Lefebvre (1966–68), 5/16/22
INDONESIA
A. Jordan Safine (1963–65), 5/8/22
JAMAICA
Melvin D. Lee (1970–72), 5/11/22
LIBERIA
Peter J. Hughes (1963–65), 5/12/22
Carol E. (Weeks) Smith (1962–64), 4/23/22
MAURITANIA
Ernest Mora (1983–85), 4/12/22
MICRONESIA
Gerald Cleveland (1968–69), 5/17/22
NIGERIA
Max H. Brandt (1963–65), 5/10/22
Donald K. Ross (1965–67), 5/14/22
PHILIPPINES
Marthlu Bledsoe (1961–63), 5/19/22
Mary "Cathee" C. Marston (Unspecified), 5/13/22
Robert G. Yuille (1965–67), 5/15/22
POLAND
Elizabeth "Betsy" M. Giles (1991–93, 1995–97), 4/29/22
SENEGAL
William N. Dunn, Ph.D. (1963), 5/16/22
SIERRA LEONE
David R. Barker (1965–66), 5/13/22
Timothy R. Elmer (1967–69), 5/3/22
Martha A. Eshleman (1976), 5/25/22
Joseph D. Hammons (1971–73), 5/10/22
Robert W. Hopkins II (1962–63), 5/21/22
SRI LANKA
Sara A. Officer (1962–64), 5/9/22
TANZANIA
Alan M. Bertaina (1964–66), 1/10/22
TONGA
Jacqueline D. Yakovleff (1977–82), 4/21/22
UGANDA
Donald J. Quillan (1968–71), 5/10/22
VANUATU
Brian R. Hare (1995–96), 5/29/22
VENEZUELA
Glendon J. Williams (1967–69), 5/14/22
COUNTRY OF SERVICE NOT SPECIFIED

If you have information you would like to share for our monthly In Memoriam post, please reach out to us at obituary@peacecorpsconnect.org.
---