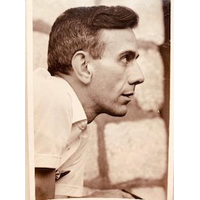 As we mourn the loss of members of the Peace Corps community, we celebrate the lives they led with a commitment to service.
By Molly O'Brien and Tiffany James
Photo: Douglas C. Kelley (1930—2022), who conceived the idea for a program that would grow to become the Peace Corps.


Our tributes include Douglas Kelley, who launched a program that helped lay the groundwork for the Peace Corps and served as a member of the original Peace Corps staff; he devoted his life to public service. We remember Robert Bell, a scientist and community activist who served as the Peace Corps Country Director in the Central African Republic. A nurse and advocate of feminist causes and equal rights. A seasoned criminal lawyer and president of an independent film distribution company.

We honor the wide range of contributions made by members of the Peace Corps community who recently passed away.
Douglas C. Kelley (1930—2022) was born in Lansing, Michigan, to a highway engineer and teacher. Kelley attended Berea College in Kentucky, where he conceived of and piloted the International Development Placement Association (IDPA), which helped lay the groundwork for the Peace Corps. The concept was sparked during his senior year in 1951, when he served as national chair of Students for Democratic Action and began conversing with a University of Michigan graduate and others about forming a program that would place people in modestly paid jobs with indigenous organizations and governments in Africa, Asia, and Latin America. By 1954, when he was 25, IDPA had already sent 18 young Americans to perform service work in India, Nigeria, Indonesia, and Uganda. The 502 other applicants demonstrated the feasibility of the idea, which the group floated on Capitol Hill, and U.S. Senator Hubert Humphrey proposed the first Peace Corps bill in 1957. But it was ultimately Humphrey's 1960 presidential primary opponent, John F. Kennedy, who adopted and implemented it via executive order in 1961. After receiving a telegram from Sargent Shriver, a document now in the Smithsonian Institution's collections, Kelley left his political science graduate studies at Harvard to join the original Peace Corps staff as its first community relations director. In 1963, Kelley enlisted to volunteer with the Peace Corps, traveling with his first wife and two sons to serve in Cameroon, Africa. During his time spent abroad, he founded a cooperative — now called the Bamenda Handicraft Cooperative Society — and enrolled 1,300 members from 1964 to 1965, creating a market for local crafters that doubled the monthly income of woodcarvers, potters, and basket makers as their products started being exported to the United States. He earned a Ph.D. in adult education from the University of Michigan at age 50, and finished his career as Director of Extension at the University's campus in Flint, where he started its first programs to help unemployed auto workers retrain. He was active in the labor and civil rights movements, participating in Martin Luther King's 1957 Prayer Pilgrimage for Freedom at the Lincoln Monument as well as a sit-in protest during the civil rights movement. Kelley was an active member of the Democratic Party well into his later years. He campaigned in five states for Barack Obama presidential campaign at age 79, ran the Democratic table at the farmers market in downtown Ann Arbor every Saturday, and amassed an impressive collection of political memorabilia in a private museum he called the Democratic Archive.
Robert Bell (1932—2021) was born in Augusta, Georgia, graduated from Johnson High School at age 16, at which point he applied to Wayne State University — his dream school since he was a little boy— but was rejected for being too young. Undeterred, Bell was eventually accepted two years later and earned his bachelor's degree in chemistry in 1955, which was also the year he we his wife, Marion. Bell secured a job as a spectographer for Convair, a Division of General Dynamics in San Diego. In the early 1960s, Bell learned of an opportunity to teach in Africa and moved his wife and children to the Congo where he joined the field staff of Congo Polytechnic Institute (CPI) to serve as a teacher of science and mathematics at the CPI agricultural school located at Sandoa. He later became director of one of the schools located in Gemena in northern Congo. After returning to San Diego in 1965, Bell pursued a master's in radiochemistry studies, then received a full scholarship to attend Stanford University's School of Business and obtained an MBA in finance. He headed Training Corporation of America n Washington, D.C., which consisted of programs such as Job Corps; opening a hotel in Liberia, Africa; and extensive training programs for the U.S. government. He served as a member of the United Methodist Volunteers in Missions program, supporting the Africa University in Zimbabwe, where he rebuilt computers, set up a computer lab, and assisted with the building of faculty housing. Projects he oversaw also included opening an oceanfront hotel in Robertsport, Liberia. Bell's commitment to making an impact in Africa continued to guide his career beyond TCA. He worked as a consultant with Warner and Warner International in Nigeria. He provided science grants to colleges and universities in the U.S. and abroad while at the National Science Foundation. He worked with Africare for more than a decade as its country representative in several African countries. And he served as Peace Corps Country Director in the Central African Republic. At the same time, he assisted various organizations including the Alpha Kappa Alpha, Detroit Connection, the Bennett College Alumnae Association, the Inter-Alumni Council of the United Negro College Fund (UNCF), and many more.
Joyce A. Borne (1938—2022) received a full scholarship to attend the Methodist Hospital School of Nursing, graduating in 1959. She served with the Peace Corps in Malaysia from 1963–65 during a cholera outbreak in the state of Kelantan, and she assisted in implementing and temporarily staffing a cholera unit. After volunteering, she earned her bachelor's degree in nursing from Indiana University in 1970 and a master's from Butler University and Christian Theological Seminary in 1976. As a registered nurse, Borne developed one of the first adult education programs for diabetes patient education in the Indianapolis area Methodist Hospital and Winona Hospital. As an adjunct faculty member at Ivy Tech State College in Richmond, Indiana, Borne served as an instructor in the Practical Nursing Program and director of the Certified Nursing Assistant Program for seven years. She was an active advocate for feminist causes, a supporter of the Equal Rights Amendment, and a member of the National Organization for Women. Borne co-owned the first feminist bookstore and counseling center for women with Rev. Jeanine C. Rae in Indianapolis called The Woman's Touch. In 1988, she returned to Franklin County, Virginia, and rarely missed a game of the Franklin County Lady Wildcats Basketball Team. Upon retiring, Borne enjoyed gardening and winning champion ribbons on her flower entries at the county fair and Flower Show. Borne was active in many local organizations including the Whitcomb United Methodist Church, the Brookville Women's Club, and the Franklin County Historical Society where she served on the board of directors.
Seymour Wishman (1942—2022), born to Jewish immigrants in the South Bronx, was raised in Newark, New Jersey. He graduated from Rutgers School of Law in 1965 and went on to serve in the Peace Corps as a legal advisor in Lima, Peru, from 1966–68. After returning to the states, he worked as an assistant prosecutor in Essex County and then as a criminal and civil rights lawyer in New York and New Jersey before being hired as a deputy assistant to President Jimmy Carter in the Office of Public Liaison. Outside his legal career, Wishman wrote a memoir called Confessions of a Criminal Lawyer, which explores how the justice system works — and how it "should" work, from his perspective as a seasoned defense and prosecution attorney. He wrote Question of Consent, Nothing Personal, and Anatomy of a Jury as well as articles that have appeared in The New York Times, Newsweek, and the Village Voice. He was president of First Run Features, a New York-based independent film distributor where he co-directed and produced "Sex and Justice," a documentary about the confrontation between Anita Hill and Clarence Thomas at Supreme Court confirmation hearings in 1991.
PEACE CORPS STAFF
Robert Bell (Country Director in Central African Republic), 11/3/21
William Carruth (Country Director in Niger), 1/21/22
John "Jack" W. Harkness, M.D. (Staff in Philippines 1962—64; Staff in DC 1968–69), 11/23/21
Pamela Magee (U.S. Staff), 12/21/21
Louis E. Mahoney (Medical Officer in Malaysia), 1/1/22
Hodges L. Martin, M.D. (Medical Officer in South Korea 1967–74), 1/5/22
Richard I. Wright (Technical Director in India), 1/19/22
AFGHANISTAN
Gale W. Meyer (1966–68), 1/30/22
BOLIVIA
Norman D. Coble (1962–64), 1/24/22
BOTSWANA
Kathleen M. (Freed) Monroe (1986–88), 1/11/22
BRAZIL
Marvin "Alex" Feit (1969–71), 1/18/22
Darrell E. Lumpkin (1970–73), 1/16/22
BULGARIA
Marcella "Sally" D. Hill (1993–95), 1/15/22
CAMEROON
Douglas C. Kelley (1963–65), 1/12/22
CHILE
John J. Buzenberg (1965–67), 1/16/22
COLOMBIA
Roger R. Hinchliffe (1968–71), 1/21/22
EASTERN CARIBBEAN
Steve M. Kann (1980–82), 12/28/21
ECUADOR
Lois R. D'Elia (1971–73), 1/25/22
Robert "Fred" G. Loose (1981–83), 10/20/21
Michael R. Scriven, Jr. (2000–02), 1/18/22
ETHIOPIA
Michael R. Huxley (1964–67), 12/23/21
FEDERATED STATES OF MICRONESIA
Mildred Becker (1988–90), 1/21/22
GABON
James E. Leslie (1965–67), 1/21/22
HONDURAS
Thomas J. Neath (1980–82), 1/1/22
Ronald C. Wyman (1979–82), 12/27/21
INDIA
Charlotte R. (Sprague) Williamson (1966–68), 1/23/22
LEEWARD ISLANDS
Rollin E. Hurlbut (1990–92), 1/15/22
LIBERIA
Lee F. Irwin (1970–72), 1/6/22
MALAYSIA
Joyce A. Borne (1963–65), 1/14/22
MOROCCO
Christopher D. Risbrudt (1972–74), 1/17/22
NEPAL
John N. Pinkerton (1973–74), 1/11/22
NIGERIA
Thomas S. Parks (1963–65), 11/21/21
William M. Scheffey (1964–66), 1/25/22
PERU
Michael Abell (1968–70), 1/18/22
William N. Copeland (1964–67), 12/12/21
Seymour A. Wishman (1966–68), 1/29/22
PHILIPPINES
William A. Gillaspie (1966–69), 12/18/21
Donald "Skip" W. Jordan (1962–64), 1/15/22
Helen M. Lambert (1973–77), 1/14/22
POLAND
Curtis N. Bowman (1996–98), 1/17/22
ROMANIA
Donald Whelan (1994–95), 1/31/22
SENEGAL
Sidney C. Roseberry, Jr. (1973–75), 1/7/22
SIERRA LEONE
Katherine (Hufnagel) Hawkes (1965–67), 1/17/22
SOUTH KOREA
Frederick "Deric" H. Garnell (1967–69), 1/14/22
Helen J. Simon (1977–78), 12/31/21
THE GAMBIA
Vicky J. Prather (1980–82), 1/13/22
TUNISIA
Ralph P. Horley (1973–75), 1/12/22
George Talbot (1963–65), 1/23/22
TURKEY
Paul J. Zollar (1965–67), 12/31/21
YEMEN
Charlotte S. Murchison (1976–78), 1/14/22

If you have information you would like to share for our monthly In Memoriam post, please reach out to us at obituary@peacecorpsconnect.org.
---