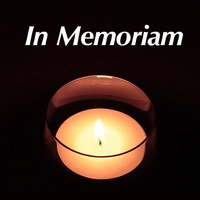 We honor and remember our community members who recently passed away for their unending commitment to peace, justice, and the greater good.
Joseph C. Kennedy (1926-2019) became a part of Peace Corps leadership during the agency's first decade. He served as Sierra Leone country director from 1967-70, as deputy director for Africa, as regional director for East Africa, and the Pacific. In 1971, Joseph joined another Peace Corps pioneer, C. Payne Lucas, who co-founded Africare. Joseph served as vice president and director of development. When he retired in 1999, $400 million had been distributed to 27 nations to combat drought and famine, support agricultural development and environmental protection, and provide AIDS relief.
Judge David Douglas Kerman's (1944 – 2019) passion and commitment to the law spanned a half-century, since he graduated from the Syracuse University School of Law in 1972. That same year, Judge Kerman married Jura Strimaitis. They met during their Peace Corps service in Turkey in the mid-1960's. They moved to Massachusetts when Kerman took a position as Director of Neighborhood Legal Services in Lynn. Combined with similar work in Syracuse, he worked in legal services for twenty years. In 1990, Governor Michael Dukakis appointed Judge Kerman to the newly-created Northeast Housing Court in Lawrence. He was on the faculty of the National Institute for Trial Advocacy. He also coached students at Lynn Classical High School in the Massachusetts Bar Association's annual mock trial competition. As a testament to his good work, though required by Massachusetts law to retire at age 70, Judge Kerman was recalled by the state Supreme Judicial Court, and continued his work as a Housing Court Judge for an additional five years.
Lawrence Fabacher (1947-2020) became a Peace Corps Volunteer soon after graduating from the University of Southwestern Louisiana. After Peace Corps, he attended law school at Tulane University. He would remain in New Orleans for the next 40 years, practicing law and specializing in immigration and nationality law. Lawrence became an adjunct faculty member at Tulane, a position he would hold for 25 years. He is credited for implementing immigration curriculum at the law school. In 1996, he was the recipient of the Monte Lehman Distinguished Teaching Award. Lawrence also taught immigration law in Mexico during the summers as a faculty member for Loyola Law School. Lawrence was a member of the American Immigration Lawyers Association. He was also a member of the Aircraft Owners and Pilots Association.
Bonnie Knight Graves's (1932-2020) two years of Peace Corps service in Romania were not enough. She also volunteered with Americorps, Global Volunteers, and Cross-Cultural Solutions. Bonnie was a graduate of Carthage College and later obtained a masters degree from New York University. Her first venture overseas was with her husband Ted, a U.S. Naval Academy graduate who was stationed at military bases in the U.S. and Japan for twenty years. No matter where she was located, Bonnie would play the piano and organ at church services, an activity she began at age sixteen.
Lyndell (Hopkins) Edgemon (1943-2020) was very active in her community, running several businesses, organizing a city tennis tournament, and playing an active role in the lives of her three sons. After their children had grown, Lyndell and her husband Charlie moved from their west Texas farm to the Kingdom of Tonga, where they served as Peace Corps Volunteers. They then spent four years in Volkov, Russia, creating an agricultural coop with twenty Russian farmers. Upon returning to the U.S., Lyndell was hired by the Census Bureau. She would close out her career at the Bureau twenty years later. In 2015, she received the National Census Award of Excellence.
Bastiaan Schouten (1942-2020) dedicated career to public service occurred because of a decision made when he was seven years old. Bastiaan's family made the decision to emigrate from The Netherlands to the United States, settling in Portland, Oregon in 1950. Bastiaan became a U.S. citizen at age 18, and later earned both undergraduate and graduate degrees from Lewis and Clark University. He also earned additional master's degrees from the University of California in 1967 and from the National Defense University in 1989. Bastiaan married his wife Priscilla in 1967, and together they joined the Peace Corps, serving for two years in Honduras. That first step towards public service culminated with a 31-year career with the U.S. Agency for International Development (USAID). Along with Honduras, Bastiaan was stationed with USAID in Bolivia, Costa Rica, El Salvador, and Jordan. He returned to Washington to head the agency's Office for Development Planning in the Latin America and Caribbean Bureau. Among his many achievements, Bastiaan was deeply involved in efforts leading to significant poverty reduction in Costa Rica and the transformation of the country into a model of export-led growth and eco-tourism.
Below is our In Memoriam list for members of the Peace Corps community who recently passed away:
PEACE CORPS STAFF
Gene H. Brown, 1/22/20
Arlene Favaregh (PCMO 16 years in various African countries), 1/17/20
Joseph C. Kennedy (Sierra Leone Country Director 1967-70; DC HQ Staff), 12/7/19
Richard J. Krausz, 1/31/20
Allen Scott Lowe, 1/20/20
Thomas Reynolds (Costa Rica; USA), 1/7/20
Herbert L. Tyson, 12/4/19
MULTIPLE COUNTRIES
Elaine Lamski (Nigeria 1966-67; Chad 1967-68), 1/27/20
Paul J. McPeck (Vanuatu 1994-97; Morocco 2001-02), 12/29/19
Jeffrey Scott Watson (Korea/Philippines late 70's, early 80's), 12/30/19
David Ziegenhagen (Thailand/Philippines/Samoa Country Director/U.S. Staff), 1/29/20
BOLIVIA
Constance B. Weeks (1966-68), 1/21/20
BRAZIL
Robert Charles Booth (1967-69), 2/3/20
COLOMBIA
Lawrence B. Fabacher, 1/21/20
David J. Hayden, 1/25/20
ECUADOR
John M. "Mike" Daley (1963-65), 1/27/20
Edward Whalen (1963-65), 1/9/20
ETHIOPIA
Julie Jordan Drennan (Staff Nurse 1963-66), 1/17/20
FIJI
Robert J. "Rob" Cary Jr. (1979-81), 1/27/20
Robert G. "Scotty" Scotton (1980-82), 1/19/19
GABON
Donald Herbert Reighard (1963-65), 2/2/20
GHANA
Norman Oswald, 1/15/20
GRENADA
Marian Elaine (Cook) Fittje (1975), 2/1/20
HONDURAS
Bastiaan Schouten (1967-69), 1/24/20
INDIA
Wallace Coe (1968-69), 1/24/20
KENYA
George U. "Bud" Paulding III (1964-66), 2/5/20
LESOTHO
John Christy McCoy, 1/2/20
LIBERIA
Irvin Bieser Jr. (1966-69), 2/6/20
MALAWI
John E. Sasman, 10/24/19
MICRONESIA
Kelly B. Raynolds (1967-69), 1/24/20
NIGER
Geoffrey Robert Geurts (1992-95), 1/12/20
NIGERIA
Noval. B. Abraham (1962-64), 2/14/20
M. Sherrin Langeler (1966), 2/8/20
PANAMA
Marvin Gerstein (1966-68), 2/17/20
PAPUA NEW GUINEA
Jim Foley, posted 2/19/20
PARAGUAY
Gwendolyn Pierce, 1/30/20
PERU
Richard Lee "Dick" Rossignol (1965-68), 1/31/20
PHILIPPINES
Ronald Allan Laux (1963-65), 1/27/20
ROMANIA
Bonnie Knight Graves (1992-93), 2/8/20
SIERRA LEONE
Fred Ligon (1968-70)
TANZANIA
Earl Mason Brown Jr. (1964-66), 10/9/19
TONGA
Lyndell (Hopkins) Edgemon, 2/8/20
TURKEY
John George Bordie, 1/23/20
Judge David Douglas Kerman (1965-67), 11/17/19
Kenneth Andrew Marion (1965-67), 3/3/19
COUNTRY OF SERVICE NOT SPECIFIED
Claude MacMillan, 1/19/20
Eugenia Schuller (served in Central America), 1/24/20
Phillip M. Wasylean II (served in South America), 1963-65
Edward J. Woods, 1/22/20
Kay Woods, 1/27/20
Edward Francis Yacovone, 1/19/20

If you have information you would like to share for our monthly In Memoriam post, contact obituary@peacecorpsconnect.org.
Thanks to Betty Pyle for her assistance in preparing this month's In Memoriam page.
---