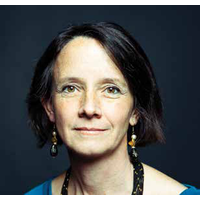 Documentarian Alana DeJoseph talks takeaways ahead of her film's national broadcast on PBS

Interview conducted by Megan Dial
In September 22, 2019, A Towering Task: The Story of the Peace Corps premiered at the Kennedy Center in Washington, D.C. Directed by filmmaker Alana DeJoseph (Mali 1992–94) the documentary focuses on Peace Corps history along with its past and current struggles. Nearly four years after the film's premiere, NPCA communications intern Megan Dial interviewed DeJoseph just before the documentary aired nationwide on the Public Broadcasting Service (PBS) in September.

Megan Dial: This edition of WorldView magazine focuses on the meaning of service. In a previous article (Summer 2015), you said Peace Corps acts as a prism for some of the nation's hardest questions, such as the notion of service. What does service mean to you? And what does the Peace Corps have to reveal about service?

Alana DeJoseph: I look at these trends of how things have changed over time, and Peace Corps is not the only service organization that is finding itself struggling to articulate this notion of service. We have all these civic service organizations like…Lions Club[s] and Rotary Club[s]. Everybody's finding themselves with an aging demographic, dropping numbers, and difficulty talking about what service means. Service organizations can also be domestic, but whatever it is, it gets you outside of your own box, outside of your comfort zone. With our emphasis on individualism, with our cocooning around our digital devices, I feel our boxes have gotten too small. Service breaks us out of those boxes.
It's such a complex topic to communicate Peace Corps itself. It's part development agency, part cultural exchange. - Alana DeJoseph
Dial: What is the most important message you want viewers to learn from your documentary?

DeJoseph: For the Peace Corps audience to walk away with that understanding of we need to protect Peace Corps, not as in we need to enshrine it the way it's always been, but in the sense that we need to protect what it is meant to be and then keep pushing it to get better and better. For the general audience, the basic message is "Hey, there's a Peace Corps! This is a piece of our government. We all pay taxes for it." We need to know that it exists. But how do we succinctly communicate the value of what it is that Peace Corps does? It's such a complex topic to communicate Peace Corps itself. It's part development agency, part cultural exchange. Hollywood likes to reference Peace Corps here and there, but it's usually just as a shortcut to communicate that they're a do-gooder person or they are an idealist. So how do we counter that? How do we change the image in the media of Peace Corps?

Dial: It has been nearly four years since the premiere of the film. It's fair to say the world we live in today is far different than the one we knew in 2019. Knowing what you do now, what themes in A Towering Task would you add, and what existing themes do you believe are even more topical today?

DeJoseph: Our writer, Shana Kelly, and I had many conversations about this. The original version that premiered in 2019 ends with a story about the Ebola outbreak in West Africa and President Sirleaf [of Liberia] talking about how pandemics don't respect borders. We mentioned the global problems that we face now, where Peace Corps is so critical: it's migration, it's wars, it's climate change, and we also mentioned diseases. We have since updated the film for broadcast that is going to PBS, and it will have the updated ending of evacuation and reentry.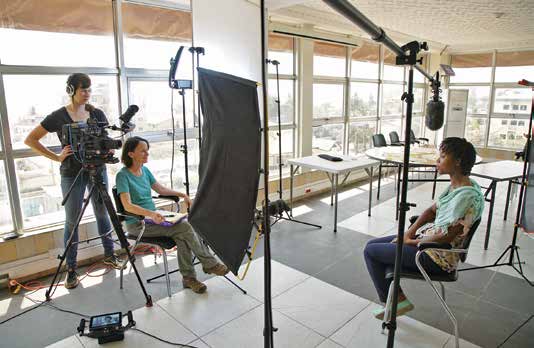 Above: One of dozens of interviews conducted by DeJoseph, who served in Mali in the early 1990.
The other thing that happened was the Black Lives Matter movement in the summer of 2020. It was an awakening, a reckoning with our history as a country. When we produced the film, we made sure that we had Peace Corps Volunteers of all backgrounds in the film, but we didn't address the topics of how different the experience of a Peace Corps Volunteer is for BIPOC people, or [people] from a different background than your traditional, you know, white male from the '60s. So we went back, and we had done some interviews where, for example, Haskel Ward, who was a Volunteer in the '60s, had talked to us about how challenging it was for him to leave Georgia, in the middle of the Civil Rights Movement, and go overseas and how much pressure he faced where his friends were telling him, "Why are you going overseas when we need you over here in the fight that we have here?" We have Volunteers talking about the current date, how the experience is still very different, and how, on the one hand, they might find themselves in an African country and be considered basically white. At the same time, Volunteers talk about how they still encountered racism where white Volunteers were treated differently than Black Volunteers were by host-country nationals, and sometimes by Peace Corps staff. I feel like there's a whole half-hour-to-an-hour documentary [on experiencing] Peace Corps through a different lens.

Dial: You were successful in getting A Towering Task aired on Rocky Mountain PBS back in April. How is the process going for getting nationwide broadcasting on PBS?

DeJoseph: I'm thrilled to say that we got picked up by NETA, the National Educational Telecommunications Association, which is one of the distributors within the PBS network. And NETA just sent out notices to all the PBS stations across the country that every PBS station…will now have access to this film. As a member-based organization, the more they hear from their members that this film has an audience and is being requested, the more likely the programming managers are to schedule it. I'm hoping that with our amazing Peace Corps community, we can engage with our PBS stations across the country and not only show them that there is an audience for this film.

Dial: What is next in terms of the film, other projects, or your personal career?

DeJoseph: I would love to keep working on Peace Corps stories, but any documentary comes with fundraising, and fundraising is the bane of every documentarian's existence. Right now, we're starting a documentary about the history of the Fish and Wildlife Service. This will be our third government agency, which is also one of those agencies that are highly misunderstood and fly under the radar. But my dream still is to go back to the Peace Corps story for the streamers. We're noodling about what would the show look like, what would be a show that would interest 20- and 30-somethings that watch Hulu or Netflix or Amazon Prime. But that's a way[s] down the road.

---
Megan Dial was a 2023 NPCA summer intern working with the communications team. She is currently a rising senior at the University of Arkansas, and she's double majoring in political science & international and global studies.
---