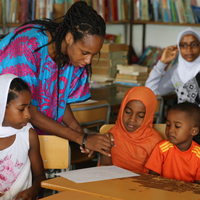 Honoring six Returned Peace Corps Volunteers who have served around the world — and a leader who has worked to close the racial and wealth gaps in the Chicago area.
By NPCA Staff
On December 15 the Peace Corps recognized leaders in the Peace Corps community — and a civic leader with a shared commitment to Peace Corps values — with the Franklin H. Williams Award. The award honors ethnically diverse Returned Peace Corps Volunteers who have demonstrated a commitment to civic engagement, service, diversity, inclusion, world peace, and to the Peace Corps' Third Goal — to strengthen Americans' understanding of the world and its peoples.
The award was presented to six Returned Volunteers, and a special Director's Award for Lifelong Service honors was presented to recognize an individual who has not served in the Peace Corps but shares a commitment to building peace and civic involvement.
The keynote address was delivered by Ambassador Gina Abercrombie-Winstanley, whose pathbreaking career in the Foreign Service has created new opportunities and possibilities for women and minorities. Abercrombie-Winstanley served with the Peace Corps in Oman, was the first woman to lead a diplomatic mission in Saudi Arabia, advised U.S. Cyber Forces on diplomatic priorities, and served as U.S. ambassador to Malta.
The event was hosted and awards were presented by Dr. Darlene Grant, who serves as a special advisor to Dr. Jody Olsen, Director of the Peace Corps. Meet this year's winners.
Dr. Sabrina T. Cherry
The Gambia 2001–03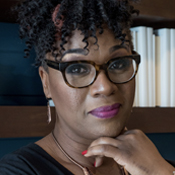 Dr. Sabrina T. Cherry has worked for nearly 20 years within the field of public health. Dr. Cherry's professional experience started as a Peace Corps Volunteer in The Gambia, West Africa. As a public health practitioner, Dr. Cherry collaborated on Community Health Needs Assessments (CHNA) for the Greater Atlanta Affiliate of Susan G. Komen for the Cure and two rural Georgia hospitals; provided technical assistance to faith-based, mini-grant recipients in Southwest Georgia; and worked on a food insecurity and medication-adherence pilot study for Persons Living with HIV/AIDS (PLWHA).
Dr. Cherry served as part of a research team that won the 2018 National Economic Development Award awarded by University Economic Development Association Awards of Excellence and is the recipient of the Distinguished Scholarly Engagement and Public Service Award awarded by UNCW. Her primary research interests are the intersection of public health and religion. She earned a Master of Science Public Health degree from the University of South Carolina, a Master of Theological Studies from Emory University, and a Doctor of Public Health, as a well as a Certificate in Interdisciplinary Qualitative Research from the University of Georgia.
Denisha Richardson
Fiji 2015–17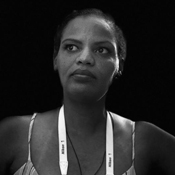 Denisha Richardson, a Minnesota native, offers 10+ years of broad base program administration and communications skills. She specializes in transformation and competency; in the areas of power, ability, status, anti-racism, diversity and inclusion, gender rights, youth development and leadership. Her work spans over four continents, in diverse access and living conditions. Richardson is a proud HBCU graduate of Florida Memorial University, where she obtained her bachelor of arts in public relations. She obtained her Master of Sociology with a concentration in Intercultural and Diversity Studies from the University of Cape Town.
In June 2020, she and fellow Fiji Peace Corps Volunteer-turned-business-partner Montrell Sanders founded the Beacon Axiome Group (BAG). Motivated by world events, the BAG was formulated out of their shared experiences, passions, and desires to assist with transforming society to end injustices, anti-blackness, and discrimination. Her work experience includes serving as a Refugee Officer and Immigration Services Officer in the federal service.
From 2015–17, Denisha served as a Community Youth Development Specialist Volunteer in the Republic of Fiji. For ten years she was a mentor and later the Program Coordinator for a diversity and leadership program throughout an independent school district in Minnesota. Her teaching and development experiences extend to South America and South Africa. She previously served as a Congressional intern on Capitol Hill in Washington, D.C. In these roles, she has led, planned, implemented, and facilitated efforts to provide training, research, resources, and developmental activities to youth, young adults, and learners.
"I believe in fostering a culture of empowerment that equips others with the skills and knowledge to be not only productive but also provide the opportunity for them to showcase their unique abilities and contributions."

–Denisha Richardson
Jalina Porter
Cambodia 2009–11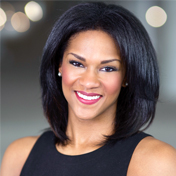 Jalina Porter is an entrepreneur and strategic communications professional who serves as the Communications Director for Congressman Cedric Richmond (D-LA) in the U.S. House of Representatives. A seasoned communications advisor and foreign policy professional, Jalina has advised non-profit organizations and conducted inclusive communications-based professional development training for over 4,000 working professionals including current elected officials, veterans, global leaders, corporate executives, and congressional staff. Jalina is a current Term Member at the Council on Foreign Relations, member of The Links, Incorporated, and serves on the Executive Advisory Council of the National Peace Corps Association.
Jalina served as a Volunteer in the Kingdom of Cambodia 2009–11 and has been recognized as a 2018 Next Generation Foreign Policy Leader by New America, a 2019 African-American Foreign Policy Influencer by Women's Foreign Policy Group, and a 2020 "40 Under 40 Returned Peace Corps Volunteer" by National Peace Corps Association. Jalina earned her B.B.A. in Marketing from Howard University and her Master's in Global Strategic Communications from Georgetown University. A former professional dancer, Jalina values connecting with others through performing and creative arts, cultural exchanges, and mindfulness practices.
Ella Cheri Bennett
Dominican Republic 1991–93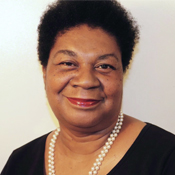 While in high school during the late 1970s Ella Cheri Bennett was intrigued by the Peace Corps commercial that proclaimed that the Peace Corps was "the toughest job you'll ever love." This anthem seemed to speak to her personally. Although she was 29 years old when she joined, she remained faithful to her childhood dream. From 1991 to 1993, she served as a Community Education Volunteer in San Jose de Los Llanos in the Dominican Republic. Her principal project included collaborating with school personnel and the community to plan and implement major physical repairs to Maria Nicolasa Billini School. Bennett also formed the asociación de padres y maestros, the U.S. equivalent to the Parents and Teachers Association. As a team, this group planned and implemented projects to assist in securing funding, in addition to support received from the country's Ministry of Education, to make school repairs.
Following her Peace Corps service, Bennett continued to serve her community through her work. For more than 17 years, she taught Bilingual Adult Basic Education (ABE) and General Education Development (GED) in Anson County, North Carolina. While many of her students could not read or write, others were competent scholars that only needed encouragement to complete their high school equivalency (GED) exams. During this time, Bennett also taught English as a Second Language to Spanish speakers from various countries living in Richmond County, NC. These experiences provided an opportunity for Bennett to share her Peace Corps experience and the language that she learned, as well as share her African American culture with others.
Today, Bennett teaches nutrition education to bilingual groups with a focus on encouraging families to make healthy choices to improve their health and prevent chronic diseases such as high blood pressure and diabetes that are prevalent in communities of color. The classes also serve as an opportunity for cultural exchange, as families have the opportunity to prepare recipes hands-on and experience ethnic dishes that are made with healthier options.
Twenty-seven years after her Peace Corps service, Bennett remains in contact with her many friends in San Jose de Los Llanos in the Dominican Republic. She also serves on the International Awareness Committee of the Laurinburg Alumnae Chapter of Delta Sigma Theta Sorority, Inc.
Dr. Sheldon Gen
Kenya 1990–92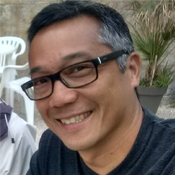 Sheldon Gen is the son of immigrants who fled China's communist revolution following World War II. He was raised in California's San Joaquin Valley in Turlock — then a rural agricultural town, where his parents established a successful restaurant. Gen began working in the back of the restaurant at age 8, learning a full range of kitchen skills that would eventually pay his way through college and feed many friendships. He is a first generation college graduate, earning a B.S. in civil engineering from Cal Poly, San Luis Obispo. This led to a decade of engineering work with federal agencies, including the Peace Corps (Kenya), the U.S. Air Force (Los Angeles AFB), and the Environmental Protection Agency (San Francisco and San Diego) where he was a Presidential Management Fellow. As his engineering career progressed, he earned a MPA degree with honors at the University of Southern California to understand the public service and policy contexts of his engineering projects. These studies engrossed him and eventually led him to complete a PhD in public policy at Georgia Tech (with honors).
In 2003, San Francisco State University hired Gen into a joint appointment between the Public Administration Program and the Political Science Department, focusing on public policy studies. He is now an associate professor in the School of Public Affairs and Civic Engagement. He maintains interests in civil engineering, having worked on many Bay Area public policy issues related to public infrastructure and the environment. He has also kept his kitchen skills sharp, and for five years he was the co-owner and executive chef of Chef Camps, a cooking camp for kids in Sonoma County.
Diamond Butler
Comoros 2015–17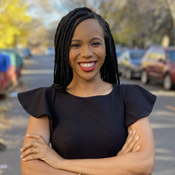 Diamond Butler is a New York native dedicated to youth and community development. Her interests in international affairs sprouted while interning at the International Rescue Committee. After graduating from Cheyney University with a degree in political science, Butler worked on various political campaigns while teaching workshops for the 181st Beautification Project. She then became the Director of Youth Programming and Internships at the United Palace in Washington Heights for several years. She also worked at the YMCA of Greater New York Global Teens program where she had the opportunity to lead students on service-learning trips to California and South Africa. Butler served in the Peace Corps as an English teacher in Comoros while working with various community projects. She is a proud Community School Director for Global Kids at the Bronx Studio School for Writers and Artists (BSSWA).


Franklin H. Williams Director's Award for Lifelong Service
Dr. Helene D. Gayle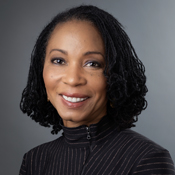 Helene D. Gayle has been president and CEO of The Chicago Community Trust, one of the nation's oldest and largest community foundations, since October 2017. Under her leadership, the Trust has adopted a new strategic focus on closing the racial and ethnic wealth gap in the Chicago region.
For almost a decade, she was president and CEO of CARE, a leading international humanitarian organization. An expert on global development, humanitarian and health issues, Dr. Gayle spent 20 years with the Centers for Disease Control, working primarily on HIV/AIDS. She worked at the Bill & Melinda Gates Foundation directing programs on HIV/AIDS and other global health issues. She also launched the McKinsey Social Initiative (now McKinsey.org), a nonprofit that builds partnerships for social impact.
Dr. Gayle earned a B.A. in psychology at Barnard College, an M.D. at the University of Pennsylvania, and an M.P.H. at the Johns Hopkins University. She has received 18 honorary degrees and holds faculty appointments at the University of Washington and Emory University. She serves on public company and nonprofit boards, including The Coca-Cola Company, Colgate-Palmolive Company, Brookings Institution, Center for Strategic and International Studies, New America, ONE Campaign, Federal Reserve Bank of Chicago, and Economic Club of Chicago. She is a member of the American Academy of Arts and Sciences, Council on Foreign Relations, American Public Health Association, National Academy of Medicine, National Medical Association, and American Academy of Pediatrics. She has authored numerous articles on global and domestic public health issues, poverty alleviation, gender equality, and social justice.
---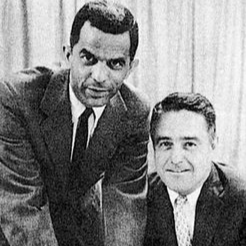 About Franklin H. Williams, the award's namesake
An early architect of the Peace Corps, Franklin Williams also served as U.S. ambassador to the United Nations and U.S. ambassador to Ghana, and he worked for years as an advocate for civil rights. The award was founded in 1999, and past winners include Bryan Stevenson, founder of the Equal Justice Initiative; Ambassador Charles Baquet III; and Sia Barbara Ferguson Kamara, who served as Associate Commission of Health and Human Services.
Peace Corps beginnings: Franklin H. Williams, left, with Sargent Shriver. Photo courtesy Peace Corps
---