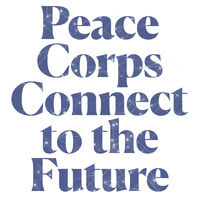 Eight town halls and a global ideas summit to reimagine the Peace Corps for a changed world.
By Glenn Blumhorst

What are the big ideas for the Peace Corps, National Peace Corps Association, and the Peace Corps community going forward?
To answer that, in July we convened eight town halls and a global ideas summit that brought together thousands of members of the Peace Corps community. The reason: In March 2020, all Volunteers were evacuated from around the world because of COVID-19. They came home to a country in economic turmoil and with a worsening pandemic, and soon wracked by protests against racial injustice.
We heard loud and clear from the community that Peace Corps needs to change and adapt if we want it to endure. How? Areas we focused on ranged from diversity, equity, and inclusion to recruitment and recalibrating programs; from reexamining the three goals of Peace Corps to agency policies and funding; from helping Volunteers during readjustment at home to communication to, in, and about the Peace Corps community.
As this edition of WorldView goes live, we're preparing to release a broad set of recommendations: for our community, including the agency, as well as policymakers and the American people. We're approaching the work ahead of us with humility and awareness of what's at stake. As a prelude to that, in the stories we've brought together for this feature package in WorldView, you hear voices from around the world and across generations, asking how we connect Peace Corps to the uncertain future we're making.
Dr. Mohamud Sheikh Nurein Said, Kenya | Empower People
Jody Olsen, Peace Corps Director | Peace Corps Today
---
Glenn Blumhorst is President & CEO of National Peace Corps Association. He welcomes your comments: president@peacecorpsconnect.org.

These stories also appear in the Fall 2020 edition of WorldView magazine. Read the entire magazine for free now in the WorldView app. Here's how:
STEP 1 - Create an account: Click here and create a login name and password. Use the code DIGITAL2020 to get it free.
STEP 2 - Get the app: For viewing the magazine on a phone or tablet, go to the App Store/Google Play and search for "WorldView magazine" and download the app. Or view the magazine on a laptop/desktop here.
---