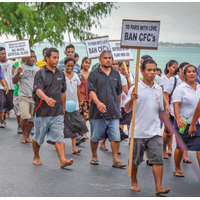 Kiribati: Land is tied to identity. But the land is vanishing.
By Michael Roman
Kiribati is the center of the world. Here the international dateline crosses the equator. It is the only country to have territory in all four hemispheres—north, south, east, west—and the first nation to see the sunrise of each new day. It is also predicted to be one of the first nations to vanish because of global climate change: summoning powerful king tides, devastating cyclones, and prolonged droughts. In the face of all this, how does a people stay resolute and try to preserve land—and a deeply intertwined culture and identity?
I have been connected to Kiribati (pronounced Kiribas)—an island nation of 110,000 people—for the whole of the 21st century. For me and my family in Kiribati, climate change means you learn to live with less—less fresh water, less land, fewer fish in the sea or traditional foods from land, fracturing social stability, and eroding long-term security. You adapt to higher population densities as resources diminish. You also learn to cope with more—incidents of dengue fever and chikungunya (both transmitted by mosquitoes) and tuberculosis, as changing lands develop new vector havens; increased cardiovascular disease, diabetes, and obesity, as greater consumption of imported processed foods and imported sedentary lifestyles take their toll. But to recover from unnatural disasters, you find some way to call forth the greater humanity in each of us.
That sense of us is essential. Because the people of Kiribati, along with four other atoll nations—the Marshall Islands, Tuvalu, the Maldives, and Tokelau—are, to use a metaphor we know from centuries of digging up fossil fuels, the world's canaries in the coal mine. Their survival largely depends on people unaware of their existence.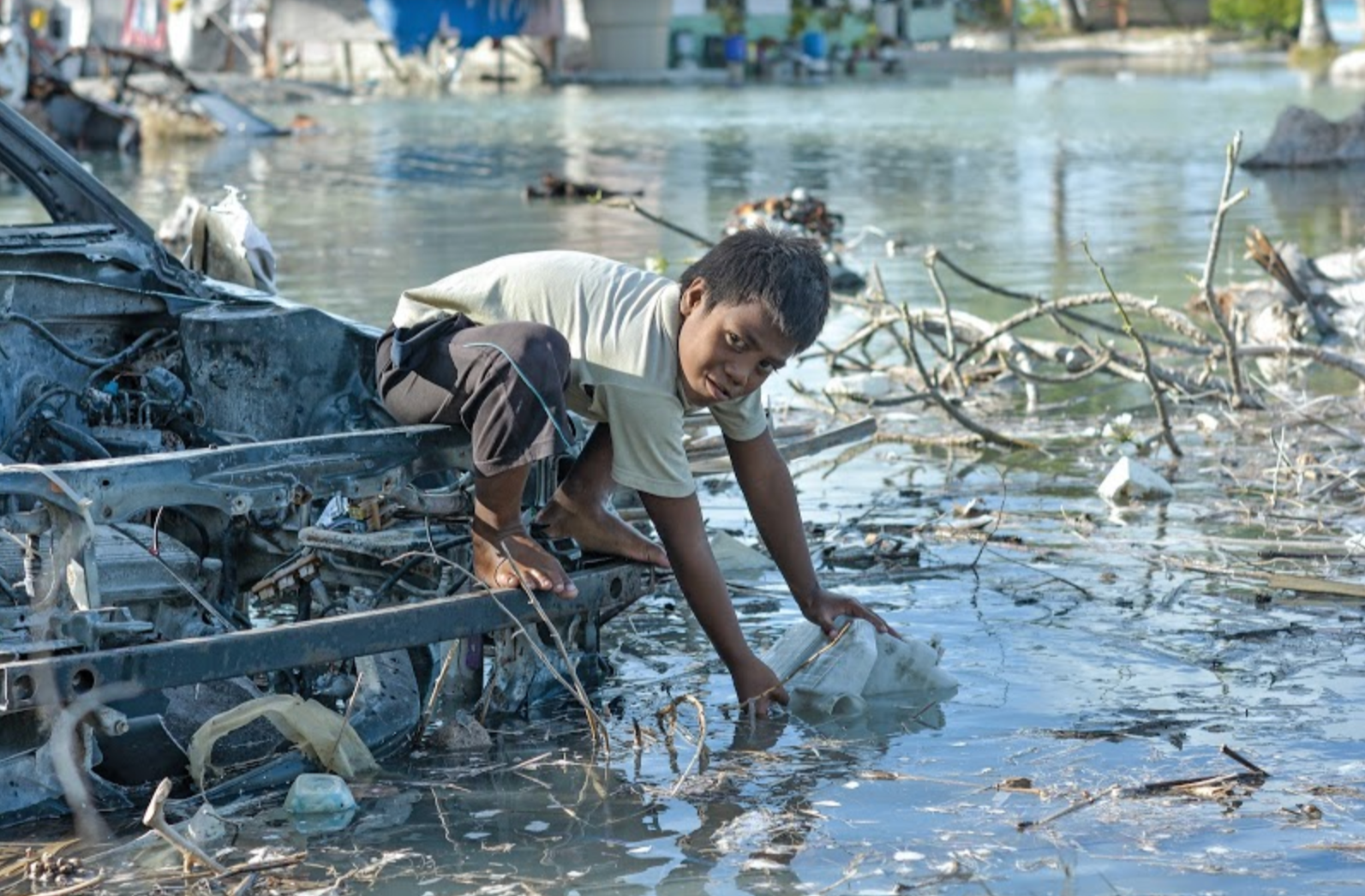 Aftermath of a king tide: ocean water in the back yard—and flooding freshwater wells. Photo courtesy of Peace Corps


The arc of history
Twenty-seven of us arrived for Peace Corps training in Kiribati in November 2000. I was assigned to teach on Abaiang Island, an atoll with a few thousand inhabitants that was six miles long but only a few hundred feet to just over half a mile wide. From the capital in Tarawa it was an 8-hour boat ride—turbulent but beautiful. We were seen off by stingrays, reef fish, and octopi slicing through clear water. Minutes later we were over a dark blue sea, the Pacific trench. Bottle-nosed dolphins played alongside, while flying fish trailed our boat's wake.
On Abaiang we were welcomed with a party in a village school. Teachers had prepared trays upon trays of lobsters, fish, babai (a kind of taro root), coconuts, and roast pig. They had rounded up a generator to power lights and a sound system for music.
Later that night, winds picked up. Trees rocked back and forth and fell. The sea roughened. Waves rose higher, crashing deep into the land. Sheets of corrugated tin were torn from the school roof. On the raised platform where I slept, I wondered if the the woven ribs of the house itself might fly away. Yet by sunrise the storm had passed.
Daylight revealed the damage. In the compound, some houses were missing walls, others roofs. Fallen coconut palms lay atop mangled corrugated tin sheets. Men began collecting downed foliage for women and girls, who wove new thatch. Boys straddled structural beams, installing it, piece by piece.
That storm was my introduction to both destructiveness of storms and the goodness of humanity in Kiribati. The people of Abaiang did not wait for relief workers. They worked together. It was a lesson from a place where "we" is always bigger than "I."
The people of Kiribati call themselves I-Kiribati, and a sense of interdependency defines them. I've seen long-term impacts of climate change on the nation over two decades. But years before I arrived, some were sounding alarms about existential threats to the people and their home.
In 1989 Babera Kirata, minister of home affairs and decentralization, addressed the Small States Conference on Sea Level Rise. He described the consequences Kiribati could face: "Groundwater would quickly become saline, making it impossible to obtain potable water, and agriculture would be destroyed," he said. "Plankton upon which fish live will disappear, and the livelihood of Kiribati people who depend on fish would be severely affected. The effect of rising in sea level, accompanied by strong winds and high waves, would be disastrous." Six years later, a 1995 article, "Climatic Change, and Migration from Oceania," stated that "significant environmental changes could stimulate population movements, and in worst-case scenarios, cause significant health and psychological consequences."
A few years after I completed Peace Corps service, I was back in Kiribati doing field work in medical anthropology. I worked with UNAIDS and the Kiribati HIV/AIDS task force. Drought ravaged the island where I was. Later, a king tide inundated several villages.
I sought to better understand the impacts of climate change on human populations through studies in cultural anthropology and behavioral and communication health sciences. While I was doing that work, Tessie Eria Lambourne, the former secretary for foreign affairs for Kiribati, declared: "We do not want to go, but if forced to go, we do not want to go as environmental refugees. We are a proud people, and we'd like to relocate with merit and dignity."
July 2014: Not wishing to be dependent on others' goodwill, the Kiribati government purchased 5,451 acres on Fiji's island of Vanua Levu for agricultural use. Six months later, Fiji's Prime Minister, Frank Bainimarama, broadened the idea of land usage rights: "If the sea level continues to rise because the world won't tackle global warming," he said, "some or all of the people of Kiribati may have to come and live in Fiji."
In September 2014 an outbreak of rotavirus on my family's island claimed the lives of two children. The outbreak sickened 500, 80 percent of them children under five. Waterborne in nature, the disease flourishes in times of drought and heavy rain. That month, there was no rain; what little water there was, was infected with the rotavirus. Climate change profoundly impacts the quality of groundwater. Ultimately without fresh water, there is no life.
Climate change also alters global weather patterns. I finished my Peace Corps service on the island of Tamana—about one mile long and 100 meters wide. In 2015, Tamana was hit by Cyclone Pam. To get firsthand accounts for Radio New Zealand, I approached several Kiribati residents. Teriba Tabe, a 51-year-old father, worried over the threats to current and future generations: "We are so vulnerable," he said. "Even small calamities such as droughts and king tides at higher frequencies—which, of course, are directly linked to climate change—place our lives in great danger."
I joined with other returned Volunteers to launch Kiribati Keepers, a U.S.-based nonprofit to help with disaster relief. To help tell stories to the world in words and images, photographer Raimon Kataotao and I started a social media campaign called Humans of Kiribati.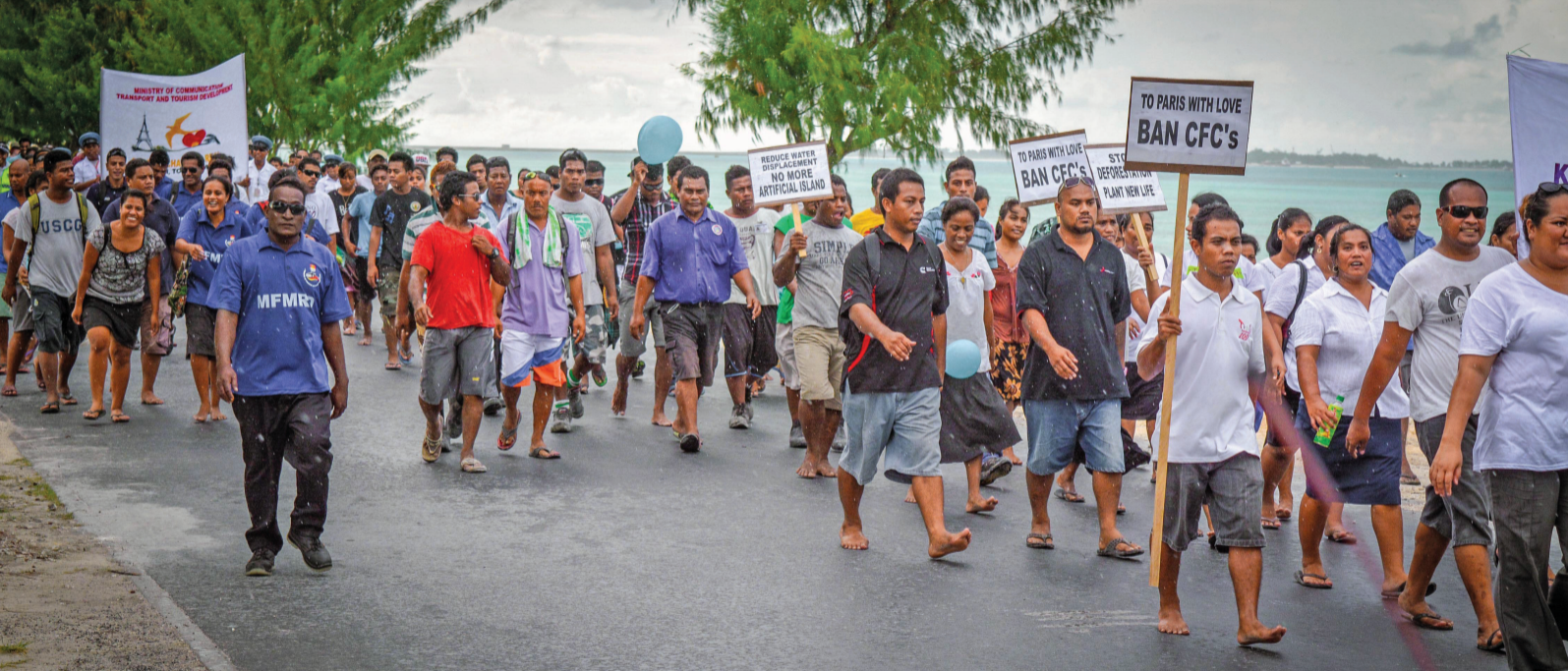 To Paris, with love: on the eve of the accords signed in 2016. Ozone-eating CFC's are banned—but not greenhouse-gas trapping HFC's. Photo by Raimon Kataotao
What of migration?
Having no permanent displacement agreements with other nations, the only migration opportunity Kiribati currently has is a labor-based scheme with New Zealand. The scheme allows 75 qualified I-Kiribati to become permanent residents annually. Since instituted 20 years ago, the program has resulted in small residential pockets of I-Kiribati workers in New Zealand. If it remains the only such agreement, the present-day population of Kiribati could be relocated by the year 3348. But Kiribati is projected to be uninhabitable this century.
There are Kiribati populations living in Fiji, the United States, Taiwan, Canada, the United Kingdom, Switzerland, and Australia. Like migrants from many countries, they fear losing cultural identity. Some cannot fathom the idea of leaving their homeland. In Kiribati, the word for "land" is aba. The word also means "people" and "country." The connection between one's aba and one's life is everything.
When an individual in Kiribati is born, traditionally they are birthed on their family's land. They grow up on that land and start families of their own there. When they die, they return to the land to join the ancestors above to watch over the land for future generations. Aba anchors personhood and ties together one's past, present, and future. Leaving the land ruptures the connection between the living and ancestors. Elders speak with disdain when the topic of climate change or migration comes up. "The land has eyes," they will say. "If our lands go, we will go with it."
The United Nations High Commission for Refugees has yet to develop a specific category for environmentally displaced persons. According to the 1951 Refugee Convention, a refugee is a person "owing a well-founded fear of being persecuted for reasons of race, religion, nationality, membership of a particular social group or political opinion." The perils of today's environmentally displaced populations were not imagined.
That fact shaped the outcome of a notable climate refugee case from Kiribati. Ioane Teitiota overstayed his New Zealand work visa due to fears of returning to his endangered nation. Beginning in 2011 he fought to become the world's first legally eligible climate refugee. After several years of litigation, his case was denied. The presiding judge found Teitioata's argument convincing but noted that climate change was inapplicable to the 1951 Refugee Convention, and it wasn't the court's place to expand the scope of international law.
David Katoatau is a renowned weightlifter from Kiribati. At the 2016 Rio Olympics, he would delight viewers from around the world by dancing after every successful lift. In the September prior to the Olympics, he sought to shine a light on his home—in an open letter that began, "I am the 2014 Commonwealth Games gold medalist weightlifter from the disappearing island of Kiribati. Every day my people fear for their lives, as their homes are lost to the rising sea levels. We live on an atoll with nothing but flat land and ocean surrounding us. We have nowhere to climb and nowhere to run to … On behalf of all the people who will die for the country that will no longer exist, and for the culture, which will long be forgotten, I am asking for your help. … The simple truth is that we do not have the resources to save ourselves. We will be the first to go. It will be the extinction of a race. Open your eyes and look to the low-lying island nations of the Pacific—they will soon fall with us. Soon, we will all drown."
In 2017, New Zealand implemented an experimental humanitarian visa category for people displaced by rising seas. In 2019 in the United States, Senator Edward J. Markey of Massachusetts and Representative Nydia Velázquez of New York City introduced S.2565 and H.R. 4732 respectively to address the Climate "Refugee" Crisis. And in January 2020, the UNHCR declared that states now do need to consider climate change when determining refugee status—though they said that Ioane Teitiota was not in imminent danger, so was not eligible.
I take heart from those in the global community who are pressing leaders for concrete action on climate change. But it may already be too late for nations like Kiribati.
Those who assume the mantle of Pacific climate warriors say, "We are not drowning; we are fighting." Telling our story and putting a human face on climate change is one way we fight. One of my fellow climate warriors is Kathy Jetñil-Kijiner, a poet and performer from the Marshall Islands. As she puts it, "We have never wanted to leave, and we are nothing without our islands."
---
Michael Roman is a climate activist, author, and lecturer working at the University of Cincinnati. His love for Kiribati stems from his Peace Corps Service 2000–02. His work on behalf of Kiribati has fostered development of the films "Anote's Ark" (2018) and "One Word" (2020). His current projects include "American Asylee," a true story about a current Kiribati asylum seeker, and "When there was no money," an autobiographical account of climate change from Kiribati. He asks that you share the story of Kiribati with others.
This story was first published in WorldView magazine's Spring 2020 issue.
---