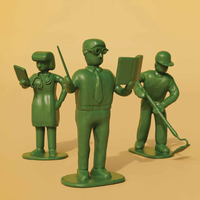 Despite broad support for volunteering and a successful track record, national service programs have not been able to close the gap between supply and demand. Is this a missed opportunity to help heal a fractured country?

By Greg Emerson
Illustration by Richard Borge
The effect of the COVID-19 pandemic on the national service sector has been a tale of two extremes. On one end of the spectrum, AmeriCorps members (and the many prematurely evacuated Peace Corps Volunteers who joined the effort) were instrumental in administering COVID-19 vaccines to communities across the United States, the latest in a series of examples of service workers meeting an essential need and making a difference at the community level.
On the other end of that spectrum, the persistent, if diminishing, risk of being infected with COVID has wreaked havoc on recruitment for all forms of in-person, community-level service programs, a situation that both Peace Corps and AmeriCorps continue to contend with. Now, as the country recovers with an expanding economy and strengthening job market (despite the ongoing challenges posed by inflation), the cruel irony is that recruiting people to participate in service opportunities has become more difficult than ever.
"Any time the labor market is hot and you have a lot of good jobs available, you see less interest in programs like ours," Ken Goodson, director of the AmeriCorps National Civilian Community Corps (NCCC), says.
However, thanks to the $1 billion in funding for AmeriCorps programs included in the American Rescue Plan Act of March 2021, the agency has been able to work toward making service a more attractive option. Its budget has nearly doubled, leading to a 10% increase in compensation for NCCC members over the past two years.
"AmeriCorps members have made a real difference in our pandemic response and recovery," says Sen. Chris Coons (D-Del.), who co-chairs the bipartisan National Service Congressional Caucus.
Every $1 in public funding allocated to AmeriCorps programs generates $17.30 in returns to the country.
"That's why Congress is doubling down on the power of national service programs to help build us out of this crisis."
That said, in what may be an example of the effects of the receding pandemic, the $1.26 billion for AmeriCorps allotted in the latest funding bill for fiscal year 2024 actually represents a decrease of $50 million from the previous year. This is despite significant bipartisan support and the oft-cited report from Voices for National Service in 2020 which concluded that every $1 in public funding allocated to AmeriCorps programs generates $17.30 in returns to the country.
The clearest expression of that value seems to come when there is a need to mobilize people to help a community in crisis. Neil Qusba, director of construction for YouthBuild USA, an organization that teaches construction and leadership skills to "opportunity youth" (people between the ages of 16 and 24 who are not employed or in school, many of whom have been through of the criminal justice system) and deploys them on construction projects, started doing this work shortly before Hurricane Katrina hit the Gulf Coast in 2004. He describes the experience leading a group working on recovery efforts in Biloxi, Miss. as transformational.
"We had been working with Habitat for Humanity on fragmented projects where we didn't have much contact with the homeowners," he says, "but in Mississippi we could patch a roof and then see this family that could move back into their home for the first time. They were so thankful to these young people who just fixed their house, and it was very powerful."
He was still working with YouthBuild when, 18 years later, he was asked to help oversee a program directed at Hurricane Ian relief in 2022. Again he saw the impact this type of work could have both for the participants and the community being served.
"Those who have lost everything are going through intense trauma. When you thrust these young people into that environment, you're facing one kind of trauma with another kind of trauma," Qusba says. "There's ultimate relatability, and that gives the potential for accelerated transformation. It's powerful and transformative for everyone involved."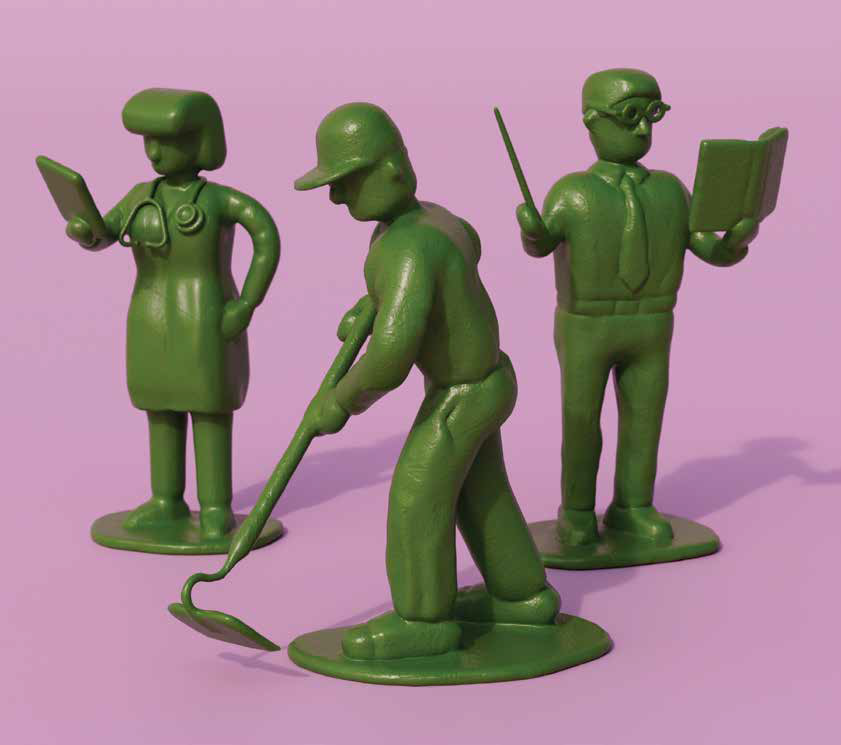 "Service can allow people to work across the whole spectrum of differences that may separate us" – Former Peace Corps Director Mark Gearan
DEMAND FOR NATIONAL SERVICE HAS NEVER BEEN GREATER
While there are many successful examples to point to, disaster or pandemic relief is only one part of the value that national service programs bring to our society.
Shirley Sagawa currently sits on the board of the Corporation for National and Community Service (CNCS), the federal umbrella organization that includes AmeriCorps, Senior Corps (now known as AmeriCorps Seniors) and VISTA. In 1993, she created AmeriCorps with Bill Clinton, and later went on to serve as the founding CEO of Service Year Alliance, alongside its first chairperson of the board, retired General Stanley McChrystal. Of her original motivation for agreeing to President Clinton's request to help set up AmeriCorps, she says, "I was motivated to help our democracy by supporting work that made healthy communities. We have so few institutions that bring people together across lines, and national service can do that."
As public discourse moved more fully online during the first years of the pandemic, some of the most divisive events many Americans had ever experienced also took place. The killing of George Floyd ignited a conversation about racial bias and policing that continues to this day; the most fraught presidential election in decades led to an unprecedented attack on the U.S. capitol and challenges to voting integrity that remain unresolved. The pandemic, in effect, exposed the endemic state of political polarization in the United States.
Indeed, this is the conclusion of the USC Annenberg Center for Public Relations' Polarization Index, which it describes as a first-of-its-kind attempt to measure polarization in public discourse through rigorous analysis of data from social media conversations. With two years of data to draw on, the authors issued a summary in December 2022 stating that "the overall level of polarization in the U.S. remains unchanged." While they note that the specific issues that drive this polarization have shifted, the consistency of their index reveals that "polarization is a persistent condition that is not going away any time soon."
This is an existential problem for the future of American democracy, and one that the national service and policy sectors are trying to address. In June of this year, AmeriCorps and Service Year Alliance announced a partnership created specifically to address hate-fueled violence; it will train AmeriCorps volunteers in tools and methodologies to enhance social cohesion. At the same time, Carnegie Corporation of New York introduced a new program allocating $6 million every year to exploring the causes of polarization and proposing potential solutions.
For those who have served at the community level, the trans-formative power of national service is perhaps the most obvious answer to the problem. Lemi Tilahun, a community organizer who served with AmeriCorps in 2018 and 2019, recalls a particularly meaningful example from his time working with refugee communities in Iowa.
"There was a dispute between a recently resettled person and their elderly white neighbor over their lawn," Tilahun recalls. Seeing the opportunity to help build a bridge between the neighbor and the refugee family, who were living in their first house after nearly two decades of displacement, he facilitated an introduction.
"Once I introduced them, she fell in love with the kids and ended up getting very involved with this family. She helped them find jobs and access food when the food assistance didn't stretch," he says. "This lady, who was at first so upset with these people, is now so involved. She had no idea how much she could impact the lives of people, of her neighbors, so directly. This is the power of AmeriCorps."
It's the soft skills like this that are particularly important to instill in the next generation, who will need to work together with their communities to address the most pressing problems in society, like political polarization and climate change.
For Sagawa, the most important way for service programs to position themselves going forward needs to be about leadership, as this is one of the most important ways these organizations meet a need in society.
"National service writ large is just a drop in the bucket of ways to improve communities," Sagawa says. "But if you think about it in a leadership development context, then it's one of the most significant sources of leaders that we have today."

RECRUITMENT AND THE SUPPLY PROBLEM
For all the benefits that come from national service, both measurable and not, achieving its impact at scale will be impossible without a growing supply of Americans answering the call. The good news is that there is broad consensus on what the obstacles are to increasing recruitment. Most importantly, the living allowance provided to those engaged in community service must be competitive with jobs in other sectors to make service opportunities available to everyone. This will help to diversify the volunteer population, making it more representative of the communities being served.
The recent increase in compensation provided to AmeriCorps NCCC members brings their base pay to an hourly wage of $12.60, far below the $15 minimum wage for federal workers and contractors that President Joe Biden enacted in 2022 and that five states have already made law. Kyle Kline, a director of recruitment for AmeriCorps in Minneapolis, Minn., has seen the effect of low pay as a barrier recruiting new members.
"We interview people all the time who say they want to do this, and how it aligns with their values and their vision of the future, but if we're not paying a competitive wage, then a lot of people will choose to invest in their future through other opportunities," he says. "There's a level of privilege you have to have to be able to opt into this type of service, and that is unfortunate."
Sagawa, the CNCS board member, cites the compensation package as the biggest threat to the long-term success of AmeriCorps. "It's critical that people don't feel exploited and underpaid when doing this work," she says.
In addition to the compensation problem, Robert Godfried, a research fellow focused on policies related to national service at Next100, a think tank, points to branding as one of the key challenges to successful recruitment. For AmeriCorps, whose primary program involves issuing grants that are distributed to local NGOs on a state-by-state level, the structure makes it unclear which members are part of a federal program.
"AmeriCorps has a brand problem," he says. "There's not nearly as much awareness [of the agency] as there could be, since the funding is so diffuse, going to individual NGOs with less establishment [of AmeriCorps] as its own brand."

We have so few institutions that bring people together across lines. National service can do that.
The agency agrees, and has recently taken steps to simplify the way it presents itself. In 2020, AmeriCorps retired the "Corporation for National and Community Service" label and rebranded Senior Corps to "AmeriCorps Seniors," bringing all programs but VISTA under the AmeriCorps brand.

A third challenge to recruitment is the lack of focus on life after service, and on the career paths that open up as a result of doing this sort of work. Being more intentional about the career benefits of national service work could help these organizations present a more attractive product. It's not as if the pipelines aren't in place. For AmeriCorps, partnerships with FEMA and the Forest Service were established at the request of those agencies to shore up the pool of qualified candidates for future jobs.

"FEMA realized they had an aging workforce, and they don't have a good supply of young people interested in service and trained in disaster response who can fill these roles in the future," Goodson, the director of the NCCC, says. "It's exactly the same with the Forest Service."

Alumni are often the best advocates and resources for people newly exiting AmeriCorps, as they can help members join professional networks and find early career opportunities, but this is one key area where Godfried sees AmeriCorps falling short.
State service commissions [that distribute AmeriCorps grants to local organizations] have the authority to collect data, but they need to get much better at doing so, particularly about post-service outcomes for the people who participate," Godfried says. "We need to make sure we're setting people up for success in this area rather than casting them off when they're done and leaving them on their own to figure out what to do next."

VISION FOR THE FUTURE
With widespread consensus about the main challenges facing volunteer recruitment, a prominent obstacle to significantly increasing participation and funding for national service programs is simply political will.
Former Peace Corps Director Mark Gearan served as the vice chair for the National Commission on Military, National and Public Service beginning with its creation in 2017. This bipartisan group was created to comprehensively review all forms of national service; it issued its final report in March 2020. The report, often credited with mobilizing bipartisan support for the doubling of the AmeriCorps budget in 2021, lays out a bold vision for the future of national service.
"Taken together, our recommendations offer a revolutionary and inclusive approach to service for Americans, beginning with comprehensive civic education and service learning starting in kindergarten, service-year opportunities so ubiquitous that service becomes a rite of passage for millions of young adults, and new and revitalized service options for adults of any age, background or experience," the report reads.
This echoes one of the foundational ideas behind the formation of AmeriCorps, which came up during President Clinton's 1992 presidential campaign. "When Clinton was elected," Sagawa says, "he had run on an idea that every young person should have the opportunity to serve and be rewarded for that. He wanted to make it a part of all young people's lives to spend a year in service."
In a 2021 interview published in this magazine, Gearan explained the reasoning behind the commission's ambitious stated goal for the government to support a million Americans engaged in a year of national service by 2031.
"At a time when our nation has these deep divisions, service can be a uniter," he told WorldView. "It can allow people to work across the whole spectrum of differences that may separate us. Common purpose for the public good is vital for our society's health and well-being, and for our nation's security."
So, can service save America? Perhaps Sagawa, known as the "founding mother of the modern service movement," says it best: It may be the only thing that can."
---
Greg Emerson is a journalist and digital product manager who served in Morocco in 2003 and Peru from 2003–05
---