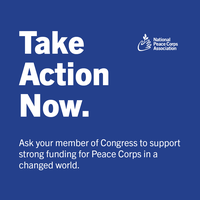 A bipartisan letter from two members of Congress calls on colleagues to sign on to strong support for Peace Corps during this critical time.
By Jonathan Pearson
Congressman John Garamendi (D-CA) and Garret Graves (R-LA), Co-Chairs of the House Peace Corps Caucus, have issued a letter to the House Appropriations Subcommittee on State/Foreign Operations for some long-needed support — and to bolster funding as the agency undertakes to send Volunteers back into the field. The letter calls for increasing Peace Corps funding for Fiscal Year 2022 from $410 million to $450 million.
You can read the final letter here, or see the list below for a state-by-state rundown of lawmakers who signed the letter.
Take Action
If your member of the House of Representatives is listed below, that means they signed onto the Peace Corps funding letter. If they signed the letter, send them a thank you message!
Who Signed the Letter?
Here are the lawmakers who signed the Garamendi-Graves Peace Corps Funding Dear Colleague Letter for Fiscal Year 2022.
DEADLINE to sign on: 10 AM Today, Monday, April 26, 2021
SIGNATURES as of Monday, April 26, 10:00 AM: 156 (THIS LETTER IS NOW CLOSED)
Alabama: Sewell
Alaska: Young
American Samoa: Radewagan
Arizona: Gallego, Grijalva
California: Barragan, Bass, Bera, Brownley, Carbajal, Cardenas, Chu, Costa, DeSaulniers, Eshoo, Garamendi (co-author), Jacobs, Khanna, Kim, LaMalfa, Barbara Lee, Mike Levin, Lieu, Lofgren, Lowenthal, Matsui, McNerney, Napolitano, Panetta, Peters, Sanchez, Speier, Swalwell, Takano, Vargas
Colorado: Crow, DeGette, Neguse
Connecticut: Courtney, Hayes, Himes, Larson
Delaware: Blunt Rochester
District of Columbia: Norton
Florida: Deutch, Lawson, Soto, Wilson
Georgia: Bishop, Hank Johnson, McBath, David Scott
Hawai'i: Kahele
Illinois: Bustos, Danny Davis, Rodney Davis, Foster, Chuy Garcia, Kelly, Rush, Schakowsky
Indiana: Carson
Iowa: Axne
Kansas: Davids
Kentucky: Barr, Yarmuth
Louisiana: Graves (co-author)
Maine: Golden, Pingree
Maryland: Brown, Raskin, Sarbanes
Massachusetts: Auchincloss, Keating, Lynch, McGovern, Moulton, Neal, Pressley, Trahan
Michigan: Dingell, Kildee, Slotkin
Minnesota: Craig, Phillips
Missouri: Cleaver
Nevada: Horsford, Titus
New Hampshire: Kuster
New Jersey: Gottheimer, Kim, Malinowski, Norcross, Pallone, Pascrell, Payne, Sherrill, Sires, Van Drew
New Mexico: Leger Fernandez
New York: Clarke, Delgado, Jones, Higgins, Katko, Carolyn Maloney, Sean Patrick Maloney, Meeks, Morelle, Rice, Suozzi, Tonko, Torres, Velazquez
North Carolina: Adams, Manning
Northern Marianas: Sablan
Ohio: Beatty, Anthony Gonzalez
Oregon: Blumenauer, Bonamici, DeFazio
Pennsylvania: Boyle, Evans, Fitzpatrick, Wild
Puerto Rico: Gonzalez-Colon
Rhode Island: Cicilline, Langevin
Tennessee: Cohen
Texas: Allred, Castro, Doggett, Escobar, Vicente Gonzalez, Green, Jackson-Lee, E.B. Johnson, Veasey, Vela
Vermont: Welch
Virginia: Beyer, Connolly, Luria, McEachin, Spanberger, Wexton
Virgin Islands: Plaskett
Washington: DelBene, Jayapal, Larsen, Schrier, Adam Smith, Strickland
Wisconsin: Kind, Moore
Don't see your Representative listed yet? Then they need to hear from you! Thanks for rallying others to join you in supporting Peace Corps at this critical time.
---
Here's the Text from the Letter
Read it below — or download the PDF.
April 28, 2021
The Honorable Barbara Lee, Chairwoman
Subcommittee on State, Foreign Operations and Related Programs
Committee on Appropriations
U.S. House of Representatives
The Honorable Hal Rogers, Ranking Member
Subcommittee on State, Foreign Operations and Related Programs
Committee on Appropriations
U.S. House of Representatives
Dear Chairwoman Lee and Ranking Member Rogers:
Thank you for your commitment to the Peace Corps. Because of your efforts, the agency is poised for even greater impact at a time when the unique role of the Peace Corps is urgently needed. To ensure the Peace Corps has the resources needed to further its mission, we respectfully ask that you appropriate $450 million for fiscal year 2022.
Public support for Peace Corps remains strong, and its programs continue to renew and expand, but the agency's potential is severely limited by its essentially flat funding levels in the past six years. The agency's budget allocation has not increased beyond $410.5 million since fiscal year 2016. Providing $450 million for fiscal year 2022 would allow the Peace Corps to resume in-country Volunteer activities once safe and prudent to do so, and support the longstanding goal of deploying of 10,000 volunteers worldwide.
More Americans want to serve than the Peace Corps has the funding to absorb. The ratio of annual applications to available Volunteer positions currently stands at over 4:1. Retired General Stanley McChrystal has called this gap between applicants and service opportunities "democratic energy wasted and a generation of patriotism needlessly squandered." Additionally, six years of essentially flat funding has compelled the agency to cut both pre-service and in-service training days to meet budget restrictions, meaning Volunteers get less time for language, technical, and cross-cultural training.
The Peace Corps works to accomplish its legislative mandate within the context of unique security challenges, and the agency has taken steps to improve the health and safety of its Volunteers as it implements provisions within the Sam Farr Nick Castle Peace Corps Reform Act of 2018 (Public Law 115-256). However, there remain residual health care policy issues within the agency that require increased budgetary support. In particular, we need increased funding and compensation levels for Volunteers temporarily or permanently disabled as a result of their service abroad.
Similar to members of our military and diplomatic corps, Peace Corps Volunteers take an oath to serve our country, and do so often in remote, challenging environments. Increased funding is necessary to ensure that Peace Corps can fulfill its commitment to the health and safety of American citizens who choose to serve.
We thank you for your efforts to provide Peace Corps with the resources it needs to fuel the next generation of American leadership, and we respectfully ask that you make this $450 million investment in the agency for fiscal year 2022.
Sincerely,
John Garamendi
Member of Congress
Garret Graves
Member of Congress
Story updated April 7, 2021 at 2:30 p.m.
---
Jonathan Pearson is Director of Advocacy for National Peace Corps Association. Write him at advocacy@peacecorpsconnect.org
---