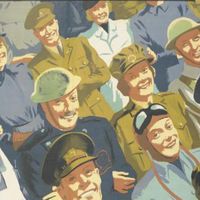 Meet the Congressional National Service Caucus

By Ava Smith

The existence and efforts of the National Service Caucus are indicative of the power and potential of national service in the United States, something that should be continuously celebrated and cultivated.
The National Service Caucus was established in 2004 by Rep. Christopher Shays (R-CT), Rep. David Price (D-NC), Rep. Tom Osborne (R-NE) and Rep. Harold Ford (D-TN). The caucus became bicameral in 2008 when Senator Thad Cochran (R-MS) and Christopher Dodd (D-CT) established a companion caucus in the Senate.
"My ambition when I was in college was to be in the Peace Corps and maybe serve in some public way in government…and give that to discussions when I was growing up by Kennedy and others," Shays said in an interview with NPCA. "So, the bottom line is the caucus was a motivator for dialogue about service that wouldn't have existed otherwise."
The National Service Caucus has been bipartisan from the beginning. But, this year, the caucus has experienced expanded bipartisan leadership. Sen. Shelley Moore Capito (R-WV) and Sen. Martin Heinrich (D-NM) joined as new vice chairs. Additionally, Rep. Garret Graves (R-LA) replaced co-founder of the caucus, Rep. David Price, to serve as the co-chair in the House alongside Rep. Doris Matsui (D-CA).
Extensive bipartisan leadership and membership within a caucus is important in and of itself but it is especially critical on the issue of national service. National service is in a uniquely auspicious position to serve as a vehicle for building cooperation across the aisle because national service programs reach into many corners of the United States. For example, AmeriCorps, a prominent national service agency, works with veterans and kids, in the public health sector and the fishing sector, and builds affordable housing and the capacity of local food banks. From those who serve to those being served, national service programs touch the lives of millions and millions of Americans, and having bipartisan agreement that this work is important enough to build a caucus around is indicative of the power of national service as a foundational structure for enhancing cooperation across the country during a time when cooperation is scarce but necessary.

National Service Caucus Co-Chairs (left to right): Sen. Bill Cassidy (R-LA), Sen. Chris Coons (D-DE), Rep. Garret Graves (R-LA), Rep. Doris Matsui (D-CA)

"It has to be bipartisan," Shays said. "I would say it's a no-brainer being in the caucus. It's a wonderful effort. I think we were all proud of our service, so we were happy to have something that highlighted something we were all involved in…We were saying public service is a patriotic good thing to do for your country, and by the way, we did it.""
While Peace Corps is not technically classified as national service, the National Service Caucus's existence is relevant to Peace Corps' interests because founding members Shays and Dodd served in Fiji (1968–70) and the Dominican Republic (1966–68) respectively. Additionally, members of the caucus are also supporters of the Peace Corps. For example, House Co-Chair Garret Graves, is one of the lead sponsors on the Peace Corps Reauthorization Act (H.R. 1273), the provisions of which are critical to the future of the Peace Corps. Senate Co-Chair Christopher Coons (D-DE) is also a co-sponsor on the Senate version of the Peace Corps Reauthorization Act (S. 1203).
Additionally, commitment to continued service in the United States and volunteers sharing with Americans what they learned during their service is outlined in the third goal of the Peace Corps which is to "strengthen Americans' understanding about the world and its peoples." Many Returned Peace Corps Volunteers (RPCVs) continue to do service in the United States after they have formally completed their service overseas including frequently working with AmeriCorps, an agency that has robust support from the National Service Caucus. National service programs and the Peace Corps share the ideal that service to others is a dynamic way to bring people together.
The More Perfect Campaign is a bipartisan initiative that works to ensure the strength of American democracy and has partnered with many organizations from the National Peace Corps Association to Service Year Alliance and Voices for National Service, the last of which is strongly connected to the National Service Caucus. Two of the More Perfect Campaign's five democracy goals are explicitly "National Service & Volunteering" and "Bridging Divides". The National Service Caucus, in its mission and bipartisan nature, is productive in both of these areas and therefore, is essential to ensuring the resiliency of a commitment to service not despite, but rather because of our differences.
"The real challenge we have right now is politics and the discussion of politics is that it is not inspiring," Shays said. "That's bad. And we are not being asked, as Americans, to do something for others."
Working across the aisle to advance mutual goals and build momentum behind related legislation, those who are a part of the National Service caucus are, in their own way, doing indispensable national service themselves.
"The job of an elected official is to listen, to learn, to help, teach, and lead, and then listen again," Shays said. "All of those skills I learned in the Peace Corps."

---
Ava Smith was a summer advocacy intern at the National Peace Corps Association. She is a student at Boston University, where she studies international relations
---