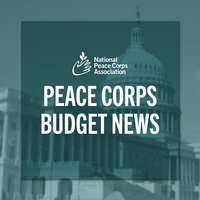 The budget proposed today by the White House comes up $40 million short of where it needs to be to implement critical reforms staked out in the Peace Corps Reauthorization Act of 2021.
By Jonathan Pearson
President Joe Biden has sent his Fiscal Year 2022 (FY22) budget request to Congress. Included in his budget is a request of $ 410.5 million for the Peace Corps. By all measures, to build a better and stronger Peace Corps that can help the United States reengage with the world, this comes up short.
The President's request represents flat funding — and a maintenance of the same level of support that the Peace Corps has received for the past six years. It stands in stark contrast to bipartisan House legislation introduced in March that would provide $450 million in funding to ensure the implementation of critical reforms.
"We are grateful to the Peace Corps' congressional champions for setting out a vision of a Peace Corps that is renewed, revitalized, and reformed, buttressed by a budget that meets the goals of the Peace Corps community," said National Peace Corps Association President and CEO Glenn Blumhorst. "But proposed level funding will not enable us to build a better, stronger, and more inclusive Peace Corps for a changed world."
Indeed, as the Peace Corps community has underscored time and again, long-needed reforms have not been adequately addressed in part because of a lack of funding.
Congress has shown: This is where we need to be.
The bipartisan support for Peace Corps in Congress includes the Peace Corps Reauthorization Act (H.R. 1456) legislation, introduced by Representatives John Garamendi (D-CA) and Garret Graves (R-LA), which calls for $450 million to support the Peace Corps in FY 2022. ( Here's a link you can use to reach out to your lawmaker to ask them co-sponsor this legislation.) Garamendi and Graves also sponsored an annual Peace Corps funding Dear Colleague letter, signed by a bipartisan group of 156 lawmakers, which also urges at least $450 million for the coming fiscal year.
Strong support for the Peace Corps was also reinforced by every living past Peace Corps director who signed this letter to President Biden. That group includes those who served under Republicans and Democrats alike going back to the Nixon administration. A revitalized Peace Corps, they wrote, "advances our nation's critical foreign policy goal of world peace through international cooperation and service. We believe that now is the right time for the Peace Corps to build back better than it ever was before."
Earlier this spring, on the 60th anniversary of the day that President Kennedy created the Peace Corps by executive order, all living directors also convened for a conversation about the past, present, and future of the Peace Corps. One question they tackled: Given three minutes with President Biden to talk about the Peace Corps, what would they say? They spoke about the value of national and public service in uniting a nation, about the role Volunteers can play in public health efforts around the world, about the return on investment for decades to come — and one shared the perspective of the president of Guinea, who spoke of how the presence of Volunteers in communities is worth far more than millions in foreign assistance alone.
"We have an opportunity to build back better and reengage with the world. And when it comes to Peace Corps, we need to put our money where our mouth is."
While the budget proposal from the White House is disappointing, we'll take this moment to note that over the past several years the Peace Corps community has worked closely with champions and members of Congress to sustain the Peace Corps through tough times. And Congress has laid out a clear goal of where we need to be for a better and stronger Peace Corps.
"We will work closely with these champions to ensure that the Peace Corps' budget is robust for the future," said Glenn Blumhorst. "We have an opportunity to build back better and reengage with the world. And when it comes to Peace Corps, we need to put our money where our mouth is."
READ MORE: Key reforms — some of which require robust funding to become reality — are staked out in the community-driven report "Peace Corps Connect to the Future."
---
Jonathan Pearson is the Director of Advocacy for National Peace Corps Association. Contact advocacy@peacecorpsconnect.org to find out how you can help.
---