About Global Allies Program: Partners Ending Poverty with RESULTS
RPCVs are passionate about the countries of service and their work as volunteers; however, it is often challenging to find meaningful ways for RPCVs to continue to impact the issues they committed themselves to as volunteers.
Advocating on country- and community-owned approaches to global health, education, and other development issues affecting their country of service, Global Allies Program: Partners Ending Poverty with RESULTS (or GAP) advocates will bring long-term commitment to Peace Corps ideals. This effort would also support the second and third goals of the Peace Corps and create a connection with people from other countries here in the United States.
Products & Services
If you are RPCV passionate about the country that you've served in and continuing to move the 3rd goal forward, GAP will provide you the advocacy skills and connections to continue to make a difference. Join us for our next webinar to learn how you can take action on improving global health, education, and economic development.
Continue to make an impact in the country you served in and on the issues you're passionate about by becoming a GAP advocate!

GAP will provide:
Regular advocacy training for RPCVs and their diaspora community connections, on how to work with Congress, the media, and the community.
Background information and materials to share with congressional offices on global health, education, and economic development campaigns
Support and coaching in setting up and executing effective congressional meetings and building relationships with congressional offices.
Connections to other advocates in the RESULTS network, amplifying your influence on the issues and creating a sense of community.
Training and support for making connections to diaspora communities who can bring firsthand voices to the advocacy campaigns.
Regular feedback on advocacy successes and impact.

Join us at our next webinar on Thursday, May 12 at 8:30 PM ET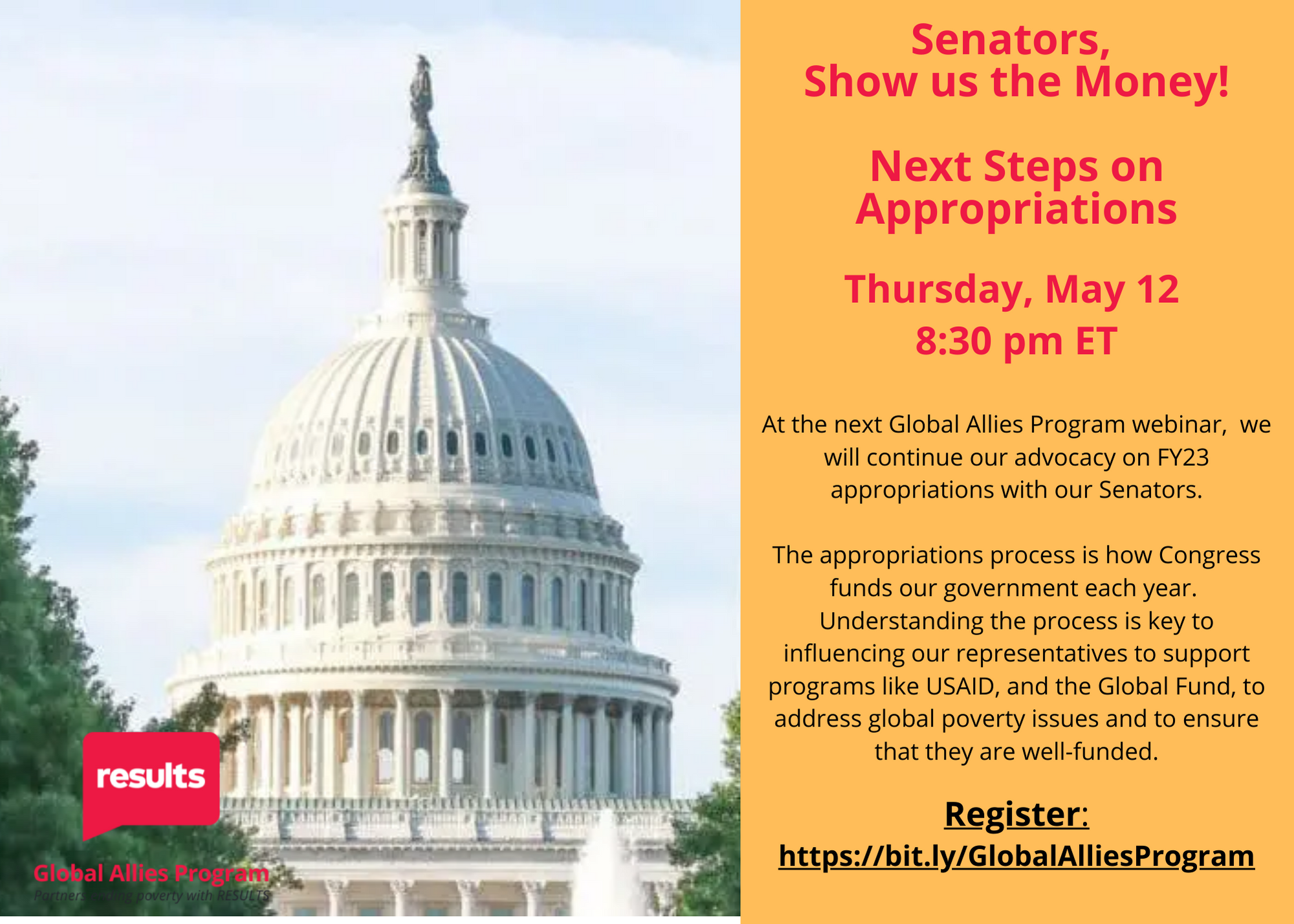 Register and share at the following link: https://bit.ly/GlobalAlliesProgram.
Link and recording our March 2022 webinar can be found here: recording and materials.

Need more support in your advocacy? Sign up for coaching!
We will assign you a coach to go over the monthly actions and help you to find ways to deepen your advocacy and relationships with your members of congress. Sign up here!

Our global poverty campaigns:
Malnutrition is a fixable crisis

Thank you all for your efforts in getting the bipartisan Global Malnutrition Prevention and Treatment Act passed in the House ( H.R.4693)! Our efforts are now focused on the Senate, and getting the companion bill S.2956 passed! This bill calls for a coordinated strategy for USAID nutrition assistance and sets clear targets for reaching the most impoverished children and families with effective interventions.

All children deserve a strong start in life, regardless of where they are born. But even before COVID-19, child malnutrition was an underlying cause of nearly half of all preventable deaths of children under age 5. But COVID-19 has made it worse—UNICEF estimates that 22 percent of the world's children under 5 are stunted (too short for their age) due to malnutrition. Many of these children live in the most impoverished places in the world. We can and should do better.
Proper nutrition, including adequate calories and micronutrients, is necessary to prevent stunting and preventable child deaths. The first 1,000 days between pregnancy and age two are a very critical time of cognitive and physical growth. Ensuring children receive proper nutrition during this window is key to preventing death or lifetime impairments.
This legislation will assure U.S. leadership in ending severe child malnutrition. Ask your senators to cosponsor S.2956 and your representative to cosponsor H.R.4693. Take action, contact your representatives here.

---
Tell President Biden to lead on global vaccination
Effective vaccines can end this pandemic, but they're not being produced fast enough to reach everyone who needs them. Nine out of ten people in low-income countries will not receive a single COVID-19 vaccination dose this year. Across the continent of Africa, just 3-4% of the population is fully vaccinated.
President Biden has the opportunity, authority, and obligation to lead a global effort to ensure communities everywhere have access to vaccines. He must act now.
Please call on the President to take action.
---
A Bold Pledge on the Replenishment of the
Global Fund to Fight AIDS, TB and, Malaria
Since the start of the COVID-19 pandemic, the Global Fund has also been on the frontlines of pandemic response via the C19RM (COVID-19 Response Mechanism). It is the primary channel of grant support to low- and middle-income countries for testing, treatment, PPE, and elements of health system strengthening.
COVID-19 has demonstrated that we need to be prepared for future pandemics. This will only become more true as climate change increases the spread of vector-borne diseases. In a December statement, the Global Fund addressed its concern about the impact that environmental damage and climate change are having on human health and its disproportionate effect on the most vulnerable communities. It is a clear threat.
Take action with us on requesting that the Biden administration make a bold pledge on the replenishment of the Global Fund to Fight AIDS, TB and Malaria. Take action here.


---
"At the Intersection of Global Health and Climate Change, " was a joint webinar hosted by Global Allies Program: Partners Ending Poverty with RESULTS in partnership with Returned Peace Corps Volunteers for Environmental Action (RPCVs4EA).

Guest speaker, Dr. Cheryl Holder, Associate Professor, and Associate Dean for Diversity, Equity, Inclusivity, and Community Initiatives at Florida International University, and Co-Chair, Florida Medical Society Consortium on Climate Change and Health, will share insights on the crisis at the intersection of healthcare and the climate crisis. Learn more about the issues and be inspired to take action; view Dr. Holders TED Talk, "The link between climate change, health, and poverty" here.
We will also learn what actions we can take to strengthen the global healthcare infrastructure, combat climate change, and advance grassroots community engagement.
See a recording of the talk here.
RESULTS and RESULTS Educational Fund
Washington
DC
US
20005