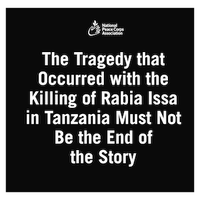 An investigative story by USA Today published December 21 chronicles the killing of Rabia Issa, a mother of three in Tanzania, who was struck by a car driven by a Peace Corps staff member in August 2019. Members of the Peace Corps community have begun working to try to bring justice for her family. And they want greater transparency from the agency.
By Glenn Blumhorst
On December 21, USA Today published an investigative story chronicling the killing of Rabia Issa, a mother of three in Tanzania, who was struck by a car driven by a U.S.-born Peace Corps staff member in August 2019.
What happened is absolutely appalling. It has sent shock waves through the Peace Corps community, and rightly so. National Peace Corps Association condemns the actions that led to Rabia Issa's death. They speak to a lack of morality and values that representatives of the Peace Corps must embody. How the aftermath has been handled is deeply disturbing as well, and points to a need for a deeper cultural shift within the agency — with a critical focus on transparency.
Reporters for USA Today identified the individual driving the car as John M. Peterson, who was at the time serving as director of management and operations for the Peace Corps in Tanzania.
The summary of this horrific incident by the Office of Inspector General for the Peace Corps includes this narrative:
After drinking an undetermined amount of alcohol at a bar, the employee picked up a sex worker on a street in his diplomatic-plated vehicle and brought her back to his U.S. government-leased residence, where he exchanged money for sexual activity with her. While driving her back to the area where he picked her up, the employee's car struck three host country nationals in separate but successive incidents, causing injury to the employee and severe injury to bystanders, including one fatality. After the initial accident, a group of onlookers pelted the employees' vehicle with rocks. The employee then sped off in the vehicle and was chased down by a group of motorcycles. During the chase the employees' [sic] vehicle struck and killed a street vendor. The employee was eventually transported to a police station where he refused a breathalyzer and was released so that he could receive medical attention. The Peace Corps and U.S. Embassy arranged a medevac to the United States for the employee. The host country was unable to pursue prosecution before the medevac took place, and the U.S. Department of Justice declined prosecution, citing a lack of jurisdiction. OIG referred the matter to the agency for administrative action and security clearance review. The employee's clearance was revoked, and he resigned from his position.
The USA Today story notes that Volunteers in the country were not told of the incident at the time. One Volunteer who was serving in Tanzania at the time and learned of the incident while they were there told USA Today, "The people who normally work for Peace Corps, and the Volunteers especially, they're really great people. They're there to help and support and empower people," she added. "And incidents like these are tragic and terrible and need to be handled properly," she said, because we don't want them to be a stain on the organization — and hiding them only deepens the stain.
We could not agree more. The actions of this individual undermine the fundamental mission of the Peace Corps to "build peace and friendship."
Most important, the actions that night led to the death of one woman and the injury of others. Those actions and their follow-up also put Volunteers at risk.
Please take the time to read the story in USA Today. Understand who Rabia Issa was — as a sister and mother and breadwinner for her family, including her work setting up a roadside stand in the predawn hours to sell cassava, doughnuts, and plates of meat and rice. (For those who do not have a USA Today subscription, the story should be accessible on Apple News, Yahoo News, and other sites.) And stay engaged as members of the Peace Corps community work together to try to achieve justice for Rabia Issa's family.
Meaningful Action for the Family. And Systemic Change for the Agency.
We have been in touch with returned Volunteers from across the world — those who served in Tanzania and many other countries, in recent years and decades ago — who want to see that justice is brought to Rabia Issa's family. The Peace Corps community also wants to see systemic change so that nothing like this happens again — with critical focus on transparency within the agency. This matters for the sake of the safety of Volunteers and the credibility of the Peace Corps. And it matters because an innocent life has been lost, and how matters have been handled in the aftermath have brought further pain to the family.
There are many in the Peace Corps community who want to take action now. One effort includes a GoFundMe page established by returned Volunteer Libby Glabe, who served in Sierra Leone. Friends of Tanzania, a group formed by returned Volunteers who served with the Peace Corps in Tanzania, will be issuing a letter demanding action and accountability.
Another team of returned Volunteers is working to harness the desire for action in ways that will ensure that actions going forward will meet the needs of Rabia Issa's family. They have created a Facebook group, Justice for Rabia Issa. And it is important to underscore this fact: Rabia Issa's family has been living with this tragedy since August 2019. It is only now that broad attention is being drawn to this crime here in the United States. If the family had given up hope for justice, that is understandable. But we want to ensure that justice is done for the family. And we want to ensure that the efforts of the Peace Corps community truly try to address the family's needs, rather than what we think is best for them.
That is what Peace Corps Volunteers do: We learn to listen, understand needs within communities, and then shape action for change. And that is what we must do now.
One of the details of this story that many find atrocious is the fact that after the death of Rabia Issa, the Peace Corps staff member was kept on salary. The agency confirms that federal law requires foreign service employees to be kept on salary while their security clearance has been suspended. But there is a provision in the Fiscal Year 2022 National Defense Authorization Act that would change that: It would allow federal agencies to suspend foreign service employees without pay as soon as the final decision regarding their security clearance has been made. Congress has passed that legislation. It is awaiting President Biden's signature. This will be a change in how a bureaucratic system functions. And this is part of the work — though a small part — that needs to happen to make the system more just.
The USA Today story notes an unsettling parallel between the killing of Rabia Issa in Tanzania and the killing of Harry Dunn in the United Kingdom three days later. Dunn was a 19-year-old motorcyclist who was hit by a car driven by Anne Sacoolas, the wife of a U.S. diplomat. Following that incident, there was a civil case filed in Virginia, and an undisclosed settlement was subsequently reached. A criminal case is slated to begin in the U.K. in 2022.
The court cases followed tremendous public outcry over the incident in the U.K. But, the USA Today story notes, "There has been no such outrage or outpouring of support for Rabia Issa and her family."
With the harsh light this story has shone on Rabia Issa's needless death, that has changed. We will keep the Peace Corps community apprised of efforts in the weeks ahead to support justice for Rabia Issa's family. And we will ensure that the agency and members of Congress understand that when it comes to transparency and ensuring that Peace Corps staff live up to Peace Corps ideals, the agency must do better.
---
Updates from January 2022
Letter from Friends of Tanzania to the Acting Director of the Peace Corps
On January 5, the president of Friends of Tanzania sent a letter to Acting Director of the Peace Corps Carol Spahn expressing "outrage at this incident and our disappointment as to how this incident appears to have been handled by the Peace Corps and the United States Government." One "result of this tragedy and its handling by the Peace Corps and the USG has been to severely impact the reputation of the Peace Corps in this country and may well have done the same in Tanzania," the letter notes. "Indeed, it is certainly possible that this tragedy, and the perception of how it was handled, could jeopardize the re-introduction of Peace Corps Volunteers into Tanzania."
The letter is signed by Allison Eriksen, who serves as president of Friends of Tanzania, an affiliate group of National Peace Corps Association. Eriksen herself served as a Volunteer in Tanzania 2009–11.
The letter calls for policy and statutory changes — understanding they may be a tall order and create a heavier burden for the agency and staff in the future. "However, we view the Peace Corps as a different type of agency," the letter says, "one committed to working with those in a host country, and, by encouraging and placing thousands of volunteers worldwide each year, one which has an obligation to those volunteers to ensure that the Peace Corps staff and its volunteers conduct themselves in ways that demonstrate to the citizens of the host country that all those associated with the Peace Corps in whatever capacity are respectful, fair and just members of the community."
Read the full text of the letter here.
Statement from the Acting Director of the Peace Corps on the Death of Rabia Issa
On January 7, Acting Director of the Peace Corps Carol Spahn released a statement on the "horrible tragedy" of Rabia Issa's death, and underscoring that "we grieve the incredible loss to her family, friends, and community."
The statement notes, "We recognize the deep pain that was caused by Ms. Issa's death, as well as the inequities that exist. Our ongoing work is grounded in a commitment to equity and ensuring our mission is clearly centered in our host communities. We expect all staff and every Volunteer to enter service with deep humility and respect as we seek to foster peace and understanding across cultures. We are committed to doing everything within our power to pursue policy, legislative, enhanced training, and other solutions to bolster accountability."
Follow-up Story by USA Today on January 18, 2022
On January 18, USA Today published a follow-up story on the death of Rabia Issa. That story underscores NPCA's position on this appalling situation — and that it shows imperative for a culture shift within the agency. Peace Corps going forward must be more transparent and ensure that the agency holds itself and its staff to a standard that embodies the mission of building peace and friendship.
Story updated January 18, 2022, to include links to Friends of Tanzania letter, statement by the Acting Director of the Peace Corps, and follow-up story by USA Today.
---
Glenn Blumhorst is President and CEO of National Peace Corps Association. He served as a Volunteer in Guatemala 1988–91.
---