Some moments that have defined the Peace Corps from 1960 to today. Plus a year-by-year look at countries where Peace Corps programs began.
Researched by Ellery Pollard, Emi Krishnamurthy, Sarah Steindl, Nathalie Vadnais, and Orrin Luc
At right: the 10th-anniversary Peace Corps stamp, issued in 1972. Image courtesy Peace Corps
As part of the 60th anniversary of the Peace Corps in 2021, WorldView magazine has published a series of timelines tracking Peace Corps' beginnings — and we've traced the 25-year history of Peace Corps Response. Explore more here:
Annotation: Changing World | The Globe in 1961, the year the Peace Corps was founded

1961: Towering Task Edition | A look at the year in which the Peace Corps was founded with great aspirations — and the troubled world into which it emerged

Peace Corps Response: Snapshots from the First Quarter Century | In 2021 Peace Corps Response marked a quarter century since its founding. Some moments that have defined it.

---
THE SIXTIES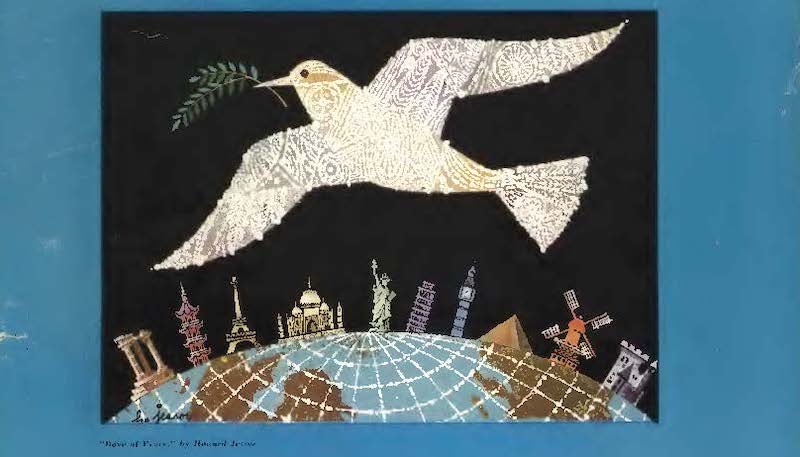 "Dove of Peace" by Howard Jessor, on the cover of Foreign Service Journal, December 1963 edition. The publication is literally on press, in November 1963, when news breaks that President John F. Kennedy has been shot in Dallas.​​ Courtesy American Foreign Service Association
---
1960
February 1

In Greensboro, North Carolina, four Black college students sit down at a Woolworth's lunch counter and are denied service. A six-month protest results in desegregation of the lunch counter by summer.

June

Nations gaining independence from Britain and France include Nigeria, Cameroon, Upper Volta (now Burkina Faso), Côte d'Ivoire, Chad, Madagascar, Benin, Niger, Mali, Senegal, Togo, Central African Republic, Congo-Brazzaville, Gabon, and Mauritania.

October 14

"How many of you are willing?" JFK's campaign speech at the University of Michigan presents the idea of the Peace Corps.

November 2

In a speech at the Cow Palace in San Francisco, John F. Kennedy uses the term "Peace Corps" and calls for revitalizing U.S. global engagement.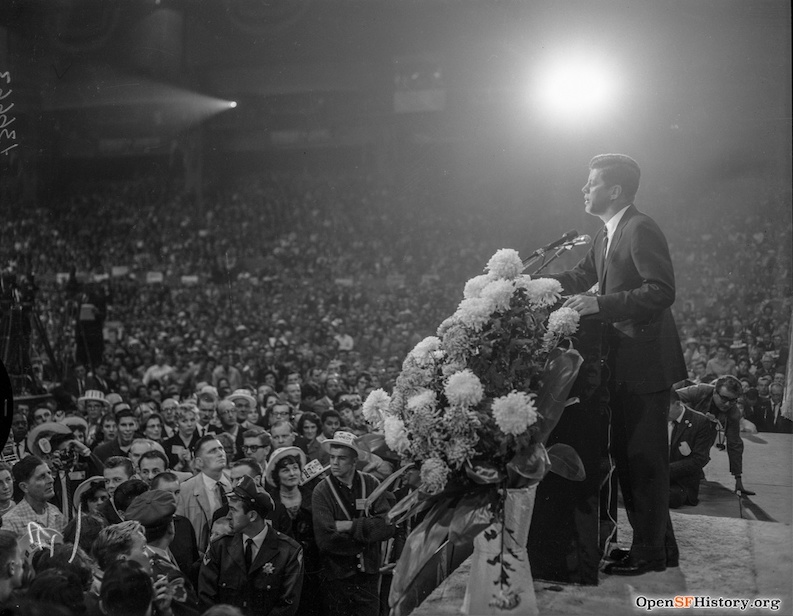 JFK at the Cow Palace. Photo courtesy OpenSFHistory.org
---
1961
January 20

John F. Kennedy inaugurated as president. He declares, "Ask not what your country can do for you — ask what you can do for your country."

February 5

Sargent Shriver outlines steps to forming the Peace Corps in a memo to JFK. Central are ideas put forth in "The Towering Task," a memo by William Josephson and Warren Wiggins.

March 1

Executive Order 10924 establishes the Peace Corps. Sargent Shriver is appointed its first director on March 4.

April 17–19

Bay of Pigs invasion

June 25

First Peace Corps Volunteers begin training for Colombia, Tanganyika (now Tanzania), and Ghana.

July

Amnesty International founded in the United Kingdom.

August 12–13

Berlin Wall erected overnight.

August 28

Sargent Shriver leads the first groups of Peace Corps Volunteers to the Rose Garden for a send-off by President Kennedy.

August 30

The first group of Peace Corps Volunteers arrives at Accra Airport in Ghana.

September 22

Peace Corps Act signed into law by President Kennedy, creating the Peace Corps as an independent agency with a mission to "promote world peace and friendship."
December 25

Newsweek magazine cover: "Peace Corps in Action: Ira Gwin"
---
1962
April 22

In Colombia, a plane crash in the jungle kills more than 30 people — including Larry Radley and David Crozier, the first Peace Corps Volunteers to die during service.

June 30

There are 2,816 Volunteers in the field.

Nations gaining independence from Britain, France, and Belgium: Jamaica, Trinidad and Tobago, Uganda, Algeria, Burundi, Rwanda

October 16–28

Cuban Missile Crisis
---
1963
July 5

Sargent Shriver and the Peace Corps appear on the cover of Time.

August 28

At the March on Washington for Jobs and Freedom, Martin Luther King Jr. delivers "I Have a Dream" speech.

November 22

President Kennedy assassinated in Dallas.

December 12

Kenya gains independence from Great Britain.
---
1964
January 8

In State of the Union address, President Lyndon Johnson announces a "War on Poverty" in the U.S.

February 2

Mr. Ed the talking horse wants to join the Peace Corps.

Freedom Summer voter registration drive

October 14

While still directing the Peace Corps, Sargent Shriver begins serving as head of the Office of Economic Opportunity. Establishes Head Start, Job Corps, VISTA, Foster Grandparents, and Legal Services for the Poor.
---
1965
February 21

Malcolm X assassinated in New York.

March 7

The Selma to Montgomery march for civil rights begins — is met with brutal force by police.

August 6

LBJ signs the Voting Rights Act of 1965.
---
1966
February 24

Ghana's president Kwame Nkrumah overthrown by a military coup.

March 1

Sargent Shriver steps down as Peace Corps director. LBJ appoints Jack Vaughn director.

June

15,000+ Peace Corps Volunteers are serving — the highest number yet. That record still holds.

Guyana, Botswana, and Lesotho gain independence from Great Britain.

September

Lillian Carter, mother of future president Jimmy Carter, departs for Peace Corps service at the age of 68 as a public health Volunteer in India.
---
1967
"Volunteers to America" Peace Corps initiative brings people from other countries — including Argentina, Ghana, Nepal, the Philippines, Iran, and Israel — to serve in impoverished areas in the United States. The program lasts until 1971, when it is defunded by Congress.
---
1968
January 31

Tet Offensive begins in Vietnam.

April 4

Martin Luther King Jr. assassinated in Memphis.

June 6

Robert F. Kennedy assassinated in Los Angeles.

August 20

Soviet Union leads Warsaw Pact troops in an invasion of Czechoslovakia to crack down on reformist trends and end the "Prague Spring."
---
1969
May 1

Joseph Blatchford appointed Peace Corps director by President Nixon.

June 28

–

July 3

Stonewall riots

July 20

Apollo 11 moon landing
---
THE SEVENTIES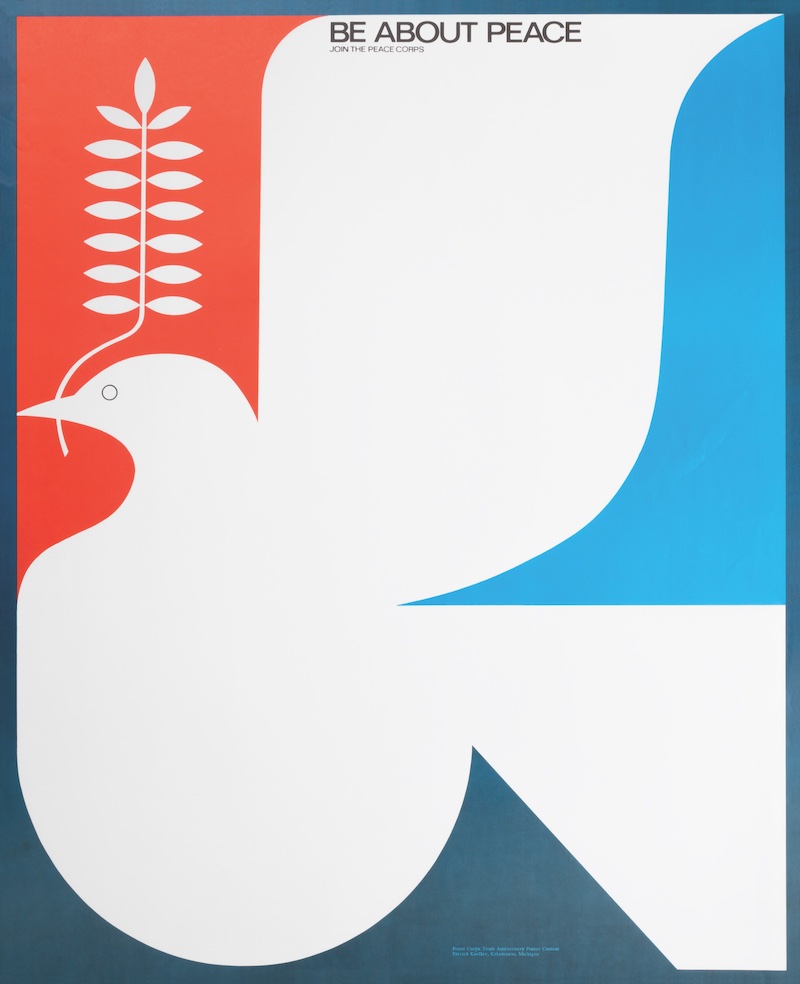 Now we are ten: Released in 1972, this poster by artist Patrick Koeller wins a competition for a design marking the first decade of the Peace Corps. Courtesy West Michigan Graphic Design Archives
---
1970
April 22

First Earth Day

April 28

President Nixon orders U.S. ground troops to invade Cambodia.

May 4

Members of Ohio National Guard fire into crowd of demonstrators at Kent State University; four are killed, nine wounded.

May 8

Twelve members of a group calling themselves the Committee of Returned Volunteers enter the fourth-floor offices of the Peace Corps and seal off a wing. They occupy offices for several days and hang a Viet Cong flag through the window.
---
1971
Greenpeace founded in Canada.

February 8

The Pentagon Papers, a study by the U.S. Department of Defense about the country's involvement in the Vietnam War, are published in The New York Times.

July 1

Executive Order 11603: President Nixon folds the Peace Corps into a new federal volunteer agency, ACTION. Kevin O'Donnell is appointed Peace Corps director.
---
1972
February 11

The first Peace Corps stamp is issued in the U.S.

June 17

Police arrest burglars in the Democratic National Committee headquarters at the Watergate complex in Washington, D.C. Evidence will link the break-in to Nixon's reelection campaign.

August 11

Donald Hess appointed Peace Corps director by President Nixon.
---
1973
January 22

U.S. Supreme Court issues 7–2 decision in Roe v. Wade, ruling that states cannot completely bar a woman's decision to terminate her pregnancy.

October 1

Nick Craw appointed Peace Corps director by President Nixon.

December 28

Endangered Species Act signed into law.
---
1974
August 8

President Nixon resigns.

September

Ethiopian Emperor Haile Selassie deposed following a Marxist military coup.

November 5

First Returned Peace Corps Volunteers elected to U.S. House of Representatives: Christopher Dodd of Connecticut (Dominican Republic 1966–68) and Paul Tsongas of Massachusetts (Ethiopia 1962–64).
---
1975
April 28

John Dellenback appointed Peace Corps director by President Ford.

April 30

Saigon falls to communist troops from North Vietnam. Mozambique and Comoros gain independence from Portugal and France.
---
1976
January 21

The Concorde takes flight — first supersonic commercial air travel.

The United States celebrates its bicentennial.
---
1977
April 16

Apple II computer, Commodore PET, and Radio Shack TRS-80 introduced, beginning the personal computer craze.

September 12

South African activist Steve Biko dies after suffering a massive head injury in police custody.

October 11

Carolyn Robertson Payton appointed Peace Corps director by President Carter. She is the first woman and first Black American to serve in that role.
---
1978
January 7

Iranian Revolution begins. The U.S. Embassy in Tehran will be stormed in November 1979.

Rainbow (Gay Pride) flag created by Gilbert Baker.
---
1979
Peace Corps closes its post in Afghanistan. In December, Soviet troops invade the country.

National Council of Returned Peace Corps Volunteers (NCRPCV) founded. It will evolve into National Peace Corps Association.

April 27

Richard F. Celeste appointed Peace Corps director by President Carter.

May 16

Executive Order 12137: President Carter grants the Peace Corps full autonomy.
---
THE EIGHTIES
The dove at 25: In 1987, this Peace Corps logo adorns a budget presentation to Congress. Volunteers partner with communities to address problems that include "hunger and malnutrition, infant mortality, poverty, illiteracy and limited educational opportunities, inadequate health care, and declining natural resources." Image courtesy Peace Corps
1980
May 8

World Health Assembly declares that smallpox has been eradicated from the planet.
---
1981
As Peace Corps marks its 20th anniversary, the National Council of Returned Peace Corps Volunteers hosts the first national Peace Corps conference in Washington, D.C.

May 6

Loret Miller Ruppe appointed Peace Corps director by President Reagan. She serves eight years, more than any other director before or since.

June

First case of AIDS identified. In U.S. it is initially called "gay-related immune deficiency (GRID)."

September 21

Belize gains independence from Great Britain.

December 29

Legislation grants Peace Corps its independence as an agency.
---
1982
August 12

Mexico tells the U.S. it can no longer service its $80 billion debt. Brazil, Argentina, and virtually every other country in Latin America is unable to pay back loans, triggering a regional economic crisis.
---
1983
January 1

The Internet is born when the Advanced Research Projects Agency Network (ARPANET) adopts the standard TCP/IP protocol of the World Wide Web.

January

Peace Corps establishes the Small Project Assistance (SPA) program.
---
1984
January

Apple Computer introduces the Macintosh.

December 2

In Bhopal, India, 30 tons of methylisocyanate, an industrial gas used to make pesticide, are released at a Union Carbide plant, killing some 15,000 people.
---
1985
January

Loret Miller Ruppe signs a letter of agreement establishing the Coverdell Fellows Program with founder Dr. Beryl Levinger (Colombia 1967–69).

September

For the first time in Peace Corps history, more women than men begin service as Volunteers.
---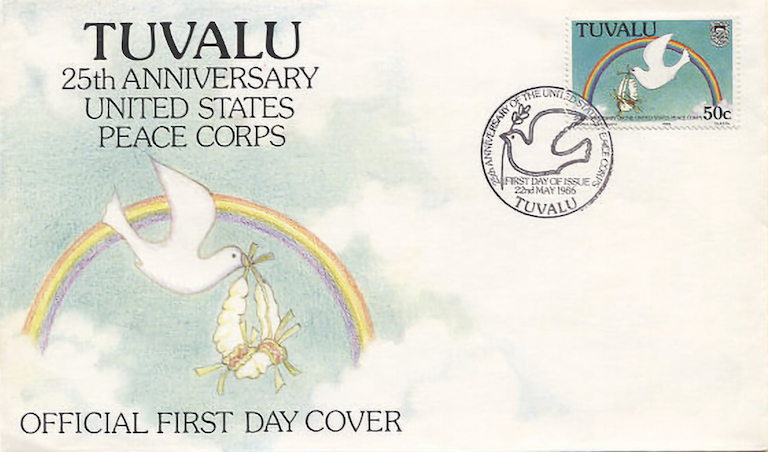 Letter home: In 1986, Tuvalu commemorates the 25th anniversary of the founding of the Peace Corps. Volunteers began serving in the Pacific island nation in 1977.​ Courtesy PeaceCorpsOnline.org
​​​​​​
1986
Lillian Carter Award established to honor those over the age of 50 who have served and advanced the Third Goal of the Peace Corps. Lillian's son, President Jimmy Carter, calls the award "a wonderful celebration of what is best about the Peace Corps — offering up some of America's best to the world, and bringing the world home to other Americans."

April 26

Reactor 4 at Chernobyl explodes in Ukrainian S.S.R. — worst nuclear disaster ever in terms of casualties and cost.

Wole Soyinka of Nigeria becomes the first African to win a Nobel Prize in Literature.
---
1987
The number of Peace Corps Volunteers serving drops to new low: 5,219. Government mistrust and aftermath of the Vietnam War take their toll.

The Peace Corps and its 120,000 current and Returned Peace Corps Volunteers are honored with the Beyond War Award for their commitment to nonviolence.

October 19

Black Monday on the U.S. stock market. Dow plummets 508 points, more than 22 percent.
---
1988
September

Barbara Jo White (Dominican Republic 1987–89) creates the World Map Project, which has been replicated by Peace Corps Volunteers in countries around the world.

Coffee bearing the Fair Trade label is introduced.
---
1989
April 20

Paul D. Coverdell appointed Peace Corps director by President George H.W. Bush.

Coverdell establishes World Wise Schools program (WWS) to connect American educators in classrooms with Peace Corps Volunteers.

November 9

Berlin Wall falls. On November 17, the Velvet Revolution in Czechoslovakia leads to end of communism there. That same date, in El Salvador, a military hit squad murders six Jesuit priests, their cook, and her daughter.
December 24

Civil war begins in Liberia, pitting Charles M. Taylor against former subordinate Prince Johnson. Fighting lasts until 1996.
---
THE NINETIES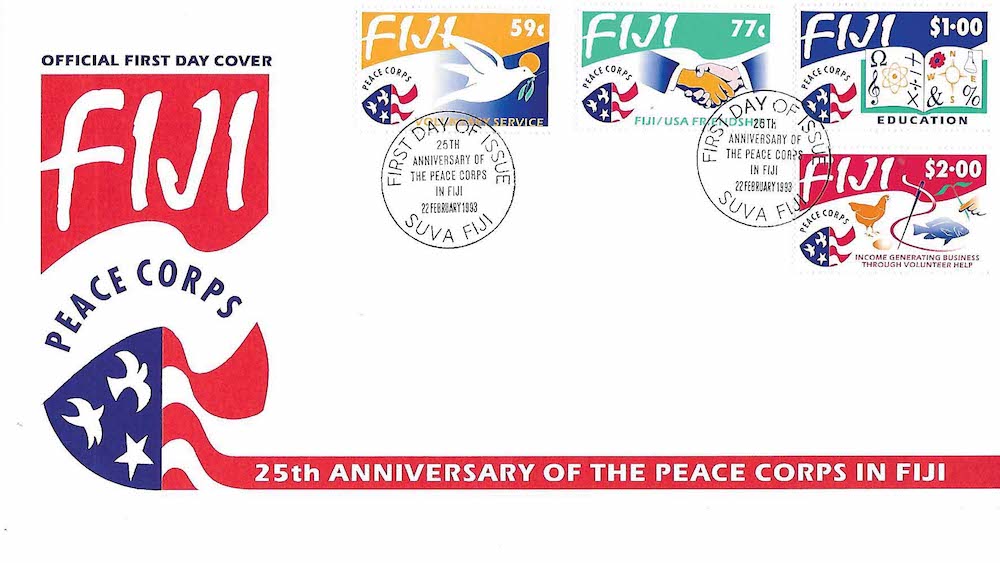 You've got mail: In 1993, Fiji celebrates the 25th anniversary of Peace Corps Volunteers serving in communities there. Courtesy David Downes
1990
January 28

Poland's ruling communist party votes to dissolve. In ensuing elections, Lech Wałęsa, leader of the Solidarity Movement and 1983 Nobel Peace Prize laureate, wins the presidency.

February 11

Nelson Mandela freed from prison in South Africa after 27 years.

June

First Peace Corps Volunteers begin serving in Central and Eastern Europe: Hungary, Poland, and Czechoslovakia.

August

Iraq invades Kuwait.
---
1991
LGBT RPCV formed in Washington, D.C.

January 17

First Gulf War begins, with a U.S.-led coalition driving invading Iraqi forces out of Kuwait.

August 6

First website appears on World Wide Web.

October 8

Elaine Chao appointed Peace Corps director by President George H.W. Bush.

December 25

Soviet Union dissolves.
---
1992
September 12

Former Peace Corps medical officer Mae Jemison travels into space on Shuttle Endeavor. She is first Black American woman in space.
---
1993
February 26

Terrorists detonate a truck bomb beneath the World Trade Center, killing 6, wounding more than 100, and causing more than 50,000 people to evacuate.

May 24

Following a referendum, Eritrea breaks away from Ethiopia to become an independent nation.

September 21

AmeriCorps established by the National and Community Service Trust Act, creating a "domestic Peace Corps."

October 7

Carol Bellamy (Guatemala 1963–65) sworn in as Peace Corps director. She is the first Returned Peace Corps Volunteer to hold the post.

November 1

European Union becomes reality.
---
1994
April 27

A new constitution takes effect in South Africa, officially ending the apartheid system.

July

Amazon.com opens.
---
1995
April 19

Domestic terrorists Timothy McVeigh and Terry Nichols park a truck bomb beneath the Alfred P. Murrah Federal Building in Oklahoma City. At least 168 people are killed in the explosion, including 19 children in a childcare center located in the building.

August

Peace Corps Volunteers in Romania create Camp GLOW (Girls Leading Our World).

June 21

Mark D. Gearan appointed Peace Corps director by President Clinton.

December

Peace Corps sends three Volunteers to Antigua to rebuild homes damaged by Hurricane Luis — a step toward creation of Crisis Corps.
---
1996
June

Crisis Corps officially launched at a Rose Garden ceremony to send Returned Peace Corps Volunteers on short-term, high-impact assignments.

July 5

Scientists in Scotland clone Dolly the Sheep — the first cloning of a mammal.
---
1997
January

Kofi A. Annan becomes Secretary General of the U.N. He is the first sub-Saharan African to hold the post.

February

First cohort of Peace Corps Volunteers arrives in South Africa.
---
1998
September

In Menlo Park, California, grad students Larry Page and Sergey Brin launch search engine Google.
---
1999
March 24

NATO airstrikes begin against the Federal Republic of Yugoslavia, aimed at halting actions by Slobodan Milošević's government against ethnic Albanians, and forcing it to withdraw from Kosovo.

May

First commercial camera phone introduced.

December 23

Mark L. Schneider (El Salvador 1966–68) appointed Peace Corps director by President Clinton.
THE 2000s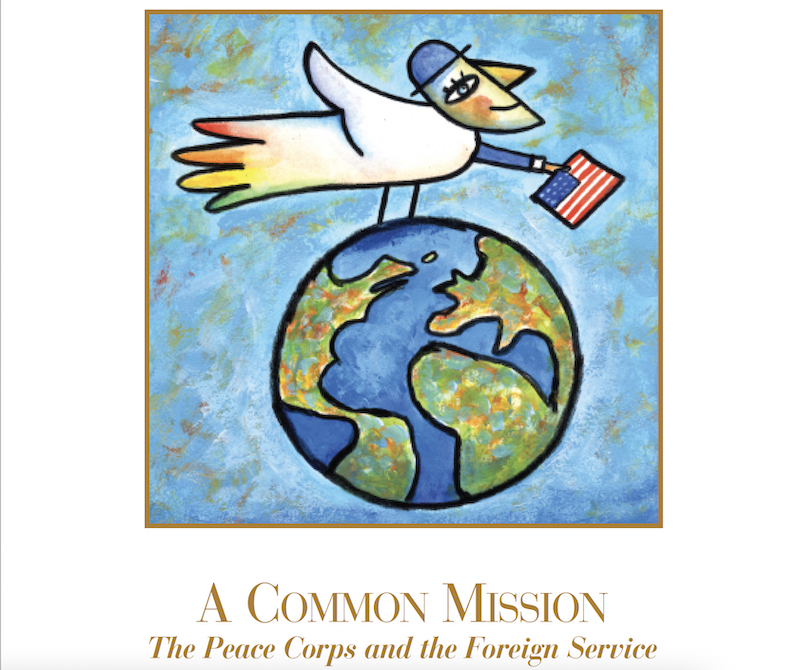 "A Common Mission: Peace Corps and Foreign Service" is the theme of the October 2008 edition of Foreign Service Journal, with cover illustration by Philippe Béha /i2iart.com. Courtesy American Foreign Service Association
2000
November 2

International Space Station opens.

It is estimated that some 36 million people worldwide are infected with the HIV virus.

High Atlas Foundation established in Morocco by Returned Peace Corps Volunteers to further sustainable development.
---
2001
January 15

Wikipedia debuts.

September 11

Terrorists attack the World Trade Center and the Pentagon. The Peace Corps recruiting office in Building 6 of WTC is destroyed when the Twin Towers collapse. Volunteers will be evacuated from Kyrgyz Republic, Turkmenistan, and Uzbekistan.

October 7

A U.S.-led coalition begins a bombing campaign against Afghanistan and later begins a ground offensive.
---
2002
January 23

Gaddi H. Vasquez appointed Peace Corps director by President George W. Bush. He is the first Hispanic American to serve as director.

The Peace Corps and National Peace Corps Association are nominated for the Nobel Peace Prize.
---
2003
March 19

U.S. invades Iraq; second Gulf War begins.

April 14

Sequence mapping of the human genome is completed.

May

The Peace Corps commits an additional 1,000 Volunteers to fight HIV/AIDS.

July

The Museum of the Peace Corps Experience project is introduced at the National Peace Corps Association Group Leaders annual meeting in Portland, Oregon.

November

Disputed parliamentary elections in nation of Georgia lead to the Rose Revolution.
---
2004
February 4

Facebook founded.

Disputed presidential elections in Ukraine lead to the Orange Revolution.

December 26

A massive earthquake under the Indian Ocean triggers a tsunami, killing more than 200,000. Peace Corps Response Volunteers assist with relief efforts in several nations.
---
2005
September

Hurricanes Katrina and Rita hit the Gulf Coast. In the aftermath, Peace Corps Response Volunteers are deployed domestically for the first time to assist with relief efforts.

November 23

Ellen Johnson Sirleaf becomes the first African woman to lead an African nation when she is elected president of Liberia.
---
2006
Atlas Corps founded to bring individuals on service fellowships to the U.S., earning reputation as a "reverse Peace Corps."
August

The International Astronomical Union demotes Pluto to the status of dwarf planet.

September 26

Ronald A. Tschetter (India 1966–68) sworn in as Peace Corps director.
---
2007
January

Apple debuts the iPhone.

June

Peace Corps Prep program inaugurated at select U.S. colleges.

November

Crisis Corps is renamed Peace Corps Response — a name that better captures the broad range of assignments Volunteers are undertaking.
---
2008
October

Peace Corps returns to Liberia after an absence of nearly two decades.
---
2009
January 20

Barack Obama inaugurated president. National Peace Corps Association leads returned Volunteers in the inaugural parade.

January

After leaving Rwanda during the 1994 genocide, Peace Corps Volunteers return to begin working in secondary education and HIV/AIDS education and prevention.

March 12

Kate Puzey, a Volunteer in Benin, is murdered after reporting the sexual abuse of girls within her community by a Peace Corps staff member.

March 15

Joseph Acaba (Dominican Republic 1994–96) becomes first returned Volunteer to serve as a NASA astronaut, making his first trip to space aboard Shuttle Discovery.

August 24

Aaron S. Williams (Dominican Republic 1967–70) sworn in as Peace Corps director.
---
THE 2010s+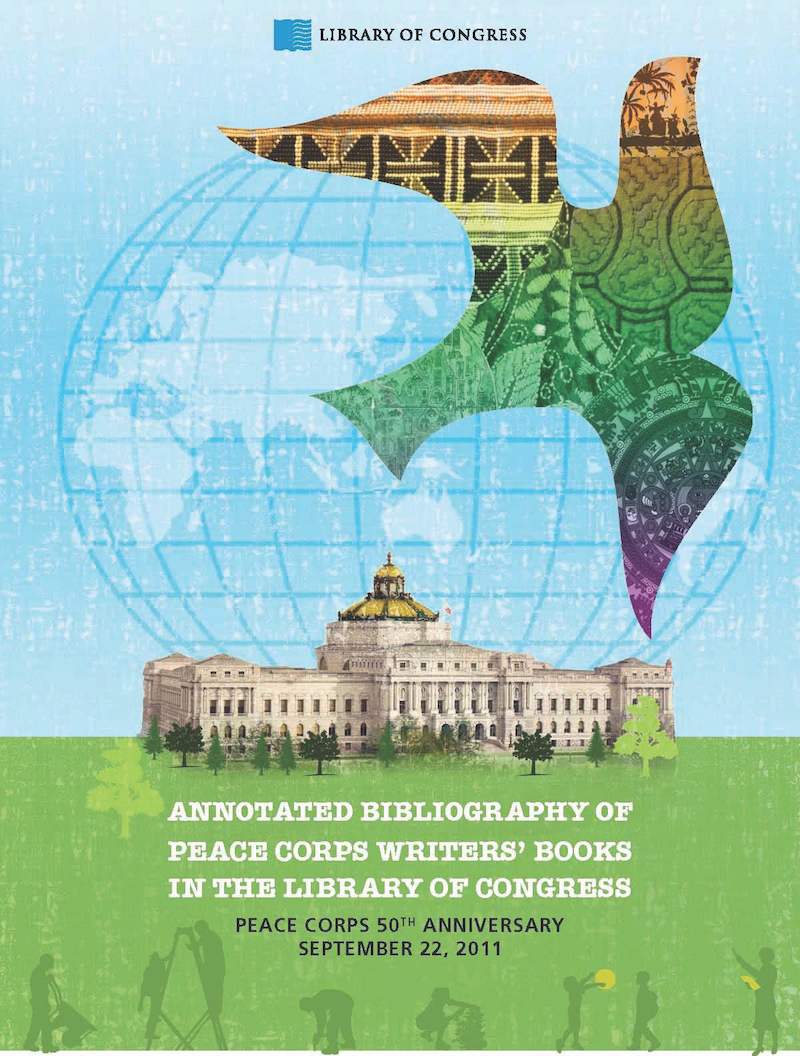 Fiftieth anniversary project, launched thanks to a letter from Congressman John Garamendi (Ethiopia 1966–68) to Librarian of Congress James Billington. Among those thanked: Marian Haley Beil (Ethiopia 1962–64) of Peace Corps Writers. Courtesy Library of Congress
---
2010
Total number of Peace Corps Volunteers who have served surpasses 200,000.

National Peace Corps Association introduces new logo.

January 12

A 7.0 magnitude earthquake hits Haiti, killing some 200,000.

April 20

Explosion and fire on the Deepwater Horizon offshore oil drilling rig kills 11 people and spills more than 3 million barrels of crude into the Gulf of Mexico.

September

Peace Corps HQ begins presenting the Franklin H. Williams Award, named for an early agency leader. Established by the New York recruiting office in 1999, the award recognizes ethnically diverse returned Volunteers committed to promoting understanding of other peoples on the part of Americans.
---
2011
50th anniversary of the Peace Corps. The agency reopens programs in Colombia, Indonesia, and Sierra Leone.

January

ABC news program "20/20" airs "Peace Corps: A Trust Betrayed," telling the story of Kate Puzey.

March

Peace Corps releases 50th-anniversary commemorative print by artist Shepard Fairey.

November 21

President Obama signs the Kate Puzey Peace Corps Volunteer Protection Act into law.

CorpsAfrica is launched by RPCV Liz Fanning to give young Africans the opportunity to work with communities in a Peace Corps–style program.
---
2012
June

Egypt's first competitive presidential election. Mohamed Morsi wins. After months of protests, he is overthrown in a coup in July 2013.

September 11

RPCV and U.S. Ambassador to Libya Chris Stevens killed in attack on the U.S. consulate in Benghazi, Libya.
---
2013
February 7

Volunteer Nick Castle dies in China after failing to receive adequate medical care; his parents call for Peace Corps reform and begin advocacy work that continues to this day.

May

Peace Corps approves assignments for same-sex partners.

December 5

Nelson Mandela dies.
---
2014
February

Ukraine's Revolution of Dignity. Russia seizes Crimea and then backs separatist fighting in eastern Ukraine.

June 6

Carrie Hessler-Radelet (Western Samoa 1982–83) appointed Peace Corps director by President Obama.

Ebola sweeps across Guinea, Liberia, and Sierra Leone, eventually killing 11,000 people. Peace Corps evacuates Volunteers in August. Peace Corps staff in Guinea step up to play an instrumental role in contact tracing and training.

October 10

Malala Yousafzai wins Nobel Peace Prize.
---
2015
March 3

President Barack Obama and First Lady Michelle Obama announce Let Girls Learn, an initiative to expand access to education for girls around the world. Peace Corps begins a close collaboration with the First Lady to address barriers to education for girls.

June 26

U.S. Supreme Court rules same-sex marriage is legal.

October

Peace Corps receives 23,000 applications during the fiscal year, breaking 40-year record.

November

Terror attacks in Paris kill 130, wound 494. ISIS claims responsibility.
---
2016

June 1

Peace Corps logo gets a makeover, alongside a refreshed brand platform and new website.
---
2017
October

#MeToo movement gains prominence after widespread sexual-abuse allegations against Harvey Weinstein.
---
2018
January

Volunteer Bernice Heiderman, serving in Comoros, dies due to undiagnosed malaria. As her story is told, it raises hard questions about how Volunteer illness is handled during service.

March 30

Dr. Josephine (Jody) K. Olsen (Tunisia 1966–68) is sworn in as Peace Corps director.

October

President Trump signs the Sam Farr and Nick Castle Peace Corps Reform Act into law. Key provisions: strengthening criteria for hiring overseas medical officers, and supporting Volunteers victimized by sexual assault or other forms of violence.
---
2019
National Peace Corps Association marks its 40th anniversary.

September 22

"A Towering Task: The Story of the Peace Corps" documentary premieres at the Kennedy Center for the Performing Arts in Washington, D.C.
---
2020
January 17

Peace Corps announces the "graduation" of the program in China.

March 11

World Health Organization declares COVID-19 pandemic.

March 15

In an unprecedented decision, all Peace Corps Volunteers are evacuated from around the world because of COVID-19.

May

Killing of George Floyd sparks national and then global protests against racial injustice.

June

Peace Corps Director Jody Olsen announces Peace Corps program to launch in Viet Nam in 2022.

July

National Peace Corps Association hosts town halls and ideas summit as part of Peace Corps Connect to the Future. This results in a report on how to reimagine, retool, and reshape the Peace Corps for a changed world.

October

Peace Corps launches Virtual Service Pilot program for evacuated Volunteers to continue working with countries where they were serving.
---
2021
January 6

A violent insurrection at the U.S. Capitol attempts to stop the certification of the presidential election.

January 20

Carol Spahn (Romania 1994–96) assumes responsibilities as acting director of the Peace Corps.

March 1

Peace Corps Reauthorization Act of 2021 introduced by Rep. John Garamendi (Ethiopia 1966–68). It's the most sweeping Peace Corps legislation in decades.

May

Peace Corps deploys Response Volunteers with FEMA at community vaccination centers to fight COVID-19 — only the second time they have served domestically. Staff who continue to serve at posts around the world also partner in efforts to fight COVID-19.

August 30

Last U.S. troops leave Afghanistan, after two decades of fighting.

September

NPCA hosts 60th-anniversary Peace Corps Connect. The theme: "Mobilizing for a Lifetime of Service and Impact."
---
2022
Volunteers are invited to return to service in five countries.

Peace Corps Place, new headquarters for National Peace Corps Association, to open in Truxton Circle neighborhood in Washington, D.C., providing a home for the Peace Corps community with a café and event space.
---
PEACE CORPS BEGINNINGS: COUNTRY BY COUNTRY
And year by year — beginning in August 1961, and looking toward plans in 2022.



1961 |

Chile, Colombia, Ghana, India, Nigeria, Pakistan, the Philippines, St. Lucia, Tanganyika (now Tanzania)
1962 |

Afghanistan, Belize, Bolivia, Brazil, Cameroon, Côte d'Ivoire, Cyprus, Dominican Republic, Ecuador, El Salvador, Ethiopia, Honduras, Iran, Jamaica, Liberia, Malaysia, Nepal, Niger, Peru, Senegal, Sierra Leone, Somalia, Sri Lanka, Thailand, Togo, Tunisia, Turkey, Venezuela
1963 |

Costa Rica, Gabon, Guatemala, Guinea, Indonesia, Malawi, Morocco, Panama, Uruguay
1964 |

Kenya, Uganda
1966 |

Botswana, Chad, Grenada, Guyana, Republic of Korea, Libya, Federated States of Micronesia and Republic of Palau, Paraguay, St. Kitts and Nevis
1967 |

Antigua and Barbuda, Burkina Faso, Dominica, The Gambia, Lesotho, Mauritania, Samoa, St. Vincent and the Grenadines, Tonga
1968 |

Barbados, Benin, Fiji, Nicaragua
1969 |

Mauritius, Swaziland (now Eswatini)
1970 |

Malta, Zaire (now Democratic Republic of the Congo)
1971 |

Mali, Solomon Islands
1972 |

Central African Republic (CAR)
1973 |

Oman, Yemen
1974 |

Bahrain, Kiribati, Montserrat, Seychelles
1975 |

Rwanda
1977 |

Tuvalu
1980 |

Anguilla, Turks and Caicos
1981 |

Papua New Guinea
1982 |

Cook Islands, Haiti
1983 |

Burundi
1984 |

Sudan
1986 |

Marshall Islands
1988 |

Cape Verde, Comoros, Equatorial Guinea, Guinea-Bissau

1990 |

Czechoslovakia (now Czechia and Slovakia), Hungary, Namibia, Poland, São Tomé and Príncipe, Vanuatu
1991 |

Bulgaria, Republic of the Congo, Mongolia, Romania, Zimbabwe
1992 |

Albania, Argentina, Armenia, Estonia, Latvia, Lithuania, Russia, Ukraine, Uzbekistan
1993 |

China, Kazakhstan, Kyrgyz Republic, Madagascar, Moldova, Turkmenistan
1994 |

Niue, Zambia
1995 |

Eritrea, Suriname
1996 |

Macedonia (now North Macedonia)
1997 |

Jordan, South Africa
1998 |

Bangladesh, Mozambique
2000 |

Bosnia and Herzegovina
2001 |

Georgia
2002 |

Timor-Leste
2003 |

Azerbaijan
2004 |

Mexico
2007 |

Cambodia
2014 |

Kosovo
2016 |

Myanmar
2020 |

Montenegro
2022 |

Viet Nam
This story appears in the 60th-anniversary edition of WorldView magazine.
Story updated January 12, 2022 at 8:45 a.m. to correct spelling.
---
Comments or suggestions? Write us. | Story updated December 29, 2021 at 5:10 PM.
---