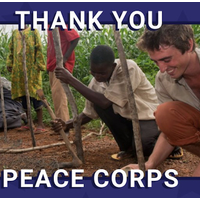 A national service program seems to be an idea whose time has come. Legislation to benefit Peace Corps — and to take back $88 million. Stories of evacuation and service at home. And Twitter shout-outs.
By NPCA Staff

Here are some top stories (and a couple of Tweets) on the Peace Corps community across the United States — and around the world. We include a sampling of opinion pieces and coverage from states and communities that are home to some of the 7,300 evacuated Volunteers — and nearly a quarter million Returned Peace Corps Volunteers. Stay up to date throughout the week with our Flipboard stories, subscribe to the National Peace Corps Association newsletter, and follow us on social media.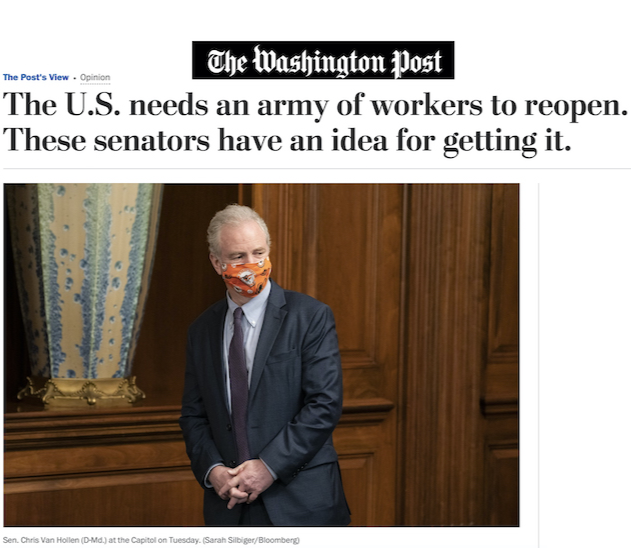 The Washington Post | Editorial: The U.S. needs an army of workers to reopen. These senators have an idea for getting it.
May 7, 2020

"We need an army of workers to reopen the country," begins an editorial from the Washington Post last week. "The good news is, a group of senators has an idea for where to find one." The editorial was republished across the country, from the Minneapolis Star Tribune to the Santa Fe New Mexican to the West Virginia's Charleston Gazette. The gist: "Sens. Chris Van Hollen (D-MD), Christopher A. Coons (D-DE), and several colleagues introduced legislation this week to pay for 750,000 national service positions over the next three years… The bill would prioritize Peace Corps Volunteers and Fulbright and other fellowship recipients, as well as, crucially, the many Americans this crisis has left unemployed…Standing up a ready-to-go cadre of Americans who can be deployed anywhere across the country would be instrumental in serving areas where staffing is relatively scarce and sickness is spreading — not only now but also in the many months ahead."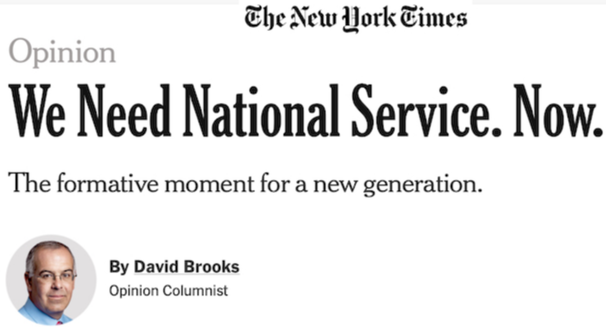 The New York Times | Columnist David Brooks: "We Need National Service. Now."
The formative moment for a new generation
May 7, 2020

The column by David Brooks calls for turning this moment of national crisis into a transformative one. "There's a good bill winding its way through the Senate to do precisely that, led by Chris Coons, a Democrat from Delaware." That's the Pandemic Response and Opportunity Through National Service Act, introduced in April, which calls for expanding national service programs to help meet the need for as many as 300,000 new workers for contact tracing, testing, and other COVID-19 relief efforts. Peace Corps Volunteers get priority. "The Coons bill is an excellent start. But it needs to be bigger and bipartisan." Brooks advocates for service year fellowships and notes: "There's no reason this shouldn't happen. Eighty-eight percent of Democrats and 74 percent of Republicans support voluntary national service … And as we all know, the benefits of the program accrue not only to those being served but also to those doing the serving. What would it mean to the future social cohesion of this country if a large part of the rising generation had a common experience of shared sacrifice? What would it mean to our future politics if young people from Berkeley spent a year working side by side with young people from Boise, Birmingham and Baton Rouge?"
What we'll note: For the past 59 years, Peace Corps Volunteers have been answering that very question.
Press Release from Senator Chris Van Hollen | Bicameral Legislation to Significantly Expand National Service in Response to Coronavirus Crisis
With momentum building to utilize national service programs during the pandemic, "UNITE Act" calls for increased AmeriCorps recruitment, expansion of a deployable FEMA force.
May 8, 2020

The latest release from Sen. Chris Van Hollen, Sen. Edward Markey, and Rep. Dean Phillips calls for the swift passage of the UNITE Act — and underscores just how critical a role evacuated Peace Corps Volunteers can play during this domestic crisis.
Sen. Van Hollen: "Our national service organizations provide vital assistance to communities across our country and the globe. With a wide array of skills and experience, the volunteers with Peace Corps, AmeriCorps, and other service organizations are uniquely equipped to help our country battle the coronavirus. We should be doing everything in our power to enlist these men and women – and others who are eager to volunteer – in these efforts."
Sen. Blumenthal: "We must expand the ability of mission-driven Americans from service programs like AmeriCorps and Peace Corps to serve our country at this time of unprecedented crisis. From public health expertise to extensive experience working in vulnerable communities, these individuals have the invaluable skills to help our country rise to the immense challenges this pandemic has made us face."
Rep. Phillips: "The Peace Corps represents the very best in American leadership on a global stage, with volunteers serving alongside communities in their fight against sickness, hunger, and economic insecurity. They are ready now to fight for the health of the American people. The United States must have a whole-of-government response to the COVID-19 pandemic that not only employs those who have lost their jobs or who've become underemployed, but also delivers relief to understaffed frontline workers."
Press Release from Senator Jeff Duncan | Duncan introduces WUHAN Rescissions Act
Our take: Legislation would jeopardize funds that provided for health and safety of more than 7,300 evacuated Peace Corps Volunteers amid global pandemic.
May 4, 2020
File this under news you need to know — to take action to stop it. Congressman Jeff Duncan (R-SC) introduced H.R. 6657, the Working Under Humanity's Actual Needs (WUHAN) Rescissions Act, which calls for eliminating more than $27 billion from the CARES Act legislation that was overwhelmingly approved by Congress and signed by President Trump in late March. Included in the new legislation is the proposed return of the $88 million appropriated for Peace Corps which covered evacuation and initial support costs for 7,300 volunteers. Read Representative Duncan's press release here. And read more about the co-sponsors — and how you can share your concern over this bill — here.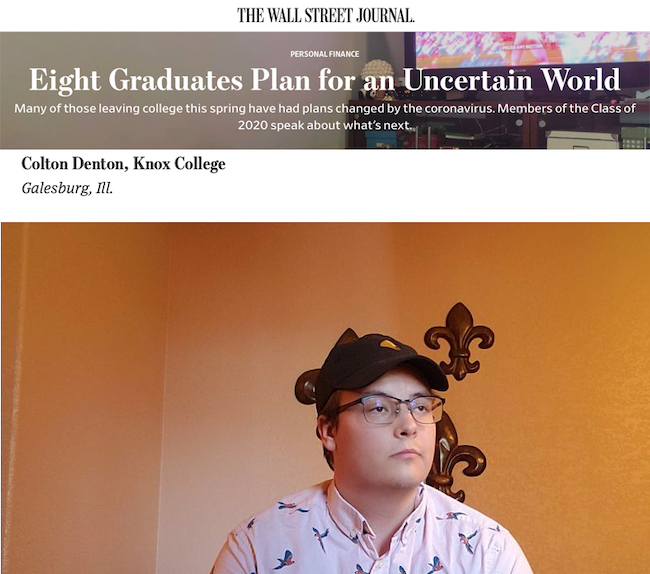 The Wall Street Journal | Eight Graduates Plan for an Uncertain World
Many of those leaving college this spring have had plans changed by the coronavirus. Members of the Class of 2020 speak about what's next.
May 9, 2020

In story about young Americans facing uncertainty amid the coronavirus crisis, journalist Kathryn Dill profiles future Peace Corps Volunteer Colton Denton. A first-generation college grad, he hails from Phoenix, is finishing studies at Knox College in Illinois, and has been accepted for a Peace Corps assignment in Ukraine. Training has been postponed from August until September 30 — but may be delayed further. Graduation ceremonies have been postponed, too. "I just hope that it'll happen before I leave for Peace Corps," he says, "assuming that still pulls through."

The Hill | Opinion: During this historic time, remember to value public service
May 8, 2020
Dr. Joe Heck and Michael M. Crow start with the fact that we're seeing how critical public service professionals are at a time of crisis. They make the case for a public service corps program across the country. Heck is chairman of the National Commission on Military, National, and Public Service. Michael M. Crow is the president of Arizona State University (ASU). They offer ASU's Public Service Academy as a model — graduating its first cohort last year, including Turner Hubby, a Peace Corps Volunteer assigned to Ukraine teaching English as a second language.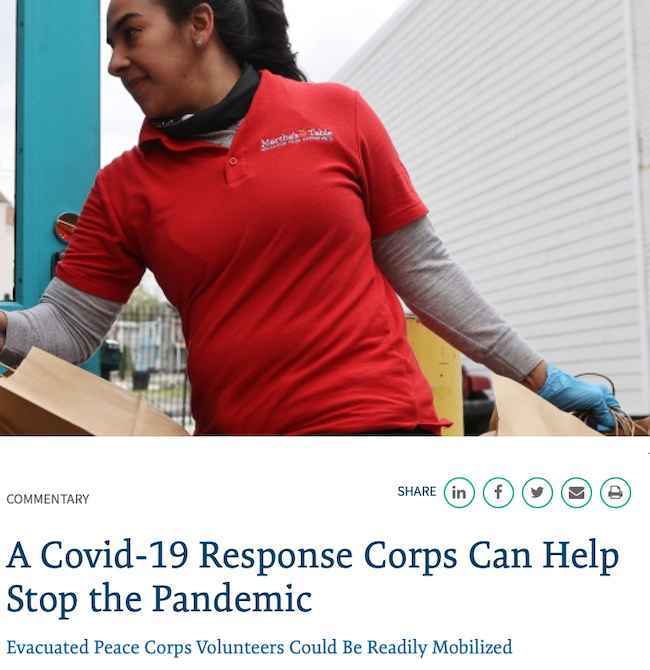 Center for Strategic and International Studies | Blog: A Covid-19 Response Corps Can Help Stop the Pandemic
Evacuated Peace Corps Volunteers could be readily mobilized.
May 5, 2020

Congresswoman Susan Brooks (R-IN) and Congressman Ami Bera (D-CA) make the case for Peace Corps Volunteers playing a key role in COVID-19 response now. The authors are members of the Center for Strategic and International Studies (CSIS) Commission on Strengthening America's Health Security. Key takeaway one: "Volunteers have received training in — and many have up to two years' work experience in — a variety of relevant issue areas, including water and sanitation, hygiene, and maternal and child health. They have experience integrating themselves into local communities, serving as community health workers, peer educators, and teachers. They could be quickly recruited into the CRC and put to work supporting the Covid-19 response across the country."
Key takeaway two: "We know that state and local health authorities are clamoring for such a workforce to combat coronavirus."
KRCR television news | Rep. Huffman and others call for prioritizing national service in future COVID-19 relief
Peace Corps volunteers should be mobilized into domestic programs and projects.

Northern California television station KRCR highlights the efforts of Reps. Jared Huffman, John B. Larson, and Dean Phillips to get House leadership to focus on national service priorities to aid in recovery efforts during the coronavirus pandemic. Included: Peace Corps Volunteers should be mobilized into domestic programs and projects. From the letter: "The Corporation for National and Community Service (CNCS) and its volunteers are on the front lines of the recovery effort, providing disaster assistance, educational opportunities, meal support and much more … Investing in the CNCS and reimagining the service of Returned Peace Corps Volunteers are investments in the continued rebuilding of the nation."
WDEL newsradio | A badly needed workforce
Legislation seeks to expand AmeriCorps to provide contact tracing, testing for pandemic response.
May 5, 2020

Coverage of legislation that Sen. Chris Coons introduced in April: "We know that we have a ready pool of returned Peace Corps volunteers, of current year AmeriCorps members, and hundreds of thousands of Americans, who have applied to be AmeriCorps members, but we haven't had the number of funded slots for them."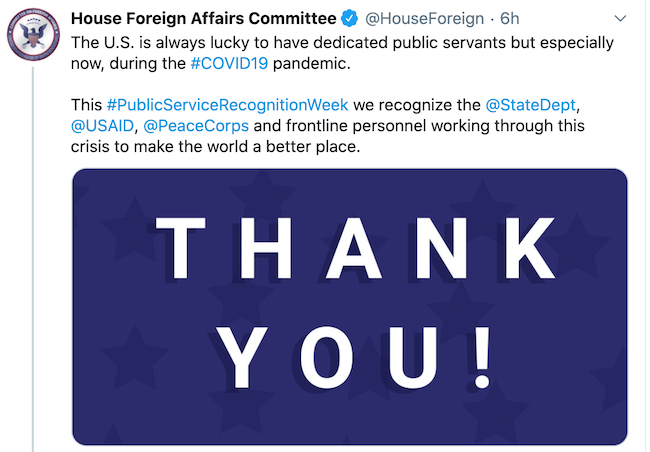 Public Service Twitter Shout-outs | House Foreign Affairs Committee
May 9, 2020

To wrap up Public Service Recognition Week (May 3-9), the House Foreign Affairs Committee tweeted out thanks to Peace Corps Volunteers in a pair of posts.
"The U.S. is always lucky to have dedicated public servants but especially now, during the #COVID19 pandemic. This #PublicServiceRecognitionWeek we recognize the @StateDept, @USAID, @PeaceCorps and frontline personnel working through this crisis to make the world a better place."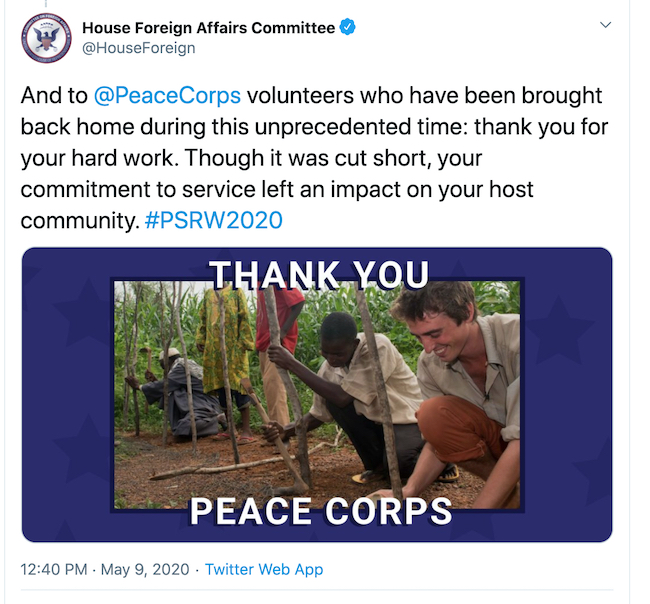 "And to @PeaceCorps volunteers who have been brought back home during this unprecedented time: thank you for your hard work. Though it was cut short, your commitment to service left an impact on your host community. #PSRW2020"

In the Twitter Zeitgeist | Dallas Mavericks owner Mark Cuban
May 4, 2020
Entrepreneur and Dallas Mavericks owner Mark Cuban kicked off a conversation on Twitter May 3 calling for more national involvement in contact tracing and caring for people during the coronavirus pandemic. Sen. Ed Markey joined in to share that he and Sen. Chris Van Hollen had introduced the UNITE Act to "test, trace, and assist the vulnerable." Cuban's response: Agree we need to expand @AmeriCorps, @PeaceCorps and other volunteer organizations. But in order for this to work there has to be someone in charge of a coordinated federal Public Health Covid response that can drive a solution driven plan. Patchwork legislation doesn't work."
---
Kansas, Tennessee, Washington, D.C., and Nationwide | Stories of evacuation, community service, and recruiting RPCVs for jobs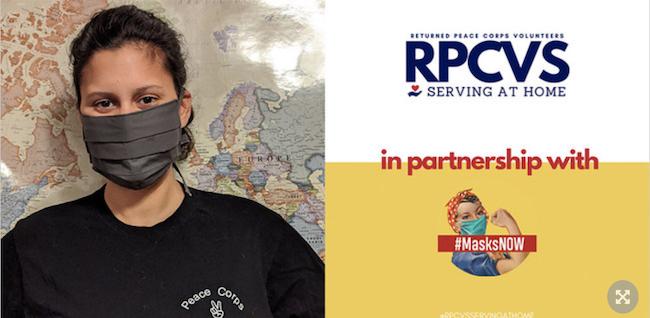 "Masks Now Coalition Partners with Returned Peace Corps Volunteers Serving at Home" | Masks Now Coalition
The Masks Now Coalition is a grassroots movement of over 11,000 nationwide volunteers in every state, Puerto Rico, and Washington, D.C. who are working to help protect frontline workers and healthcare professionals through sewing and donating masks to organizations in need. They've teamed up with the group Returned Peace Corps Volunteers Serving at Home — with RPCVs making masks and, in the case of evacuated Volunteer Julie Wang, putting to work her skills as a graphic designer.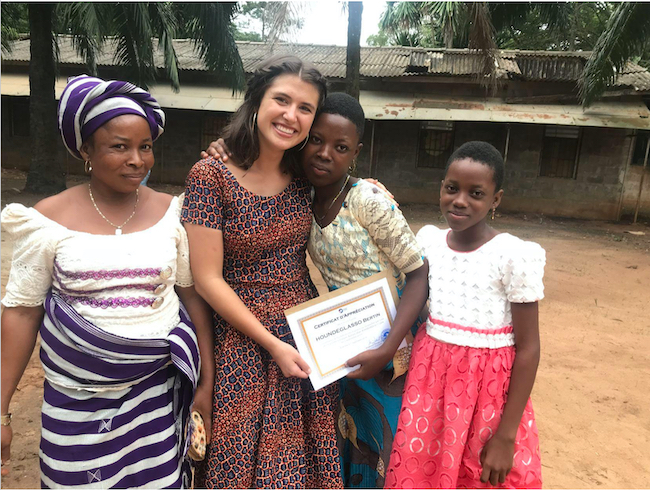 Hope and host family: a snapshot from Benin. Photo courtesy Hope Woodard
"Pandemic shortens Woodard's Peace Corps mission" | Tullahoma News, Tennessee
Two weeks after graduating with a bachelor's degree in social work from the University of Tennessee, Knoxville, Hope Woodard headed for Benin with Peace Corps. She had to evacuate nine months later. "In America, before COVID-19, we had everything at our fingertips," she says. "I think that this moment, although it has caused a lot of hurt for some people, has allowed people to recalibrate what is important to them."
"Peace Corps experience shortened due to COVID-19" | Salina Journal, Salina, Kansas
Mohri Exline served as the community and organizational development Volunteer in Albania when she got the fateful call: "I was called on a Thursday night and told to pack because we were being evacuated. The next morning they called and said they would be there at 9 a.m. to get me."
"The pandemic is forcing agencies to rethink their recruitment and onboarding strategies" | Federal News Network
Takeaway: The departments of Housing and Urban Development and Homeland Security are actively recruiting returned Peace Corps volunteers. Agencies are hosting virtual jobs fairs and recruitment webinars to find new talent.
---


Stay up to date with the latest news about Peace Corps and COVID-19 global evacuation each day through our Flipboard stories. Here you'll find a selection of stories from around the world about evacuated Peace Corps Volunteers, efforts to help them here at home, and how they're helping the United States tackle the COVID-19 pandemic through community service, work as contact tracers, serving on the front lines in medicine, and more.
---