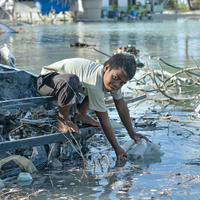 We are living in unprecedented times, facing crises of immense scale. Join us June 15 for an important conversation.

As a Peace Corps community, we saw all Volunteers evacuated from around the world in March.
We're living amidst a global pandemic — with more than 100,000 Americans dead, tens of millions unemployed.
And we've seen — once again — the death of unarmed Black men and women at the hands of police, a brutal reminder of a legacy of racial injustice, that has led to protests in towns and cities across the nation and around the world.
Amid all of this, here at home and across the planet, we witness the escalating effects of climate change — hitting poor and marginalized communities particularly hard.
As members of the Peace Corps community, we embrace each of these crises with a sense of purpose, empathy, and understanding — putting skills and experience to work.
As part of our efforts to confront these crises, join us on Monday, June 15 for an hour-long conversation on climate change. Learn how RPCVs are working to address climate change within their communities as well as nationwide and around the world. Learn what our recent research shows about RPCV attitudes and goals in tackling this critical issue. Help us stake out top priorities and bring together RPCV advocates in a way that empowers us to work together as changemakers. When it comes to motivating others in your community to address climate change, your Peace Corps experience can make a difference.

---
In January 2020 National Peace Corps Association conducted a national survey asking you about the global issues that you care about most — and what actions you might take to address these issues in your community.
More than 3,000 members of the Peace Corps community responded. Nearly two thirds of you said climate change was by far the global issue you cared about most. You also showed strong support for global health, access to clean water, and women's empowerment and girls education. See the results below.
NPCA conducted four focus groups in May 2020 among 37 Returned Peace Corps Volunteers as another step in its efforts to lay the groundwork for a community-based social action campaign for members of the Peace Corps community.
Conclusions From the Focus Groups
---