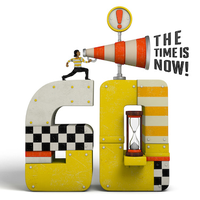 A time to honor the past — and commit to a different future
By Glenn Blumhorst
Illustration by Richard Borge

HERE'S A FAMILIAR CELEBRATORY REFRAIN: On March 1, 1961, President John F. Kennedy signed Executive Order 10924, establishing the Peace Corps with the mission of building world peace and friendship. In honor of that beginning, every spring is a time for us to recognize the ways that the Peace Corps has made an impact — in individual lives and in communities around the globe.
But this year is different. And an unprecedented time in so many ways.
One year ago, March brought the global evacuation of Volunteers from communities where they were serving. Communities were bereft, Volunteers heartbroken. Thousands in the Peace Corps community came together in an unparalleled response, assisting evacuated Volunteers in ways big and small. Some of those evacuees were able to help communities across the United States reeling from the pandemic; they began serving as contact tracers, working with food banks, making masks, or later deploying as part of NPCA's Emergency Response Network in Washington State — and so much more. This May, many begin serving domestically as Peace Corps Response Volunteers, assisting at FEMA community vaccination centers.
Here at National Peace Corps Association, we rapidly launched the Global Reentry Program one year ago — at the outset to focus on the immediate needs of evacuated Volunteers. The program has expanded to provide broader, more robust support for returned Volunteers — such as counseling, mentorship, career advice, and more.
Future tense
Last summer we convened a series of town halls and a Global Ideas Summit to ask deep and searching questions about the relevance of Peace Corps in a world profoundly altered by COVID-19—and the systemic inequities the pandemic underscored. Drawing on decades of experience and commitment, members of the community offered concrete ways we might reimagine, reshape, and retool the Peace Corps for a changed world.
The report distilled from those conversations, "Peace Corps Connect to the Future," has provided a road map. Recently it helped shape the most sweeping Peace Corps legislation in decades: the Peace Corps Reauthorization Act of 2021, introduced by Rep. John Garamendi to the House of Representatives on March 1. Garamendi served as a Volunteer in Ethiopia. This legislation calls for important reforms, including addressing better healthcare and providing protection for whistleblowers in the Peace Corps. And it calls for the increase in funding that will be necessary for the Peace Corps to help lead the way in reengaging with a world profoundly changed by COVID-19.
This legislation is one of the concrete ways that the report is yielding results. Several working groups focused on implementing the report—through Congress, the Peace Corps community, affiliate groups, and more — continue their efforts. And in the spring 2021 edition of WorldView magazine, Peace Corps Acting Director Carol Spahn speaks of how the report is already informing work at the agency.
A time of reckoning
In more ways than one, last year also began a time of reckoning for our nation. And it's far from over. COVID-19 continues to exact a terrible price, even as vaccines are deployed in the United States. Globally, more than 3 million have died. We continue to witness the crushing toll of systemic racism: in terms of healthcare and economic opportunity, and with people of color being victims of hate crimes, as well as far too often violence at the hands of police. The murder of George Floyd last May was a catalyst for protests across the country and the world. Let us hope that the conviction of his murderer is a step forward on the journey toward justice.
"Empower the people," Dr. Mohamud Sheikh Nurein Said of Kenya reminded us last summer. "That's the main aim of the Peace Corps."
"Empower the people," Dr. Mohamud Sheikh Nurein Said of Kenya reminded us last summer. "That's the main aim of the Peace Corps."
Here at home, as part of our commitment to service, we have asked members of the Peace Corps community to take a stand to support the John Lewis Voting Rights Advancement Act and the George Floyd Justice in Policing Act. We renew those calls for reform.
We know that equity and justice are works in progress. That intentionality matters. That service continues in the communities we call home. And as we look toward the future, we know that it is a sense of solidarity, not charity, that must be the compass by which we steer the Peace Corps.
In this anniversary year, thank you to all who have served. Thank you to the people and communities around the world who have undertaken this work together. And thank you for being willing to show the commitment that we all must in the ongoing work of building peace and friendship. It's work that's far from finished.
---
Glenn Blumhorst is President & CEO of National Peace Corps Association. He welcomes your comments: president@peacecorpsconnect.org
---
This story appears in the spring 2021 edition of WorldView magazine. Sign up for a print subscription by joining National Peace Corps Association. You can also download the WorldView App for free here: worldviewmagazine.org
---