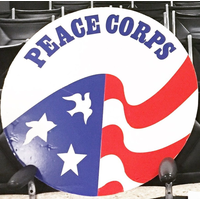 The Director of the Peace Corps chronicles the events that led to an unprecedented global evacuation of Volunteers. And the hardest decision she's had to make in her life.
By Jody Olsen
I will always remember 2 p.m. on March 15, 2020, as the moment I made the most difficult decision of my life. I had just received a call from Patrick Young, the Peace Corps' Director of International Operations, who himself had spent the previous 24 hours in phone conversations with almost every one of our country directors around the world. Each told him of impending host-country decisions to close borders, cancel all international flights, and restrict internal movement. The consensus among country directors, he told me, was that we should evacuate all Volunteers. I wasn't surprised. The writing was on the wall, and I made the decision immediately. It was the right choice, but it brought me to tears.
Besides being a national and global treasure — one that I have helped protect and honor — the Peace Corps has also been my touchstone for 54 years, a central part of my life since I began service as a Volunteer in Tunisia in 1966. I feel personally linked not only to the agency itself, but also to the trainees, Volunteers, and staff around the world. The decision to evacuate unfolded over only two months, and the story is one that will always be a major part of Peace Corps history.
Lead up to evacuation
On January 29, 2020, every Volunteer in China was told to pack their bags and be on a plane to Bangkok within 24 hours. The novel coronavirus was spreading in China but, at the time, we thought Volunteers would simply wait until the virus cleared and then return. But Chinese schools closed, and the news of the virus began to sound alarming. It became clear that the country was locking down for longer than initially anticipated. Rather than wait to return to China, the evacuated Volunteers headed home to the United States. At the time, we did not know this was merely the first step of what, only six weeks later, would become an unprecedented global evacuation of 6,898 Volunteers from all 61 current Peace Corps host countries.
In the meantime, we formed an agency-wide COVID-19 working group and began restricting international travel to virus "hot spots" to reduce risk of exposure. We sent guidance to every post that outlined the medical, security, and logistical requirements in case the virus spread beyond China. Each post began preparations, just in case.
None of us could have foreseen how the evacuation would play out, and none of us will be quite the same again.
January 30, the day after we evacuated China, the World Health Organization (WHO) declared the COVID-19 outbreak a public health emergency. We still believed the virus could be contained, even as we prepared for further evacuation. By February 9, we had reviewed all potential evacuation plans. Shortly thereafter, we suspended all non-emergency international Volunteer travel.
February brought increasingly constricted movement both within and between countries, and our concerns grew accordingly. However, though evacuation plans were in place, we felt confident Volunteers could stay in their host countries and continue serving.
Then, in late February, even without any active COVID-19 cases, Mongolia closed schools and imposed local and international travel restrictions. We knew that if travel restrictions continued to tighten in Mongolia and surrounding countries, the Peace Corps would not be able to evacuate any Volunteers who needed life-saving medical care or be able to assist Volunteers in the event of safety and security incidents or family emergencies. We began evacuating Volunteers from Mongolia on February 28. By this time, global fears of COVID-19 were growing each day. One after another, travel restrictions began — first ripples, then waves, and finally, a tsunami of countries scrambled to close transportation options, borders, and limit internal movement. First, countries in Asia and Europe began restricting flights in and out, limiting in-country travel options, requiring incoming travelers to be quarantined, and shutting schools and other counterpart organizations where Volunteers work. The world as we'd known it was closing down.
By the second week in March, we planned Volunteer departures from several other countries including Albania and Montenegro, Georgia, Kosovo, North Macedonia, Moldova, the Philippines, and Timor-Leste. We wanted to remain in countries where we could — we were determined. However, moment-by-moment the landscape changed. Host countries in Africa and the Americas began restricting travel and our means of ensuring Volunteer safety became more and more limited.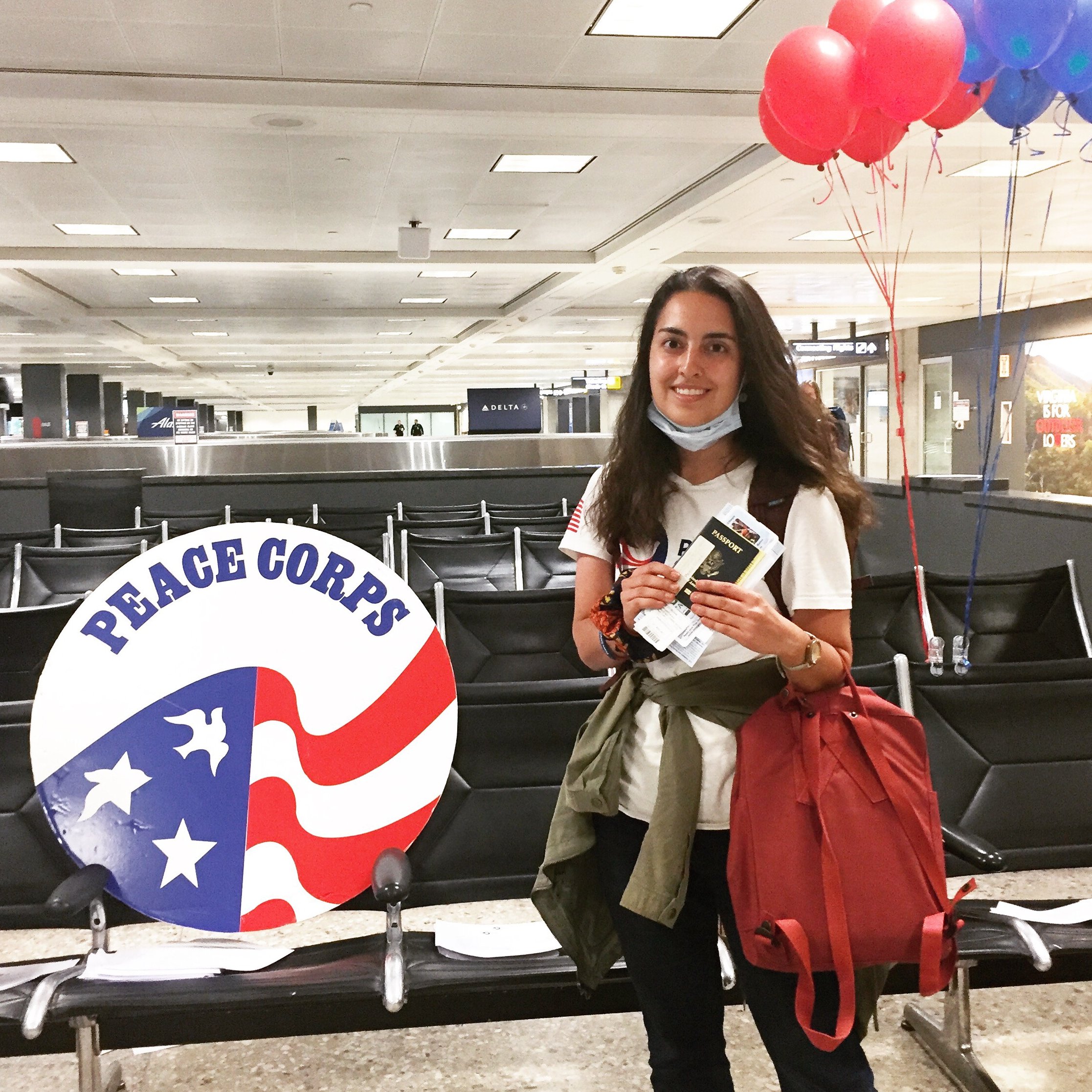 Ana Santos was serving as a Volunteer in Rwanda from September 2018 until she was evacuated in March 2020.
Photo courtesy Ana Santos
Evacuation
The effects of COVID-19 weren't confined to foreign shores, and on March 13, Washington, D.C. — like many areas around the U.S. — issued a "stay-at-home" order. Peace Corps headquarters began its own social distancing plan, with all United States–based staff transiting to work from home, a state we remain in as of this writing. With all that had been happening, the decision I made during that 2 p.m. phone call on March 15 was not unexpected. It was, however, heartbreaking.
The next day, March 16, we began evacuating all trainees and Volunteers from posts around the world. In short, we evacuated everyone in every Peace Corps country that hadn't already been evacuated, sending Volunteers and trainees to their homes-of-record (HOR) and temporarily suspending the operations of all Peace Corps posts. The process took the next eight days. We raced against time as travel choices narrowed by the hour. We engaged charter flights, and then backup charter flights when commercial flights canceled. Ethiopian Airlines rearranged flights, added flights, and held flights for evacuated Volunteers in Africa. Finally, on March 25, 6,892 Volunteers and trainees were evacuated safely to the United States.
Peace Corps has always relied on community — and the evacuation process was no different. We leaned on ambassadors; embassy staff; taxis; bank employees; guest houses; hotels; restaurants; host-country counterparts and families, and local and national officials to work in concert, work quickly, and work hard. The graciousness in their assistance affirmed to me their love for the Peace Corps. Peace Corps staff in-country — country directors; medical officers; program and training and administrative staff; drivers — worked around the clock, at times without sleep, to ensure Volunteers could leave posts safely, quickly, and with a dignity reflective of the service they had given.
In each country, departure procedures and timing ranged from a few hours to a couple days. Some Volunteers completed a Close of Service conference and physicals, some did not have the time. Most countries provided some kind of ceremonial closure, such as ringing a bell, even if on an airport tarmac as Volunteers climbed aboard planes, that honored each Volunteer and trainee's time of service.
Every Volunteer returned to the United States and self-quarantined for 14 days. Everyone was safe.
Though we were each working virtually from makeshift home offices, Peace Corps headquarters staff became one family of action. We worked seamlessly together even while apart. As core evacuation staff worked tirelessly, others assisted. Recruitment staff supported duty officers, management staff supported travel, regional staff supported country staff, and everyone supported the medical unit.
Return
This worldwide evacuation was unprecedented, and a total disruption of a two-year, life-changing commitment of service Volunteers and trainees made — yet under trying circumstances each acted with honor, dignity, selflessness, and courage. None of us could have foreseen how the evacuation would play out, and none of us will be quite the same again. However, we shall return. We are doing country-by-country assessments that include examining safety and security and health factors. Peace Corps posts remain operational and we've maintained a strong staff presence in each country. Staff continues to communicate with government ministries and community partners. With everyone's safety in mind, we are preparing to continue our global presence as soon as it is safe to do so, and we want as many evacuated Volunteers as possible to be there with us. We will continue to build on 59 years of Peace Corps legacy to remain the treasure built by Volunteers and envisioned by President Kennedy.
Throughout these difficult and unusual times, our dedication to our core mission never wavers. The Peace Corps remains a leader in global development, world peace, and friendship. It remains a life-altering experience for Volunteers and the global communities in which they serve. My service in Tunisia changed my life and I pledge to all returned Volunteers and all future Volunteers that we will return. Countries around the world are readying for us, and I pledge to them, and to you, that we will return. The world needs us now.
---
Jody Olsen is the 20th Director of the Peace Corps. She served as a Volunteer in Tunisia (1966–68) and has served as Country Director of Togo, held leadership positions within the agency, and as visiting professor at University of Maryland-Baltimore School of Social Work and Director of the University's Center for Global Education Initiatives.
---