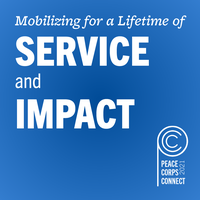 An invitation for individuals and groups alike: Help shape this special 60th anniversary conference. Produce a video. Tell your story. Lead a discussion group.
By Evelyn Ganzglass

The 2021 Peace Corps Connect Conference Program Planning Committee is seeking affiliate group and individual member participation in this year's conference program. As we mark six decades since the founding of the Peace Corps, we're putting together a conference that reflects the place of Peace Corps amid these unprecedented times.
The conference will focus on four key themes:
Racial justice and how we can foster equity, diversity, and inclusion

Climate change and its impact

Refugees and forced migration

Continuing service by Evacuated Peace Corps Volunteers and Returned Peace Corps Volunteers more broadly.
Read more about the conference here. And read on for how you can help guide the conversations at Peace Corps Connect 2021.
Counterparts in the Community
Who can speak to the impact of the Peace Corps better than Peace Corps counterparts in communities around the world? We are gathering five-minute videos made by returned Volunteers and their partners in communities that highlight the work they have done together — and the impact of these partnerships. If you're interested in submitting a short video to be shown at the conference, please express your interest here.
Evacuated Volunteers: Tell Your Story
Are you an evacuated Peace Corps Volunteer who would like to share your story of service — and how you were part of the unprecedented global evacuation? We're looking for participants to be part of a moderated panel with other evacuated Volunteers. We'll discuss the work by Volunteers, how evacuation has affected you and your community, and how you are continuing to be involved in service. Express your interest in being part of the evacuated Volunteer panel here.

From Peace Corps to Black Lives Matter: Striving for Allyship at Home and Abroad
Racial justice and a focus on diversity, equity, and inclusion (DEI) is one of the key themes of the conference. For a session on "From Peace Corps to Black Lives Matter: Striving for Allyship at Home and Abroad," conference attendees will have an opportunity to reflect on their own experiences of racism, unconscious bias, and allyship, both during and after their Peace Corps service. We are seeking Volunteers to act as small group facilitators during the session. These facilitators will receive training from a DEI professional prior to the conference — and they will meet with conference organizers and other facilitators for planning. The total time required to act as a DEI break-out facilitator will be 4 to 5 hours. Express your interest in serving as a facilitator during this session here.
Service Projects: Stories of Impact
During the conference (and beyond!), we'll be highlighting affiliate group service projects and the stories of their impact on individuals and communities worldwide. Have a service project to highlight? Contact Affiliate Group Network Coordinator Hannah Wishart.
---
Evelyn Ganzglass (Somalia 1966–68) serves on the Board of Directors for National Peace Corps Association, is on the leadership team of the Returned Peace Corps Volunteer Oral History Archives Project, and is a member of Returned Peace Corps Volunteers of Washington, D.C.
---