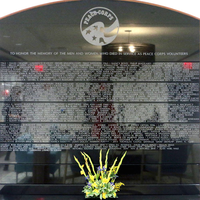 Members of the Peace Corps community who recently passed away include key leaders who were there at the beginning of the agency, and a National Football League executive who helped lead his team to its one and only Super Bowl championship.

William Haddad (1928-2020) was a well-known public figure prior to joining Peace Corps at its inception. After serving in the Merchant Marines during World War II and attending Columbia University, Haddad joined the staff of Tennessee Senator Estes Kefauver, and helped secure his nomination for vice president in 1956 on a Democratic ticket led by Adlai Stevenson. In 1957, Haddad was hired by the New York Post, where his reporting on corruption in the city's housing program contributed to the downfall of Robert Moses and his 40 years as a political power broker. In 1959, Haddad received a George Polk Award, one of journalism's highest honors. In 1961, Haddad took a leave of absence to help Sargent Shriver form the Peace Corps. For two years, he served as an associate director for the agency and as its first inspector general. After a failed campaign for Congress, Haddad continued to expand his horizons. He was marketing director for the iconic DeLorean automobile, leaving after discovering evidence of financial mismanagement. In the closing years of his career, he worked on efforts to lower the price of prescription drugs.

Richard Paul Thornell (1936-2020) was only 24 years old when Sargent Shriver and Harris Wofford sent him to Ghana as director of the Peace Corps Africa Regional Office. That was only one of the groundbreaking roles Thornell played during his life. A graduate of Fisk University, Thornell became the second black graduate of the Woodrow Wilson School of Public and International Affairs at Princeton University. Along with Peace Corps, Thornell served in the U.S. Army and the U.S. Agency for International Development. A law degree from Yale University soon led Thornell to Howard University, where he taught hundreds of future lawyers over a thirty year career. After the election of Nelson Mandela, Thornell helped launch a partnership between Howard and the nation of South Africa. This partnership included counsel to President Mandela and assistance with a new constitution. Among his many other contributions, Thornell served on the Board of Trustees at Fisk University, general counsel at Howard, special counsel to the Washington bureau of the NAACP, vice chair and counsel of the board of directors of Africare, and member of the board of directors of the YMCA of Metropolitan Washington.

James Edward Blackwell, Ph.D. (1925-2020) was among the first wave of Peace Corps staff to venture to Africa, serving as Acting Country Director of Tanzania from 1963 to 1964, Country Director of Malawi from 1964 to 1966, and directing a major USAID program in Nepal from 1966 to 1969. In Malawi, he was responsible for 265 Peace Corps Volunteers who worked as teachers, public health personnel, agricultural extension, and community development cadre throughout the country. A prolific writer and researcher in sociology, he wrote groundbreaking books including The Black Community: Diversity and Unity and Mainstreaming Outsiders: The Production of Black Professionals. A long-time professor and chair of the Department of Sociology at the University of Massachusetts Boston (1970-1989), he became the first president of the Association of Black Sociologists, and a major consultant to the NAACP Legal Defense Fund and to the Office of the Attorney General for the State of Maryland defending affirmative action programs in higher education. His collected notes and publications are maintained at the Amistad Research Center at Tulane University. He was the devoted husband to Myrtle Dapremont Blackwell, the "wind beneath his wings," his constant travel companion and life partner for 53 years, who predeceased him in 2016.

Michael McCaskey (1943-2020), the grandson of the legendary George Halas, died on May 16. McCaskey succeeded his grandfather, and helped lead the Chicago Bears professional football team for nearly 30 years. McCaskey became President and CEO of the Bears from 1983 through 1999. The team's success included the Bears' one and only Super Bowl championship in the 1985 season. That season, his peers voted McCaskey as NFL Executive of the Year. From 1999 to 2011, McCaskey transitioned to the role of Chairman of the Board for the team. After graduating from Yale University in 1965, McCaskey served for two years as a Peace Corps Volunteer in Ethiopia. In 2005, McCaskey co-founded the Bears' charitable organization, which has donated more than $21 million to approximately 100 organizations in greater Chicago in support of education, youth athletics, medicine, and health awareness.

Judith Schlick Pryor (1934-2020) graduated from the University of Minnesota in 1956. Her career included work as a second grade teacher, a corporate trainer, a toy saleswoman, a real estate agent, and a spiritual director. Judith joined Peace Corps service – at age 60 – in Poland in the mid 1990s. At age 70, she earned a master's degree from St. Catherine University. Judith was an Ignatian Associate and a Master Gardener. She assisted many members of Alcoholics Anonymous over 46 years. She was also active in the Twin City Opera Guild, St. Paul Chamber Orchestra, the Schubert Club, and various women's groups.

Carol Ann Murphy (1928-2020) was born, raised, and educated in San Francisco, attaining a master's of arts in education from San Francisco State University. She spent much of her career working abroad for the U.S. Army's Morale, Welfare, and Recreation Program. While the program was stationed in Seoul, South Korea, Carol also had assignments in France, Germany, and Vietnam. Carol's service continued stateside, with assignments in Texas, Virginia, and California. It was after her many years of working with the Army, that Carol joined the Peace Corps. She was assigned to Belize, where she helped to run an education center for teachers.
Below is our In Memoriam list for members of the Peace Corps community who recently passed away:
PEACE CORPS STAFF
James Edward Blackwell, Ph.D. (Tanzania 1963-64; Malawi 1964-66), 1/16/20
William Haddad (early 1960s), 4/30/20
Jay Katzen (2000s), 4/9/20
Richard MacKay, (1990s) 3/26/20
John Scales, 4/14/20
MULTIPLE COUNTRIES
Robert Klinger (Turkey; Venezuela), 4/29/20
George H. Petrides Sr. (Nigeria 1966-67; Botswana 1967-69; Staff 1970-75), 3/6/20
Richard Nelson Sanders (Colombia 1966-69; Belize 2003; Guatemala 2006), 4/28/20
BANGLADESH
Duane Dill (1962-64), 4/30/20
BELIZE
Carol Ann Murphy (1985-88), 5/10/20
BOTSWANA
Jacqueline Holland, posted 5/7/20
BRAZIL
William Harrison (1963-64), 4/30/20
Ann C. Hoskins (1962-64), 4/28/20
John F. Santos (staff), 5/3/20
COLOMBIA
William Andrew Most (1978), 5/8/20
Eugene Roberts Jr. (1964-66), 4/18/20
CYPRUS
Burton Swanson (1962-64), 4/23/20
DOMINICA
Barbara Anne (Bell) Goebel (1980-83), 4/21/20
ESWATINI (SWAZILAND)
Vincent Jerome McCoy (1977-79), 4/12/20
Michael Joseph Sturm (1970-72), 4/20/20
ETHIOPIA
Francis Joseph Drejer, 4/22/20
Michael B. McCaskey (1965-67), 5/16/20
FEDERATED STATES OF MICRONESIA
Kirk Lamond Gray (1970-71), 5/12/20
FIJI
Paul W. Celuzza (1968-71), 5/13/20
Frances Herietta "Tootie" Wesselmann, posted 4/25/20
GUATEMALA
John Keyes (1990-92), 4/19/20
HAITI
Shirley J. Pollay (1998), 5/12/20
HONDURAS
Ann Marie Smith (1967-69), 4/26/20
INDIA
James Brandt Elston, 5/2/20
IRAN
Janice Door (1966-68), 4/20/20
JAMAICA
Donald Clifford Arneson (1989), 4/18/20
Johanna Timpson, 5/5/20
KIRIBATI
Ronald P. Fattibene, 4/26/20
LIBERIA
William O. Weigle (1971-72), 5/5/20
MALAYSIA
Victor P. Buzdon, 4/23/20
Robert Reece Highfill (1964-66), 4/22/20
MOROCCO
Rosemary L. Andrews, 5/16/20
Susan Kelley-Almeida (1986-88), 5/11/20
Norm McCarthy, 5/10/20
Cornelia Schlotter (1963-65), 4/26/20
NIGERIA
Arlene Foy Reynolds (1966-68), 4/23/20
Donald Scharfe (1963-65), 4/30/20
PHILIPPINES
Charles Frederick Dey (Country Director) 1962, 4/16/20
John J. Larsen (1967-69), 4/28/20
Erma Anne Perri, 5/2/20
POLAND
Judith Schlick Pryor (1994-96), 5/4/20
PERU
John D. Owen (1962-64), 5/10/20
SAMOA
Paul Wayne Kidwell (1980s), 4/23/20
SIERRA LEONE
Frans Koning (1962-63), 4/27/20
SOLOMON ISLANDS
Vera Viola Moore Miller (1991-93), 5/7/20
SOUTH KOREA
John Z. Leon, 4/22/20
THE GAMBIA
Gertrude Crites (1986-88), 4/20/20
TUNISIA
Walter Sherrill Crowe (1974-78), 4/18/20
TURKEY
Richard Evan Cone (1964-66), 4/3/20
ZAIRE
Peter H. Wright (1976-78), 5/5/20
COUNTRY OF SERVICE NOT SPECIFIED
Roger Condon Allen, 4/4/20
Lynne Culbertson, 5/15/20

If you have information you would like to share for our monthly In Memoriam post, contact obituary@peacecorpsconnect.org.
---