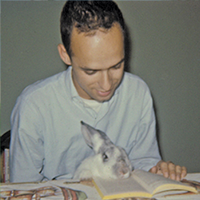 As we mourn the loss of members of the Peace Corps community, we celebrate the lives they led with a commitment to service.
By Molly O'Brien

Photo: Ronald M. Bloch (1944–2021)
Our tributes include a volunteer dedicated to helping RPCVs develop rewarding careers. A chemist, professor, and writer. A civil servant who served at the state and international levels. A caring social worker who devoted her career to helping others and sharing her knowledge with students at the university level. A Fulbright scholar in Nigeria dedicated to advancing marketing practices.
We honor the wide range of contributions made by members of the Peace Corps community who recently passed away.
Ronald M. Bloch (1944–2021) was a tireless supporter of Peace Corps and returned Volunteers, helping thousands reach their career goals. Bloch grew up in St. Louis, Missouri, and graduated from St. Louis University in 1966. Following graduation, he joined Peace Corps and served in Venezuela 1966–67. His service to his country did not end there, as Bloch was drafted into the Army during the Vietnam War. Afterwards, Bloch started a long career in human resources. He greatly enjoyed helping people find the right jobs, and helping companies find the right people. In retirement, he volunteered his time to conduct over 4,000 resumé reviews for Returned Peace Corps Volunteers. His contribution to the Peace Corps community was remarkable, his passion extraordinary, and his memory will live on with all of those whose lives he touched. He shared some of his story in the special 60th-anniversary edition of WorldView magazine.
Sonja K. Goodwin (1933–2021) was born in Switzerland in 1933. When she was a child, her parents fled Nazi Germany and moved to New York where they opened a German bookstore. Goodwin entered school in the States without knowing how to speak any English; however, she learned it quickly and thrived academically. She was among the first group of girls to be admitted to the Bronx High School of Science, and she went on to earn a B.S. in chemistry from Rensselaer Polytechnic Institute and a Ph.D. in physical chemistry from the University of California, Berkeley in 1957. Goodwin served as an early Volunteer in Peace Corps Nigeria, 1964–66. Her experience inspired her to write two books, published in 2021. After her return from service, Goodwin taught at Rensselaer Polytechnic Institute for 37 years before retiring in 2004. Her impact on her students will not soon be forgotten and her Peace Corps experience will live on through her recent works.
Jack Kennedy (1934–2022) grew up in Los Angeles before studying at Harvard University on a full scholarship. After graduating, he earned his master's degree in economics from the University of California, Berkeley. Kennedy moved to Sacramento in 1962, where he met Fran, his wife of 57 years. Together, they joined the Peace Corps, serving in India 1966–68. Later, Kennedy continued his career in public service, working for California State Departments of Personnel, Finance, and Education. He worked with USAID in Lesotho, South Africa, Mongolia, Pakistan, and Ethiopia. His career spanned over 35 years, and his impact was felt by the many friends he made all over the world. Even after retirement, Kennedy continued to give back and spent many hours volunteering with local nonprofits, political causes, and organizations, such as the United Nations and Peace Action.
Carol Posey (1941–2021) spent her life advocating for the marginalized and disadvantaged as a social worker. At a young age, Posey demonstrated a passion for helping others which continued throughout her time as a student at Millsaps College and St. Louis University, where she earned her master's in social work. She joined the Peace Corps in 1964 and served in Iran for two years. Upon her return to the U.S., Posey moved to Florida and began working as a psychotherapist in several different practices. Wanting to pass on her knowledge to others, she became a professor in the social work department at the University of West Florida, mentoring many students over the years. Posey and her wife, Gayle Privette, advocated for HIV/AIDS sufferers through Escambia Aids Services & Education, and they assisted first responders with the Red Cross after the terrorist attacks on the World Trade Center. Her impact in her community will long be remembered.
David "Skip" K. Smith (1946–2021) attended Middlebury College and graduated in 1968 with a bachelor's degree in U.S. and African history. After graduation, Smith joined the Peace Corps, serving in Sierra Leone 1968–70. His Peace Corps experience led to a lifelong commitment to working in West Africa. Smith became a Fulbright scholar in Nigeria and taught as a visiting professor of marketing at Lagos Business School for over 20 years. Smith earned his MBA from Dartmouth College and Ph.D. in marketing from the University of Minnesota in 1985. His career led him to work for various colleges and universities including the University of Wisconsin-Superior, Michigan State University, and Southeast Missouri State University. His impact was wide ranging during his years as chair of the marketing department, professor, and eventually dean of the School of Business and Entrepreneurship at American University Nigeria. Not only will he be remembered by his many students, but through his many publications. Smith wrote the book Marketing Toolkit for Nigeria, published over 24 peer-reviewed case studies, and edited the Global Journal of Business Pedagogy. He was dedicated to passing on his love of world affairs and education to all.
PEACE CORPS STAFF
Kenneth Noboru Fukamizu (U.S. Staff), 12/19/21
Bonnie "Lynn" M. (Wemple) Hash (Staff in Nepal), 12/1/21
Catherine Pomerans (Staff in South America), 12/20/21
Eduardo Reveiz, M.D. (Doctor in Colombia), 12/21/21
Donovan W. Russell (Country Director in Lesotho and Nepal), 12/9/21
AFGHANISTAN
William L. Shelton (1965–67), 12/15/21
ALBANIA
Nan Wilder (1996–97), 12/9/21
BOTSWANA
Jeffery W. Dailey (1990–92), 1/3/22
BRAZIL
Linda L. (Lewis) Laghetto (1964–66), 12/15/21
COLOMBIA
John M. Joseph (1963), 12/10/21
DOMINICAN REPUBLIC
Mary "Molly" E. Lunsford (1982–86), 11/26/21
EASTERN CARIBBEAN
William "Doc" C. Carter (1967–69), 11/21/21
Ellen L. Hill (1969–71), 11/21/21
ECUADOR
Robert J. Condon (1963–65), 12/31/21
Jeffrey B. Hovermale (1994–95), 12/29/21
ETHIOPIA
Rita D. (Donnelly) Brandhorst (1964–66), 11/11/21
Russell Deihl (1974–76), 12/23/21
FEDERATED STATES OF MICRONESIA
Arthur R.C. Mergist (1967–70), 10/5/21
FIJI
Louise C. Bellas (1986–88), 1/1/22
GHANA
Thomas P. Mentzer (1981), 11/21/21
Edward M. Mialky (1968–70), 1/5/22
Penelope M. Roach, Ph.D. (1961–63), 12/3/21
INDIA
Jack Kennedy (1966–68), 1/3/22
INDONESIA
Nancy L. Null (1963–65), 11/28/21
IRAN
Edith "Carol" C. Posey (1964–66), 12/13/21
JAMAICA
Dolly S. Klee (1985–86), 12/5/21
LESOTHO
Jeanette F. Samter (1980–84), 12/31/21
LIBERIA
Susan J. (Miller) Gordon (1962–64), 12/21/21
Philip S. Salisbury (1962–64), 12/21/21
LIBYA
Edward B. Quinlan (1968–69), 12/2/21
MOROCCO
Elizabeth "Betty" J. Douglas (1989–90), 12/13/21
NIGERIA
Sonja (Krause) Goodwin (1964–66), 12/1/21
PARAGUAY
George F. Scherer (1988–90), 1/1/22
PHILIPPINES
Joseph R. Connors (1971), 12/20/21
Joseph "Jerry" G. Sheehan (1964–67), 12/30/21
SIERRA LEONE
Gabriel "Jack" E. Ashburn III (1965–67), 10/31/21
Melinda S. Hutchings (1989–91), 12/10/21
David "Skip" K. Smith (1968–70), 11/23/21
THAILAND
Julie A. Davis (1976), 12/12/21
John H. Koehler (1967–69), 12/13/21
TOGO
Patricia B. Neu (1971–72), 12/14/21
TUNISIA
Brian R. Phillips (1974–76), 9/10/21
TURKEY
Terri L. (Tronstein) Jerry (1968–69), 12/8/21
UGANDA
Joan E. (Thomas) (Sanick) Brady (1992–94), 12/11/21
VENEZUELA
Ronald M. Bloch (1966–67), 12/28/21
COUNTRY OF SERVICE NOT SPECIFIED
Margaret "Peggy" (Galdston) Frank (Unspecified), 1/3/22
John M. Hope (Unspecified), 12/1/21

If you have information you would like to share for our monthly In Memoriam post, please reach out to us at obituary@peacecorpsconnect.org.
---